With the loss of Ian Fraser "Lemmy" Kilmister in 2015, mere days after his 70th birthday, the rock and metal world suffered a huge loss. Gone was this larger-than-life rock titan that had been a favorite of audiences around the globe.
Of course, the passing of a legend just leaves the window open for plenty of posthumous releases and recordings.
Under Cover is a compilation from Motorhead, bringing together cover songs that were released over the course of the band's career. These tracks range in time from 1992-2015, just a handful of months prior to Lemmy's passing. Most of these songs feature Lemmy teamed up with the long-running lineup that teamed him with Phil Campbell and Mikkey Dee. All of these songs appeared on other releases, primarily tribute albums, although a new cover of David Bowie's "Heroes" is included here as well.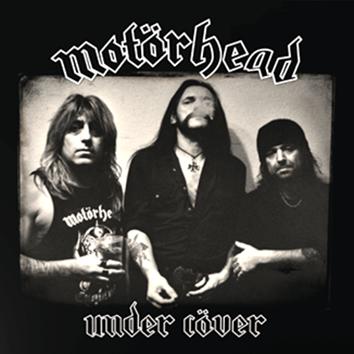 The tracklist for Under Cover is as follows:
1. "Breaking the Law" (Judas Priest) 2008
2. "God Save the Queen" (Sex Pistols) 2000
3. "Heroes" (David Bowie) 2015 [Previously Unreleased]
4. "Starstruck" (Dio) 2014 [Features Biff Byford of Saxon on lead vocals]
5. "Cat Scratch Fever" (Ted Nugent) 1992
6. "Jumpin' Jack Flash" (The Rolling Stones) 2001
7. "Sympathy for the Devil" (The Rolling Stones) 2015
8. "Hellraiser" (Ozzy Osbourne) 1992 [Lemmy co-wrote this song]
9. "Rockaway Beach" (Ramones) 2002
10. "Shoot 'Em Down" (Twisted Sister) 2001
11. "Whiplash" (Metallica) 2005
I won't go into the details of each and every individual track. If you are already a Motorhead fan, you have heard the majority of these songs. These are excellent cover versions that stay true to the original, but put a tried-and-true Motorhead spin on the classic cuts. The new cover of "Heroes" fares surprisingly well. If you are a fan of the band and do not already own these songs on their respective releases, this is a fantastic way to get them all in one place.
Unfortunately, as much as I love this release, many covers were omitted that deserved a place on here. Amongst them are the following (note that this list is not all-inclusive):
"Beer Drinkers and Hell Raisers." A ZZ Top cover from an early EP by the band. This typically appears on reissues of the band's self-titled debut album.
"Louie Louie." The band covered this during the Overkill sessions in 1979. Though it does appear as a bonus cut on most reissues of that album, a Motorhead covers release is criminally incomplete without it.
"Lost Johnny" and "Motorhead" (the song). Covers Motorhead recorded of Lemmy's old songs from his previous band, Hawkwind. Technically Motorhead recorded these multiple times; they actually appeared on the On Parole release, which is recordings that predate the self-titled Motorhead debut, on which they were recorded in their most popular versions.
"Please Don't Touch." A Johnny Kidd and The Pirates cover recorded for the St. Valentines Day Massacre EP with Girlschool. The song does appear on the single-disc remaster of the Ace of Spades album, though oddly enough, not the more comprehensive two-disc reissue.
"Back in the USSR." Lemmy did this cover for the Butchering The Beatles tribute album, and it is a fantastic take on this classic favorite. This was technically Lemmy with an all-star group of musicians, not Motorhead, but it still should have been represented here.
"The Trooper." An Iron Maiden cover with Lemmy's vocals. Once again, this probably comes down to it being "Lemmy with a group of all-star musicians" rather than Motorhead proper, but again, it deserved a place here.
If you can ignore the fact that there were other covers that should have been included in this package, it is a solid way to get these cuts in one convenient place. Definitely recommended for Motorhead fans.