I honestly didn't know too much about Motograter prior to this show. But that's okay with me, makes for a more interesting viewpoint. Motograter, formed in 1995, the industrial sounding band is known for a homemade instrument that they use to achieve the bass tones in their music. This instrument is called the "Motograter", and is made out of industrial cables and guitar parts. When I first researched this bit, I said out loud, "So, these guys made an instrument just for funsies! Just for the fuck of it!? I haven't ever seen that before…" (This first thought is not meant to be negative in the slightest, by the way.) To be that innovative, well, I respect the hell out of that.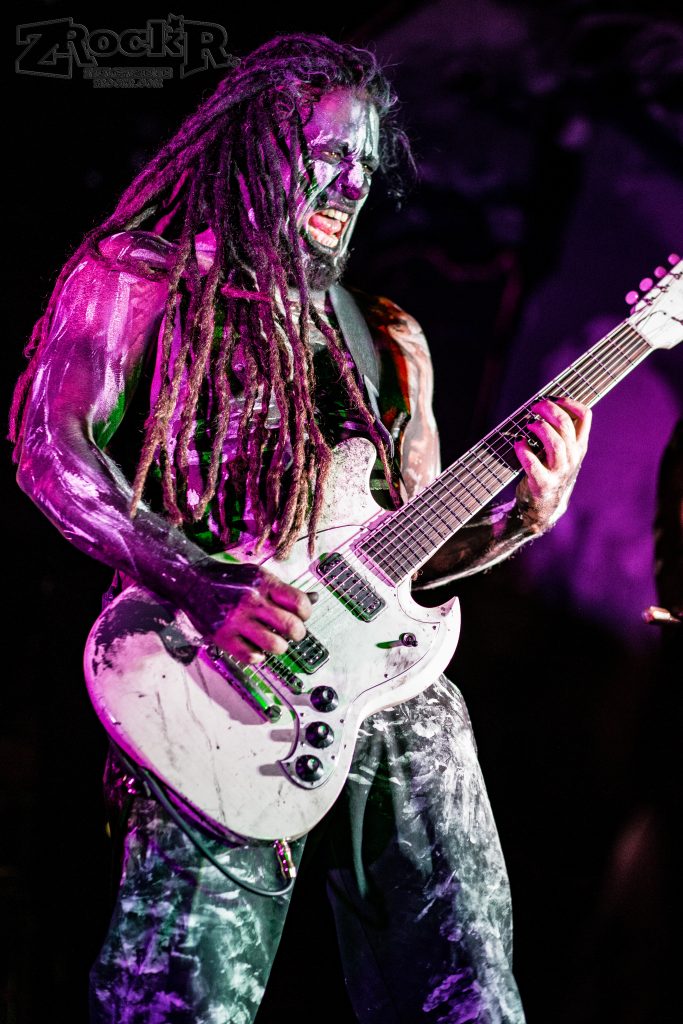 This was definitely one of those acts that as I watched and took my photos, I was amazed that all of the band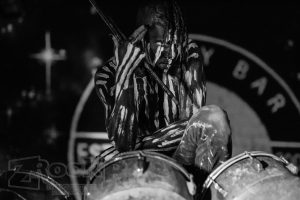 members were able to fit on the small stage at the Beauty Bar. But, they did it! They have a SEVEN member line up, (Although I only counted six people on the stage. There was a bass player missing.) At any rate. the lineup consists of; Matt "Nuke" Nunes (guitar), James Anthony Legion (lead vocals), Dustin "Skunk" Anderson (motograter), Jesse Stamper (guitar), Jonathan "Zero" Price (percussion, backing vocals), and Stephan Kalani Seguin (drums). (Mylon Guy is listed as the bass player via the Motograter wiki, but he was not present.) Such a mouthful, and clearly a little complicated. They all came up on stage with their black and white tribal painted bodies, and began to tear up that little stage. Their painted bodies made photos a little challenging, the new set up of changing lights hitting the stage kept reflecting, but still made for some artsy cool stuff, they were a pleasure to photograph.
I couldn't give you an actual setlist for this show, but they did make a heartwarming dedication to American Head Charge bassist, Chad Hanks, who recently passed away 11.12.2017. Aaron Nordstrom made a guest appearance and sang with James during this special song dedication. I enjoyed catching their energies collide together on that stage. It was very cool.
This tour was in support of their latest album, "Desolation." If you missed any of their tour dates, shame on you. They put on a great show.
Check out the latest single, "DORIAN" here!
Photos by Courtney Ware Photography for ZRockR Magazine  –  
All Photos © 2017 ZRockR Magazine – all rights reserved