Three Billboards Outside Ebbing. Missouri (hereafter simply referred to as "Three Billboards") is directed by Martin McDonagh, and stars Frances McDormand, Woody Harrelson, Sam Rockwell, Peter Dinklage, and Abbie Cornish. The film's musical score is composed by Carter Burwell.
Mildred Hayes is a divorcee residing in Ebbing, Missouri with her teenage son. Several months prior, her daughter was raped and murdered, and in an effort to get the local law enforcement to step up and do their job in finding the killer, she pays a local advertising company to paint a message on their billboards, directed at the town's terminally-ill police chief, accusing the force of incompetence. It is not long before Hayes' "never back down" attitude earns the ire of the townspeople, but she opts to stick to her guns and relentless temperament, believing keeping the case in the public eye could be instrumental in the way of progress toward it being solved.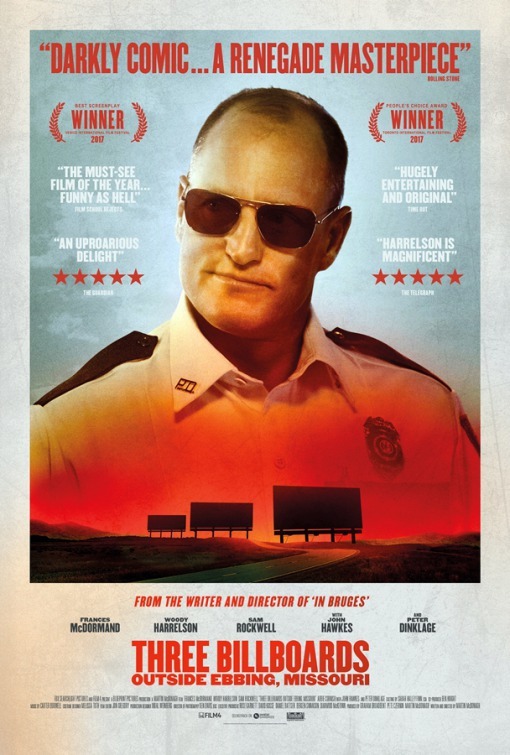 Three Billboards would probably best be described as a "black comedy;" the film tackles a serious and disturbing subject matter, but the attitudes and actions of the townspeople in this film definitely do results in laugh-out-loud moments on more than a few occasions. The movie scores major points for McDormand's unflinching performance, and its willingness not to adhere to political correctness. It is also one of the best films of the year.
The best thing about Three Billboards is the performances of its multi-talented cast, namely leading lady Frances McDormand. From a pregnant police woman in Fargo to the overbearing mother in Almost Famous, this woman is great in any role, but with this film, she has given what may be the best performance of her career. This is a woman driven by desire and borderline obsession to find her daughter's killer and have them brought to justice, and to get the police force up and to work. She shows no restraint whatsoever, not afraid to curse people out, intimidate them, and kick ass when necessary. You'll feel for her plight, but the over-the-top nature of many of her moments in this film will leave you laughing, whether she is blatantly accusing the police of torturing and harassing black people instead of going after real criminals, or taking a little person out to dinner in a fine restaurant. She has chemistry with everyone in the film, and whether the material is more comedic or dramatic, everything comes together perfectly. Even though she has turned the town against her, and not surprisingly so, we still sympathize.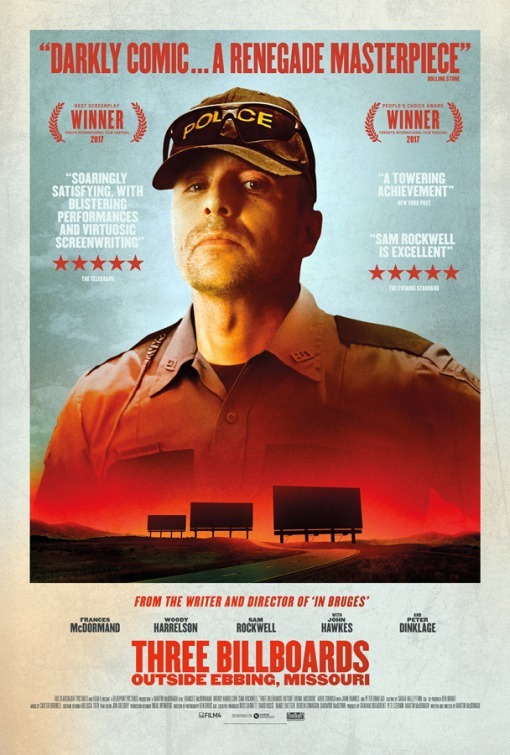 No discussion of the cast would be complete without giving a mention to Woody Harrelson, who gives another solid performance that may be a career best for himself as well. This is a man who is passionate about his job and is a family man, but is dealing with his own demons, both internal and external. He gets some of the movie's best dramatic and comedic moments alike.
Additional solid performances come from an unlikely but impressive Peter Dinklage, and a deputy played by Sam Rockwell, who has issues that keep him from going anywhere in his job, and has earned the ire of much of the police force despite his best intentions.
The "small town" atmosphere of the movie gives it a unique feel, which is a far cry from crime dramas set in generic, urban settings. This combined with the movie's brilliant ability to juggle heavy, dramatic elements and over-the-top comedic moments without restraint of political correctness means that it is a movie that you will not be forgetting soon after watching it.
Admittedly, the film is a little on the long side, and a few of the plot points do not quite get the fleshing out that they need, but overall, the execution of the film is so good that a few minuscule flaws are easy to overlook. It is unlikely anyone seeking a black comedy of the best kind will be disappointed here, but those that are easily offended and cannot stand hearing profanity and racial slurs should go watch another movie.
Three Billboards is a good candidate for "Movie of the Year," and it is disgraceful that it is not being shown in more theaters. McDormand and Harrelson give the performances of their careers here, and the end result speaks for itself. This is a modern masterpiece. Find a theater that is showing it near you, and make the time to watch it. You will not be disappointed.
Rating: Four out of four stars.
DISCLAIMER: All images in this review are the property of the respective copyright holders. For promotional use only. All rights reserved.