Lady Bird is written and directed by Greta Gerwig. The film stars Saoirse Ronan, and co-stars Laurie Metcalf, Tracy Letts, Lucas Hedges, Timothee Chalamet, Beanie Feldstein, Stephen McKinley Henderson, and Lois Smith. The film's musical score is composed by Jon Brion.
Though the title may lead you to believe otherwise, Lady Bird is not a film about Lyndon B. Johnson's wife, nor is it about Hank Hill's dog. Rather, the film is a comedy-drama set in 2002 and 2003 in Sacramento, revolving around a senior attending a Catholic high school named Christine McPherson, who prefers to go by the name she gave herself; Lady Bird. Lady Bird must deal with trying to be accepted into East Coast colleges so she can get out and see the world as she would like to, as well as with working part-time jobs, dealing with an overbearing mother, participating in high school activities, and juggling friendships and relationships, which often spiral out of control in completely unexpected ways.
Sometimes I go into a movie having no idea what to expect, and Lady Bird was one such instance, aside from me seeing a brief trailer a few weeks earlier. I went to the theater expecting to be entertained, but got far more than I bargained for. Brilliantly juggling its comedic, laugh-out-loud script and more dramatic elements, Lady Bird is one of the best comedies of recent years, and a likely contender for Best Film of 2017. Shortcomings in the film are limited; there are far more hits than misses here.
The overall mood and feel of the film keep things moving along perfectly in its duration of just over 90 minutes. First-time director Greta Gerwig does a superb balancing act here; the rapid-fire jokes and witty quips almost never stop, and yet there is still time for genuine, emotional drama throughout the movie. This is a film that has far more heart and authenticity than the teen comedy/drama films being put out by the major studios. The odd decision to set the film in 2002-2003 results in bigger, brick-like cellphones and outdated computers, but this just adds to the charm of the movie. In many ways, the quirky atmosphere is reminiscent of a Wes Anderson film.
Saoirse Ronan, who I was admittedly only loosely familiar with prior to seeing the movie, steals the show. Her chemistry with the other actors and characters is undeniable, and she beautifully balances comedic and dramatic elements. When her first relationship fails for circumstances that are completely and totally unexpected, which shock her just as well as the audience, we feel for our young heroine. Some of the best scenes come from the back-and-forth between her and her mother, played by Laurie Metcalf; the movie was smart to start out with one of these scenes, which sets the tone of the rest of the film excellently. Whether or not a movie will be successful largely hinges on the charisma and the chemistry of its star, and Ronan owns this movie from start to finish. Regardless of who you are, some part of the film/her performance/etc. is bound to hit close to home.
The film also scores points for keeping things "down to earth" and not overly romanticizing teen life. These are real characters with real problems, no one feels like a cookie cutter stereotype like we've seen in a million other teen comedy-dramas. Lady Bird's home life isn't great. Her first sexual experience (rightfully!) doesn't feel like something out of Fifty Shades of Grey, and is laughable and relatable in its awkwardness. It is rare to find a film that will make you laugh and cry alike, and do both so well, but Lady Bird more than succeeds here.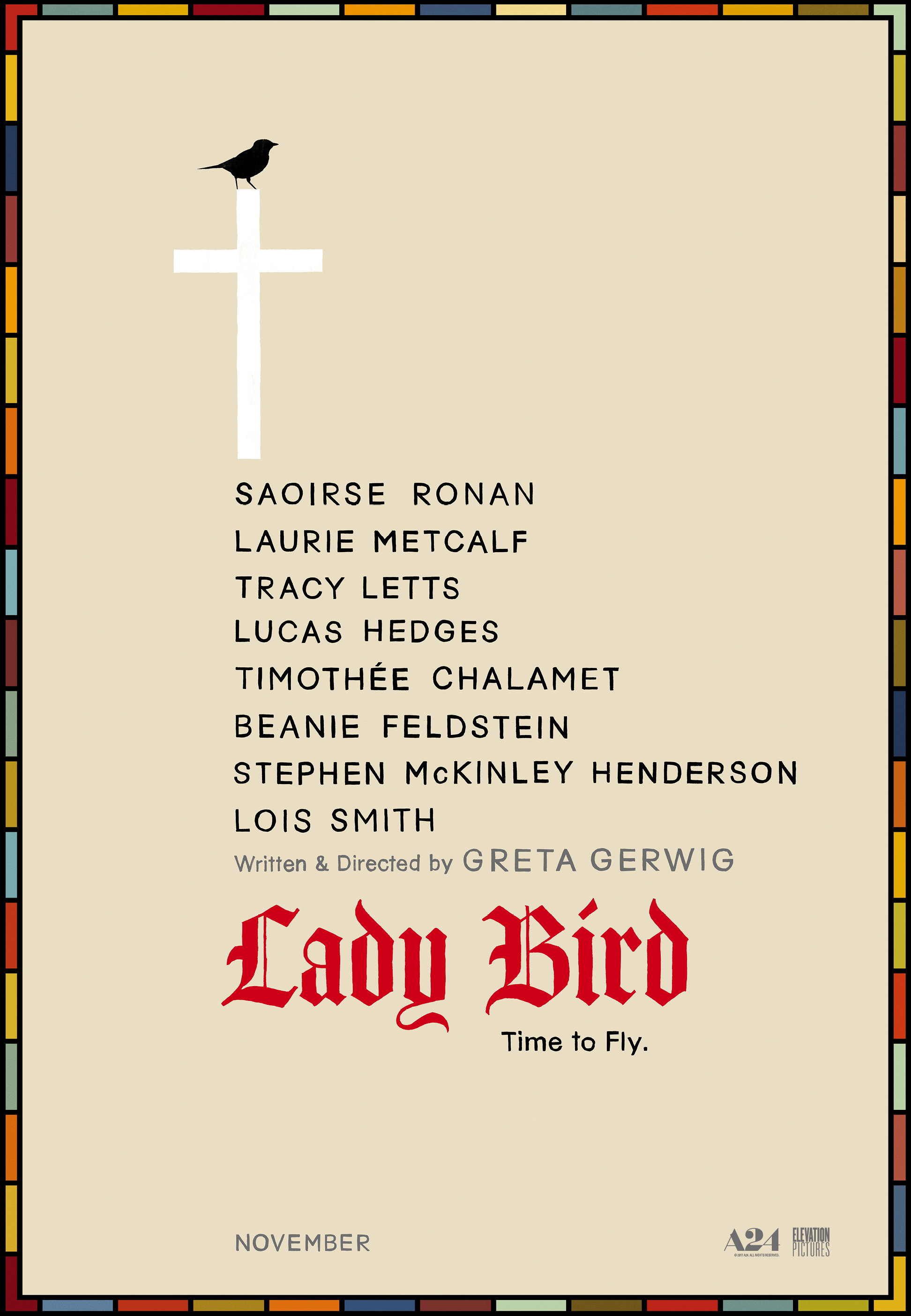 The only thing about the film that does not work (and kept me from giving the movie a perfect score) was the ending scenes, which feel "tacked on" and betray much of what had been established in the scenes leading up to it. A few of these moments seemed to forget that the movie was supposed to be a comedy, and by the final frame of the film before we enter the credits, it was clear that Gerwig, who had done so solid a job writing and directing the movie, had no idea how to end it property. Had the movie ended about 15 minutes earlier, or had a conclusion that better suited the rest of the film, I easily would have given it a full four stars.
Despite its weak and unfitting concluding moments, Lady Bird is still a fantastic comedy that will delight a variety of audiences with its brilliant leading lady, solid direction and writing, great supporting cast, and a delightful atmosphere and mood that perfectly balances comedy and drama. This one is not to be missed.
Rating: Three-and-a-half out of four stars.
DISCLAIMER: All images in this review are the property of the respective copyright holders, including (but not limited to) A24 and Elevation Pictures. For promotional use only. All rights reserved.