Daisy Winters is directed by Beth LaMure. The film stars Sterling Jerins and Brooke Shields.
Daisy Winters is a young girl living in Oregon with her single mother, a cancer survivor who is struggling to recover. While Daisy is bold and outspoken at times, she maintains friendships with many people in the community, young and old alike, and is known for writing and poems. When she discovers that her mother may be getting worse, she plans for the inevitable, and tries to decide the best course of action should the inevitable arise; she does not want to end up in foster care or living with her overbearing, ultra-conservative aunt. Throughout it all, Daisy juggles her plans, her friendships, and does what it takes to prepare for the future, though her plans may be tougher to maintain than she expected.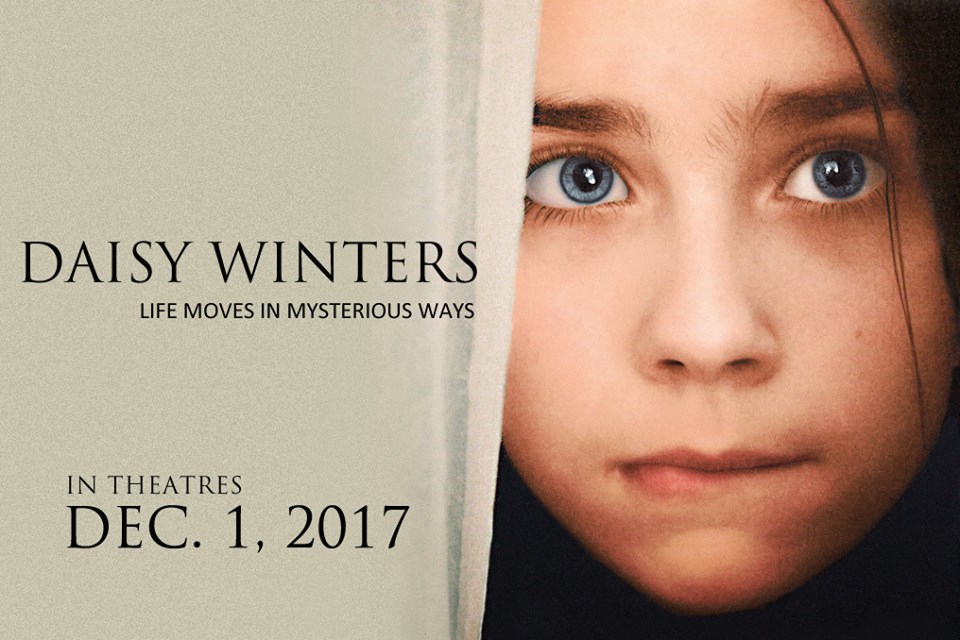 Daisy Winters is the feature film directorial debut from Beth LaMure (who cameos in the film as a police officer). LaMure had long been in the entertainment industry, working behind the scenes as a producer, as well as on music videos. Unfortunately, it will be her only release as a director due to her suicide at age 51, prior to the wide release of the movie. The film features a fantastic performance from Sterling Jerins as the titular character, who has excellent chemistry with her on-screen mom, played by Brooke Shields, and some genuine dramatic moments. Unfortunately, other aspects of the film do not fare as well, with far too many tertiary characters and subplots, not to mention underdeveloped elements that are often cast aside without a second thought.
The most positive and endearing thing about this film is young Sterling Jerins, who portrays Daisy. She is a likable protagonist, cute and bubbly, but bold and not afraid to speak her mind, be it to friends or family alike. The chemistry she shares with her mother, played by Brooke Shields, gives us some genuine, authentic mother/daughter moments that beautifully encapsulate their relationship, from the sweet and loving moments, to those in which they clash. You can tell this is a family that has gone through a lot, and that Daisy genuinely cares for her ailing mother.
Another major positive is that the film is not afraid to tackle subject matter that people will hear about and have to deal with in their lives; the realities of life are not glossed over here. Subject matters include relationships, homosexuality, terminal illnesses, death, suicide, and adultery. Parents taking their children to this film should keep in mind that it is rated PG-13, and does touch on more mature issues than other movies marketed as "family films," and that the movie's third act may be seen as quite disturbing. While I can't say that I loved and adored this film, I did admire Jerins' performance and chemistry with everyone else on screen, as well as its rather bold stance in presenting real world issues.
Daisy Winters could have worked as a beautiful "coming of age" story or a mother/daughter family drama, but you get the impression that the movie was made without much development or direction, and many of the movie's weaknesses come to light as it progresses. Plot elements are introduced, then cast aside and forgotten. The third act's twist is one that is certainly bold and daring, particularly in a film such as this, but it is quite disturbing, and even though Daisy has clearly planned for the challenges she faces, the long-term sustainability of these conditions is ludicrous and over-the-top (I will not say more as I want to avoid spoilers). Other tertiary characters are cast aside and forgotten without a second thought throughout the movie, including a fairly important one who comes to light in the movie's third act. After some of the more disturbing details of the film's developments, it gets a "happily ever after" ending that feels wooden and contrived, and all too convenient. Jerins and Shields are fantastic, as are the more mature and realistic plot elements. It is just a shame the film ends up going over the top with too many plot threads, unnecessary characters, and elements and editing that simply don't work.
Daisy Winters has a fantastic performance from Jerins, who has chemistry with everyone in the film. But it just tries to do too much, with excessive plot details and characters that go undeveloped, and an overly convenient happy ending. It is a shame LaMure will never get to direct another film, because there are many positive qualities to this film. As is, I would not rush to the theaters to see Daisy Winters, but it may make for a decent rental upon its eventual home release. Just be forewarned if you are watching the movie with young children; it does include some mature, albeit realistic elements (as described above).
Rating: Two out of four stars.
DISCLAIMER: All image in this review are the property of their respective copyright holders. For promotional use only. All rights reserved.