DISCLAIMER: This review does NOT include spoilers for Star Wars: The Last Jedi. It does, however, include spoilers for older Star Wars films, including Episode VII: The Force Awakens, as it is impossible to discuss this movie without bringing up key events from previous films.
Star Wars Episode VIII: The Last Jedi (hereafter simply referred to as "The Last Jedi") is directed by Rian Johnson. The film stars Mark Hamill, Carrie Fisher, Adam Driver, Daisy Ridley, John Boyega, Oscar Isaac, Andy Serkis, Lupita Nyong'o, Domhnall Gleeson, Anthony Daniels, Gwendoline Christie, Kelly Marie Tran, Laura Dern, and Benicio del Toro. John Williams composed the musical score.
Following the events of The Force Awakens, Rey has finally tracked down Luke Skywalker, who has been in hiding for years following his failure as a Jedi teacher, and not surprisingly, he wants nothing to do with the Jedi or the fight at hand. Meanwhile, the villainous First Order, fronted by Supreme Leader Snoke, has the Resistance backed into a corner, leaving them running out of options and fuel. Finn teams up with newcomer Rose to track down a master codebreaker for a plan against the First Order's fleet, enabling a Resistance escape via hyperspace, while Poe does his part to maintain some semblance of an effective plan during changes to the Resistance's chain of command. Rey finds herself struggling with the untapped Force power within her, as she connects with Kylo Ren and discovers many dark secrets about Luke's attempts to rebirth the Jedi Order, as well as her own origins.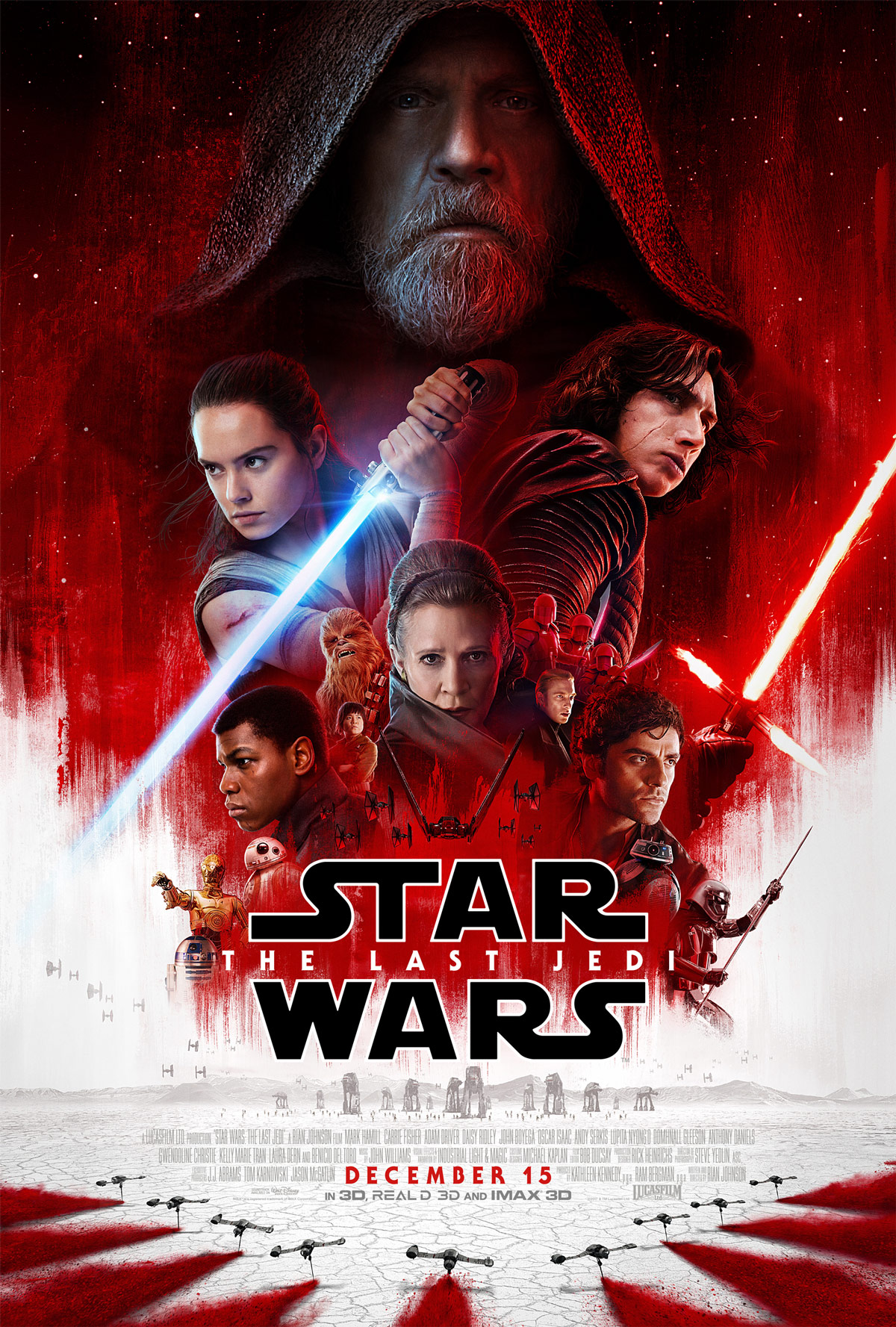 Like many fans, this one was skeptical with the Disney purchase of Lucasfilm a few years back, however their efforts to date, not only on screen, but in a growing canon expanded universe of books and comics, have grown all the more impressive. And while I may have had my doubts about The Last Jedi, and following up the already impressive The Force Awakens, the new film is a superior effort, beautifully combining gripping drama, sci-fi action, humor, and many more of the attributes that made people fall in love with Star Wars in the first place. In fact, it may very well be the best Star Wars film since the 1980s, which is no small achievement, even if it does have a few minor issues.
As always in Star Wars, we get an all-star cast with The Last Jedi, including franchise veterans Carrie Fisher (who sadly passed away prior to the film's release) and Mark Hamill, who actually gets some moments to shine this time around, after being relegated to a glorified cameo in the previous film. Returning from The Force Awakens are John Boyega as Finn, Oscar Isaac as Poe Dameron, and Daisy Ridley as Rey, all of whom are further fleshed out and developed here, now feeling like a part of the bigger Star Wars universe at last; I hope we continue to see these actors in the films for years to come. Everyone has great chemistry and feels perfectly cast.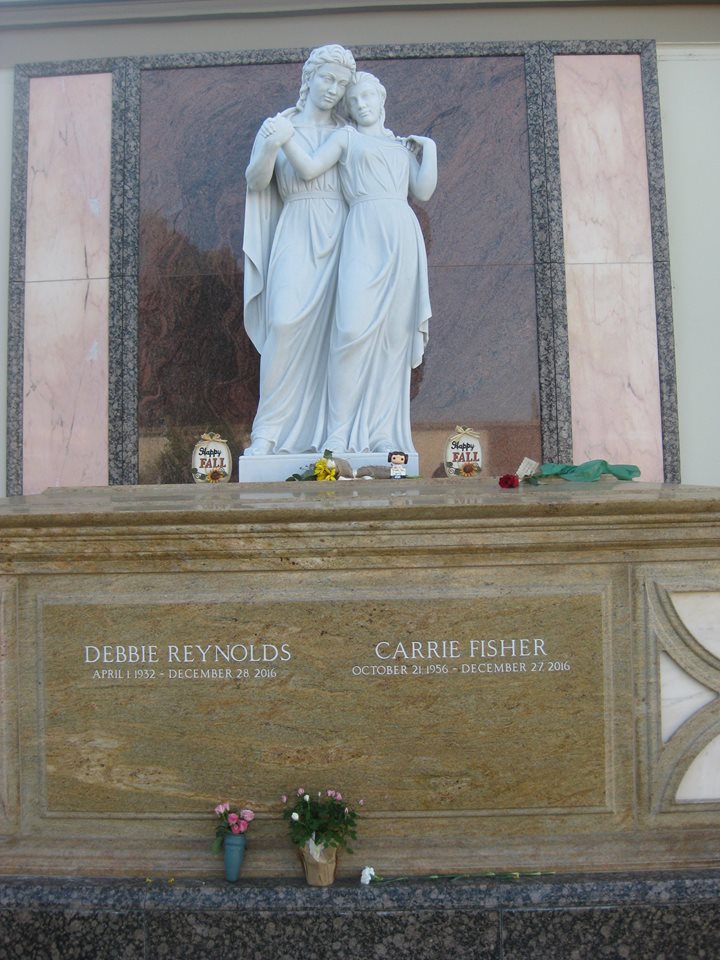 We get newcomers to the Star Wars franchise in the form of Kelly Marie Tran as resistance fighter Rose, and Benicio del Toro as a hacker/criminal the Resistance is forced to turn to in their hour of need. While both are fine additions to the franchise, del Toro is criminally underused, and this fan hopes we have not heard the last from him in the Star Wars universe (there is apparently a Marvel comic mini-series coming out featuring the character).
Even all these years later, it still looks and feels like Star Wars; the series has not lost touch of the magic that made this a go-to movie franchise way back in 1977, with the release of its first installment; there truly is life for the franchise after George Lucas. The heroics, the drama, the science fiction, the atmosphere, the humor; it's all still here. And this latest film feels less like it is treading familiar waters than its predecessor, much to the relief of fans who got a feeling of déjà vu when watching The Force Awakens. There are some shocking and surprising twists in this film, coupled with some of the best action scenes in the series to date. I would argue that they may be the most "different" of all the Star Wars films, albeit in a good way.
Equally impressive is that the Star Wars universe keeps expanding, and yet all of the changes and additional material seems to fit in seamlessly with everything that has already been established. This time around we get everything from a Monte Carlo-style resort planet to a salt-covered wasteland housing an abandoned Rebellion base. To keep incorporating new elements and having everything fit well into the big picture, supplementing what has been established time and time again and is already there, makes The Last Jedi all the more impressive.
The story moves forward with logical and sometimes shocking developments, but this does not come at the expense of signature Star Wars humor, or the sci-fi action people love the franchise for. From battles in space and in the air to those on the surface, it is all here. And these are some of the best action scenes in the series to date, with a few fun and unexpected twists! I will not spoil anything here for viewers, though.
Okay, as much as I love the film, it is not perfect, and has a few minor flaws that keep it from a perfect score. First and foremost, the overlong run time. At no point during The Last Jedi was I bored, but the two-and-a-half hour duration may be a bit much for some viewers. 20 minutes of editing would not have hurt the film; the battle near the end of the movie, except for one core element, kind of feels like padding on top of what is already a very full film. Likewise, there are many subplots and side stories, and the movie simply attempts to juggle too much in more than a few places (granted, it's not the first Star Wars film to do this). Disappointingly, a villainous character that was introduced in The Force Awakens only to do next to nothing in that movie doesn't get much more to do here. The Last Jedi is a bit "too much" at times, although these flaws are minor.
Star Wars strikes back with The Last Jedi, arguably the most mature, action-packed, and surprising installment in the franchise to date. Old and new faces unite in intriguing locales, with the plot becoming all the more suspense-filled, and the universe continuing to be developed. I have only one more thing to say after seeing this film; bring on Episode IX!
Rating: Three-and-a-half out of four stars.
DISCLAIMER: All image in this review are the property of their respective copyright holders, including (but not limited to) Lucasfilm and Disney. For promotional use only. All rights reserved.