The Shape of Water is directed by Guillermo del Toro, and stars Sally Hawkins, Michael Shannon, Richard Jenkins, Doug Jones, Michael Stuhlbarg, and Octavia Spencer.
In the early 1960s, the mute Elisa Esposito is working at a secure government facility alongside her friend Zelda, as a custodian. When a mysterious creature is brought into the laboratories, Elisa is immediately enamored by its presence, and upon hearing that the governmental superiors at the facility want to euthanize the creature, she plots to help its escape from certain doom. But it is not long before a hunt for the creature begins, with the ruthless and determined Colonel Strickland determined to return it by any means necessary.
Guillermo del Toro certainly has a distinctive way of making movies, and it is fully on display throughout The Shape of Water. This film is visually striking in its two-hour duration, with an intriguing period setting, fully-realized characters, and a surreal twist that makes it a memorable piece of cinema, even if there are a handful of elements in the film that don't go anywhere.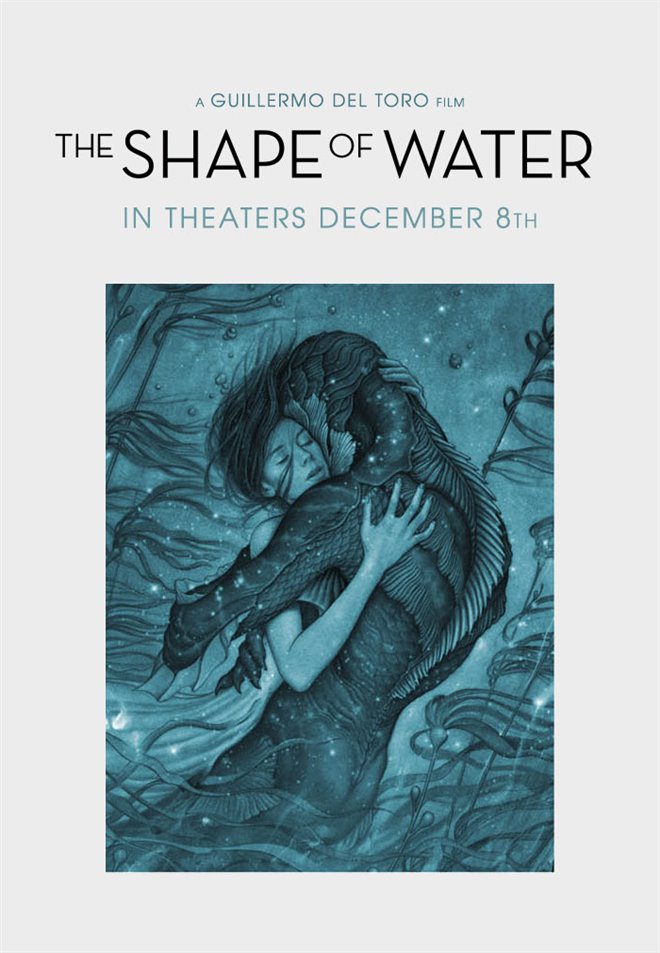 While many members of the actors and actresses are not "A-list" stars that will be immediately recognizable to audiences, the film is perfectly cast. Needless to say, the true standout here is Sally Hawkins as the mute Elisa, who develops an unlikely yet strong bond with the creature. Neither can speak, and yet the "love story" of sorts here manages to feel deeper than that of many traditional "spoken" ones. There are definitely elements of older stories on display here, yet del Toro manages to craft them into something totally new and original, and all his own. Sure, it may be the creature that people come to see in this film, but Hawkins will wow audiences with this mostly mute performance as an "ugly duckling" of sorts.
The rest of the cast is impressive as well, with a supporting cast that includes Octavia Spencer as Elisa's best friend and fellow custodian, Michael Shannon as the hot-headed and villainous Colonel Strickland, Richard Jenkins as Elisa's friend/neighbor with his own personal demons who finds himself drawn into her predicament, and Doug Jones, who portrays the creature itself.
The movie admittedly bites off more it can chew by trying to give full character arcs to nearly everyone in the film, many of which tend to work against the narrative and take us away from the central plot; a scene of Strickland violently making love to his wife, for example, has no place in the film, and feels like it was inserted purely for shock value. Other sub-stories, including Elisa's neighbor's personal demons and career difficulties, and a whole subplot regarding Russian espionage, could admittedly have been trimmed and condensed. I admire del Toro's attention to detail in wanting to flesh out his cast of characters, accomplishing some memorable world building, and for the most part, he succeeds here, even if it is too much and a bit jarring at times.
While I would liked to have seen some tighter editing (del Toro simply tries to accomplish too much with too many tertiary subplots that often go nowhere), it does not change the fact that The Shape of Water is a film that will leave an impact on its audiences. It does not shy away from violence, sensuality, and political incorrectness of the era when and where necessary, further cementing its status as a strange, surreal, and beautiful film. Come Academy Awards season, I have no doubt that The Shape of Water will get some much-deserved recognition. With full nudity and some scenes that are quite violent and disturbing, this is not a film for the faint of heart, but those that give it a chance will never forget the things that they see on screen.
Rating: Three out of four stars.
DISCLAIMER: All image in this review are the property of their respective copyright holders, including (but not limited to) 20th Century Fox and Fox Searchlight Pictures. For promotional use only. All rights reserved.