Youth is directed by Feng Xiaogang. The film stars Huang Xuan, Miao Miao, Zhong Chuxi, and Yang Caiyu. The film is in Chinese, and is presented with English subtitles for American exhibitions.
In China in the 1970s, a group of young people meet while serving in the People's Liberation Army during the nation's Cultural Revolution. Even following the death of Mao Zedong, the troupe continues to entertain on the front lines, with many of them sent to serve their country on the battlefields of a war. After the war and the disbandment of their troupe, they must face the challenge of moving on and adjusting to civilian life in a redeveloped and redefined nation.
Youth transports its audience to a bygone era with its story, beginning in the mid 1970s and ending in the mid 1990s, with some spoken epilogues explaining what happened to the characters afterwards. While the film does suffer from an overlong run time and an inconsistent narrative, it does succeed with its powerful visuals recapturing years past, and intense war violence, which serves as a sharp contrast to the characters' former idealism and loyalty to their nation.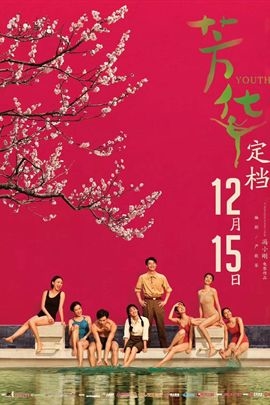 One of the greatest strengths of Youth is its cast, and how well these actors and actresses work together. Everyone has chemistry, and from the more comical, lighthearted scenes to those that are more dramatic and feature the youths facing their demons, both internal and external, everything in the film that this cast does feels authentic and believable. These performances capture the youthful idealism of those in Chairman Mao-era China, and the aftermath, including serving on the battlefield, and a less optimistic future.
The sharp contrast of moods in the film is something that helps it to remain in your memory long after the film has concluded. All of us have experienced a feeling of idealism in our lives, only to have it shattered by harsh and brutal truths and realities. And perhaps no film demonstrates this better than Youth. Early on, we have a troupe that is loyal and proud to serve its country. And then, going to war decimates their idealistic attitudes, with a powerful, prolonged sequence of combat violence that ranks as one of the most intense and shocking I have ever seen in a film. Following this sequence, you know that the film and these characters can never go back to what they once had, and how this will continue to impact their lives going forward. The images in Youth, from song and dance numbers to scenes of chaos in a mobile army hospital, will not be forgotten after you finish watching the movie.
The film does suffer from a few minor issues that weigh it down, however. For one thing, the time is excessive. At nearly two-and-a-half hours, the movie could have been a good 20 minutes or so shorter (this is apparently following some other edits that were made to the film following its premiere). Likewise, the narrative is inconsistent, unsure of who to focus on and trying to take up too many subplots. The post-1980s scenes at the end of the film feel rushed; earlier eras in the movie should have been trimmed and edited so that this era could have been better developed. As such, said scenes feel "tacked on." That said, the good still outweighs the bad.
Youth is a powerful film, beautifully illustrating young lives and their transition from idealism to harsh realities. It is not a perfect movie, but succeeds with its striking visuals and the excellence of its cast. If you can find a theater showing the movie, it is well worth your time.
Rating: Three out of four stars.
Youth is not rated by the MPAA, but my recommended rating is R, for an intense sequence of realistic war battlefield violence.
DISCLAIMER: All images in this review are the copyright of their respective owners. For promotional use only. All rights reserved.