The Breakfast Club is directed by John Hughes. The film stars Anthony Michael Hall, Judd Nelson, Emilio Estevez, Molly Ringwald, Ally Sheedy, Paul Gleason, and John Kapelos. The film's musical score is by Keith Forsey and Gary Chang. It was originally released in theaters in February 1985. Criterion's 2018 release is the third Blu-ray Disc issue of the film.
Five high schoolers are forced to report to a full-day Saturday detention for various reasons, and are required to spend their day writing an essay to reflect on the misdeeds that landed them in detention in the first place. The group is comprised of the nerdy overachiever Brian, popular beauty queen Claire, the outlaw delinquent John, star school wrestler Andy, and the eccentric outcast Allison. The students immediately become apprehensive and at odds with one another, and the torment of their day is not helped by Assistant Principal Vernon, a harsh disciplinarian who loathes his job nearly as much as the students loathe spending a weekend day in detention; the school janitor being the closest thing he has to a friend. Over the course of the day, the students continue to quarrel, but learn more about each other, including their home lives, relationships with their families, how they feel in their day-to-day lives as students, and the reasons they ended up in detention in the first place. But when it is all said and done, will they evolve as human beings, beyond the labels of student life, or end up back where they started?
Before moving to family-oriented cinema, John Hughes was the king of teenage angst. Sixteen Candles and Ferris Bueller's Day Off are similarly revered as classics of the genre, but The Breakfast Club is Hughes at his all-time best. It is easily his best written film, with three-dimensional characters that evolve and grow over the course of the film's run time. The settings in the film are fairly limited, making for a more intimate film that revolves around the lives and dialogue of its young cast. All these actors give the performances of their careers here; it is no surprise that, in the majority of cases, this is the movie that they are best known for.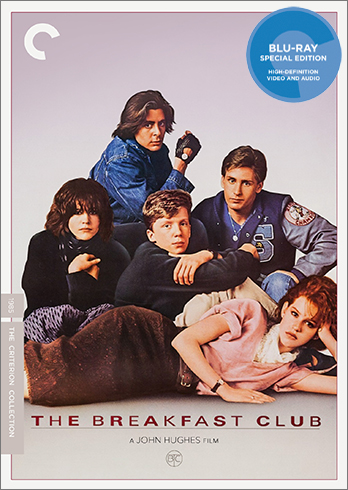 The characters in The Breakfast Club may seem like stereotypical by-the-book high school student archetypes, but Hughes lets the cast make these characters their own, and there is definitely more going on here than one might expect at first glance. We've seen jocks, nerds, popular girls, juvenile delinquents, and recluses in high school stories before, but the cast ascends and turns these into three-dimensional performances, largely thanks to Hughes allowing them to improvise, coupled with a strong script. Promotional material claims that the characters in the film "have nothing in common except each other," which is a strong descriptor of how things begin, but it is not likely anyone will be able to guess exactly how things turn out. Just when you think you know how things will be in the end, there are unexpected twists and revelations, for the better and the worst alike. It is a character-driven film, and there is no greater strength than that.
The adults do not get as much screen time as the students; this movie is mostly from the youth perspective, after all. But we do get some strong scenes with Paul Gleason as a relentless, harsh disciplinarian who may have inner demons of his own, and a school janitor who was once the big man on campus himself, but has long since fallen from grace. The scenes between these two are limited, but surprisingly strong and revelatory when they do happen.
The atmosphere in the film is surprisingly strong, taking advantage of a few fairly limited schoolyard sets (the movie was actually filmed in an abandoned high school that was renovated for the film), and featuring a strong soundtrack and musical score. The song everyone remembers from the film, of course, is "Don't You (Forget About Me)" by Simple Minds, which has since become revered as one of the top hit anthems of the 80s, largely due to its inclusion here. The soundtrack also features contributions from artists like EG Daily and Wang Chung. Hughes was always superb when it came to bringing together music for his films, and this is one of the strongest examples of that.
The film also remains influential in popular culture and to subsequent generations of filmmakers; it is highly unlikely anyone writing a film about teenage angst and drama has not seen or been somewhat inspired by this film. Even the 2017 Power Rangers film blatantly ripped off the characters in this film for its cast. That a movie remains influential and powerful this many years later speaks volumes for what it is, and what it continues to do. The Breakfast Club is often imitated by never duplicated.
The Criterion Collection, long revered as one of the best companies for home video releases of classic and contemporary films alike, spanning a wide array of genres and eras, gives The Breakfast Club its third Blu-ray Disc, following two earlier releases from Universal. Picture quality is the best the film has ever looked, thanks to a new restoration. The movie retains its filmic grain structure, but looks fantastic and clear throughout, with plenty of detail in the image; I could actually make out the text on small signs around the library, which I was unable to do in earlier releases. The audio fares nearly as well, with all dialogue loud and clear, and a few surprisingly strong moments throughout.
Criterion has given this disc many bonus features that are sure to appeal to longtime fans of the film. Some features are ported over from earlier releases, including a documentary on the making of the movie, and a commentary track. New, rare features in this set include 50 minutes worth of deleted scenes from an early version of the film, radio interviews, and new and vintage interviews with cast and crew (much of this material comes from inferior sources, so the image and sound quality varies, though). Even if you are a fan who has purchased this movie religiously on every format, you are going to find plenty of new content worth exploring here.
The Breakfast Club is John Hughes' strongest film, and a character-driven masterpiece of teen angst with fantastic performances from its cast. Criterion has given the movie the treatment that it deserves after prior lackluster Blu-ray releases, making this the edition to own. Even if you own a prior release of the film, this is the one you will want, thanks to its superb video transfer and hours of rare bonus features, many of which are previously unreleased. Absolute highest recommendations for this package!
DISCLAIMER: All images in this review are the copyright of their respective owners, including (but not limited to) Universal Pictures and The Criterion Collection. For promotional use only. All rights reserved.