1987: When the Day Comes (hereafter simply referred to as "1987") is directed by Jang Joon-hwan. The film stars Kim Yoon-seok, Ha Jung-woo, Yoo Hae-jin, Kim Tae-ri, Park Hee-soon and Lee Hee-joon. The movie is in the Korean language, and is shown with English subtitles for its American exhibition.
In 1987 in Korea, a college student that has been tortured in an interrogation dies, sparking mass awareness. Individuals in the government's anti-communist department make every possible attempt to cover up the death, but it is not long before reporters, young people, family members, and protestors wanting democracy begin crusading in an effort to uncover the truth.
1987 is a film that intends to shed light on many tragic occurrences that happened in Korea in the titular year; these are events that were integral in the nation's history and development, which certainly deserve more attention, and what better way is there to shed light on these events than with a dramatic film based on true events? The film offers some powerful and often disturbing imagery, which is sure to polarize audiences, but a sloppy narrative that is incapable of juggling far too many characters and plot points causes the movie to collapse under the weight of its own content.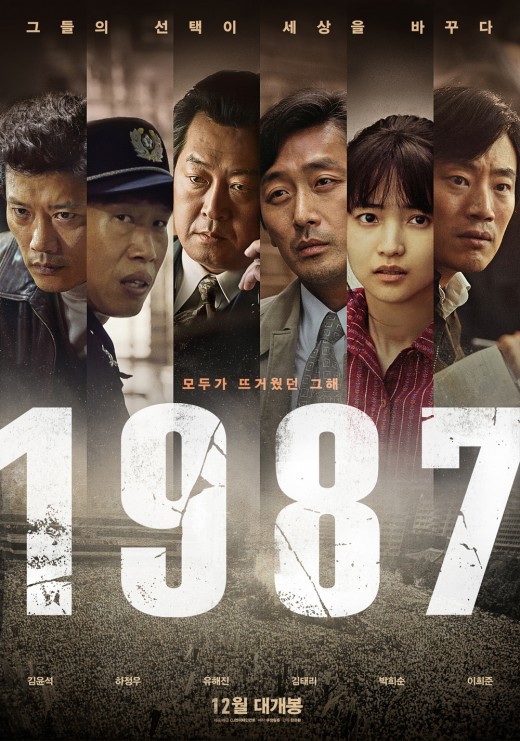 While my other comments may be far less favorable, 1987 deserves praise for not shying away from the ugliness that was going on in Korea when the film was released. We see scenes of torture, protestors in the street being savagely attacked and beaten by protestors, and the aftermath a young man's death has on a nation that is striving towards democracy. One cannot argue with the gritty and often shocking approach take by the filmmakers here.
Sadly, despite the gravity of its story and drama, 1987 ultimately fails as a film because it bombards the audience with far too many characters and subplots to follow. Right from the opening moments of the film, we are given introductions to everyone from anti-communist personnel to reporters that are setting out to cover the story at hand. A disclaimer that comes before the film claims that some liberties were taken with the film, which is based on a true story. If the filmmakers were already making some changes for the film's dramatic license, how difficult would it have been to create some composite characters, and focus on fewer story threads?
The sheer number of subplots quickly becomes the movie's greatest weakness; it jumps around haphazardly, often abandoning certain plots for great lengths of time, so not enough of them get the proper emphasis. Stories in the film include the people involved in the interrogation being jailed and facing an uncertain future, a prosecutor that refuses to go along with the cover up, the victim's family's plight, a prison guard involved with helping some of those who have been imprisoned, and a young female college student who becomes enamored with a protester she meets. These are just some of the storylines in the movie. Unfortunately, the filmmakers simply do not know when to stop, and keep the stories coming. If they had chosen to focus on one central plot and maybe one or two subplots, this could have been a far better film. At times, it can be challenging to tell what is even going on.
This could have been a film focusing on the family of the deceased torture victim. A film featuring the reporters going out to get the story of the victim. A tale of youths in college becoming part of the protest cause. A movie following the jailed torturers. Each of these subplots could have been a whole film on its own, and instead we are forced to settle for fragmented plotlines that never quite come together.
1987 tells a story that needs to be told, but does so in a sloppy way that is unable to juggle its various intertwining plot threads, and far too many characters to keep track of. The film does have some powerful imagery and performances, and sheds some light on some unfavorable times in Korean history, but the tale deserves a better film (or films) than this.
Rating: One-and-a-half out of four stars.
1987 is not rated by the MPAA, but my recommended rating is R, for intense thematic elements, scenes of violence including police brutality and an autopsy, and partial nudity.