Paddington 2 is directed by Paul King, and is based on the Paddington books by Michael Bond. The film features Ben Whishaw as the voice of Paddington, with live action roles from Hugh Bonneville, Sally Hawkins, Brendan Gleeson, Julie Walters, Jim Broadbent, Peter Capaldi, and Hugh Grant.
Paddington Bear is enjoying life with the Brown Family in England, and remains beloved around his community. With his Aunt Lucy's birthday approaching, the ambitious young bear sets out to save up money to buy her a birthday present – a rare pop-up book of London, which is being sold at a local antique shop. But when the book is stolen by a thief who wants it for his own mysterious purposes, Paddington is framed for the crime and sent to prison. As Paddington tries to make the best of his new surroundings, the Brown Family sets out to find the real criminal, and clear Paddington's name.
Quality family entertainment is hard to find; it seems like too many movies for children these days are bogged down in toilet humor, one-dimensional characters, pop culture references that will be dated in a few months, and shallow approaches that will only appeal to kids. Paddington 2 manages to be a rare exception to this rule, with fully-realized, likeable characters, comedy that never resorts to cheap laughs, a memorable setting and atmosphere, and a positive, kind-hearted approach to storytelling that never feels hokey or overly sentimental. Hands down, it is one of the best family films I have seen in years, giving audiences a product that both children and adults will love.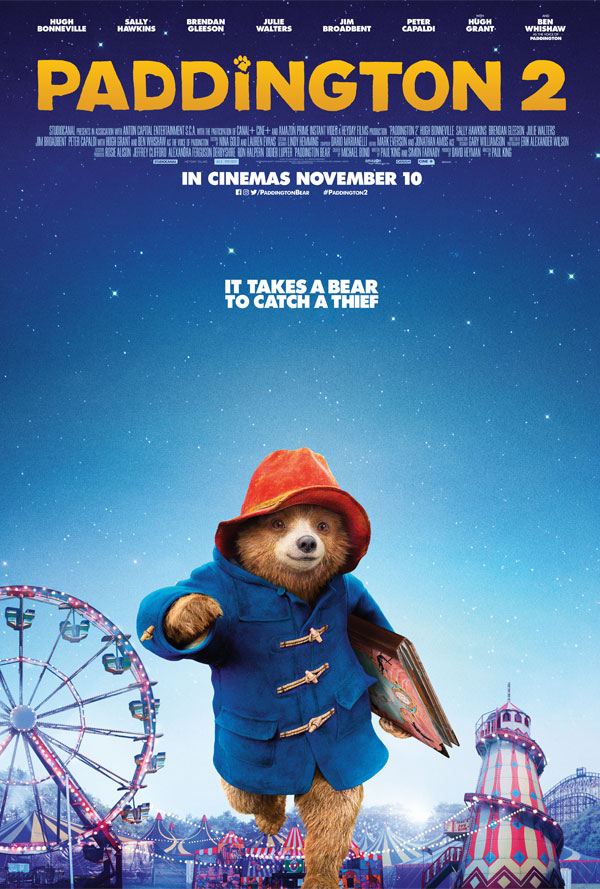 Not surprisingly, one of the greatest strengths of Paddington 2, is, well, Paddington himself. The character is immediately likable, and Ben Whishaw's voice work is a highlight as well. Paddington is a good-natured character that tries to see the good in everyone, from his neighbors to the seemingly ruthless inmates he finds himself surrounded by. And yet, the character still finds himself in comedic situations that are laugh-out-loud funny, and manages to bring the movie a positive feeling throughout. This character is a positive influence and role model alike, and this moviegoer hopes to see him in many more films down the line.
The supporting cast fares nearly as well. The real standout of the live-action actors is Hugh Grant as a washed-up, one-man-show actor who has been reduced to doing dog food commercials to pay his bills, who ends up becoming the movie's antagonist. You can tell Grant is having a ton of fun with this role throughout the movie; his presence is delightfully over-the-top. Who would have thought one of the best roles of his career would be as a silly antagonist in a family film? The actors playing the members of the Brown Family and the people around town are nearly as entertaining, and all contribute to the film's atmosphere.
Speaking of atmosphere, the look of the film is one of its greatest features. The location in the film looks like a combination of real-life England, and something that has been slightly exaggerated with vibrant colors, and elements to make things stand out, much like something straight out of a children's picture book. This visual approach combined with the British landmarks seen in the film makes for some memorable scenes and scenery. Everything in the film is used to the best possible effect, be it an exciting, lighted carnival, or an antique steam engine. This isn't just a feel-good movie, it's a great looking one, too.
If there is one very minor complaint with the film, it is that it has a lot of characters to juggle, and many of them end up getting fairly minimal screen time, and not enough development. To be fair, this is Paddington's movie first, so this is understandable, but getting to see him interact more with some of these other characters would have been nice.
Paddington 2 is a cinematic triumph, and that rare movie that adults will love just as much as the kids they take to the theater with them. The movie succeeds with a charming leading character, great supporting cast including an unforgettable Hugh Grant, a gorgeous atmosphere, and an overall positive approach which stands as a good influence, and a much-needed getaway from the ugliness of the real world these days. A highly recommended movie!
Rating: Three-and-a-half stars out of four.
DISCLAIMER: Images in this review are the property of the respective copyright holders, including (but not limited to) Warner Bros. Animation and StudioCanal. For promotional use only. All rights reserved.