One of the most legendary bands to emerge from the New Wave of British Heavy Metal, Saxon is still going strong. These titans of hard rock show won't be calling it a day anytime soon, and in fact, are back with their 22nd studio album!
The group's lineup has remained constant for over a decade now, featuring classic vocalist Biff Byford and classic guitarist Paul Quinn (the only two members to appear on all the group's albums), as well as drummer Nigel Glockler (a regular fixture in the band since 1981 aside from a few sporadic hiatuses), guitarist Doug Scarratt, and bassist Nibbs Carter.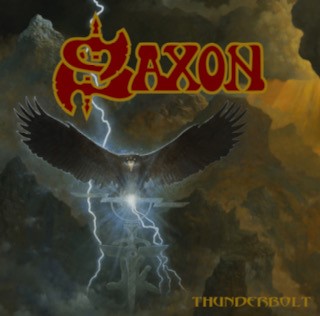 Thunderbolt, as was previously stated, is the band's 22nd studio album; it has been nearly four decades since the group released their debut record way back in 1979. It is rare to see any band survive this long and endure this much, yet the band once known as Son of a Bitch is still pressing onward. And then, of course, comes the question on everyone else's mind….
….is the album good?
If you have been worried about Saxon being one of those bands that wusses out and goes pop in their older age, let me be the first to say you have nothing to worry about here. Biff and the boys are as hard and heavy as they have ever been. For these British metal men, age is just a number. The album also keeps things hard and heavy, but diverse as well, never repetitive or stale. These guys are not content to be a nostalgia act, and the sheer number of albums they have released, even in recent years, is clear proof of that.
Pardon the bad joke, but with Thunderbolt, lightning strikes again for these NWOBHM legends. From a powerful intro sequence to the ominous keyboards of "Nosferatu," and the Motorhead tribute "They Played Rock and Roll," there is no limit to what this album serves up. Hard and heavy as ever, Saxon's latest release never lets up. The only dud in the bunch is "Predator," which suffers from horrible, guttural backing/harmony vocals that have no place in a Saxon song; a shame considering that, apart from this one misstep, the song actually sounds solid. But that one misstep certainly doesn't derail this from being a powerful new release from a classic band that is keeping themselves relevant.
Saxon strikes back hard with Thunderbolt. Four decades later, these guys are as heavy as ever, and fans will be pleased by the fact that the group sounds as solid as ever. For fans of classic hard rock and heavy metal, Saxon's newest studio effort comes highly recommended!