Winchester: The House that Ghosts Built (hereafter simply referred to as "Winchester") is directed by Michael and Peter Spierig, and stars Helen Mirren and Jason Clarke.
In 1906, Sarah Winchester, the widow of famed gunmaker William Winchester, claims to be haunted by spirits, as she continues to work on the Winchester Mansion, a bizarre mish-mash of construction, in which she believes she is appeasing the restless spirits of those killed by the rifles of her company. Doctor Eric Prince arrives at the mansion at the behest of those running the Winchester company to get an assessment of Sarah's mental state, to determine if she is still fit to hold a position with the company. While skeptical at first, episodes from Eric's past, and what he experiences inside the mansion, show him there may be more to the situation than meets the eye.
The Winchester Mansion has long been a popular monument and tourist attraction, so naturally, a horror film inspired by the actual events regarding its creation sounded like a promising endeavor, and a film that may very well be worth seeing. And while the end result is certainly not a terrible film, it is a dull and uninteresting one, focusing on jump scares and an over-the-top finale rather than developed and interesting characters.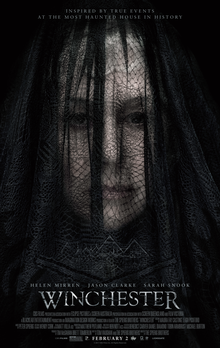 The best thing about this film is the look. We see the Winchester Mansion inside and out, and its surreal design is something that will stay with the viewer (in actuality, much of the mansion had to be reconstructed on sound stages for the film since the actual mansion is smaller and more cramped). Exteriors of 1906 California and the attire worn by the characters all looks appropriate, and if nothing else, the movie does succeed in creating an atmosphere and a period in time.
The leads fare surprisingly well, including Helen Mirren as the eccentric and haunted Sarah Winchester, and Jason Clarke as a widowed doctor with a substance abuse problem. There are some fine scenes between these two, and it is simply too bad that neither of them can rise above the mediocrities of the film; in a better movie these two would have been fantastic together.
The biggest issue with the movie is its overall tone; it commits a cardinal sin that no horror movie should, in that long stretches of it are dull and boring. Attempts to liven this up with jump scares, many of which are false alarms, do not help the film at all. If your horror movie is dull AND overemphasizes jump scares for a cheap tactic to startle the audience, your movie doesn't work. It doesn't matter how much money you throw into the production.
The movie makes attempts at character development in the form of a subplot regarding Eric's deceased wife, but this ultimately ends up feeling cliched and like an afterthought to infuse some life into the dull film. Ultimately, it feels more like a distraction from the central plot than something integral, though. Eric himself fits the "troubled man" archetype we've seen in countless other films, and does it to a lesser extent.
One of the biggest problems is an over-the-top finale that, like so much else in this movie, feels shoe-horned in to give the audience more excitement. Somehow, Sarah Winchester, a frail, grieving old widow, can be flung around like a rag doll into the floor and shelves/cases/etc., and does not feel any pain or show any signs of injury whatsoever. The by-the-book finale isn't going to surprise anyone, and the ending itself is anything but definite (although this aspect is at least true to real life, so the movie itself cannot be faulted too much here).
I wanted to love Winchester, but the movie's dull and uninteresting tone coupled with unnecessary jump scares and over-the-top finale feel uninspired. And yet, I certainly did not hate the film; Clarke and Mirren do the best they can with what they are given. It shouldn't be your first choice of a movie to go see in the theaters, but you could still do a lot worse than Winchester. If nothing else, a moderately recommended rental title when it hits home video formats.
Rating: Two out of four stars.
DISCLAIMER: All images seen in this review are the property of their respective copyright holders, including Bullitt Entertainment, Diamond Pictures, Imagination Design Works, Lionsgate, and CBS Films. For promotional purposes only. All rights reserved.