Unsane is directed by Steven Soderbergh. The film stars Claire Foy, Joshua Leonard, Jay Pharoah, Juno Temple, Aimee Mullins, Amy Irving, and Matt Damon.
Sawyer Valentini is a woman who was regularly stalked and harassed in her former hometown, which prompts her to relocate regularly, wanting to escape her stalker, who she continues to see everywhere. When her attempts to seek a support group result in her wrongly being put into a mental hospital, she sees her stalker as one of the hospital orderlies. Has she reached a point of insanity from which there is no return, or has her stalker truly found her?
Shot entirely on iPhones, Unsane is another interesting film experience from Steven Soderbergh, who has scored no shortage of cinematic hits over the past three decades, even if some of his projects have been hit and miss. Claire Foy gives audiences a strong and sympathetic leading lady, and the supporting cast fares well too. There is welcome social commentary on the state of for-profit healthcare in the United States, as well as the treatment of those seeking help. And while it disappointingly descends in to generic, derivative thriller territory in its third act, the positives still outweigh the negatives.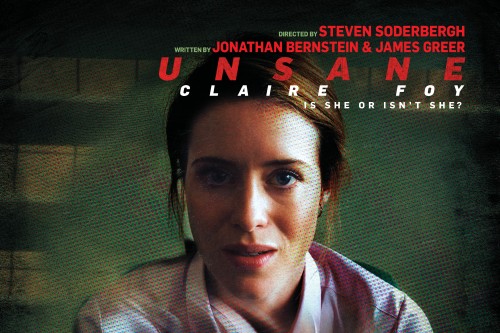 The cast of Unsane is arguably its greatest asset. Claire Foy is fantastic as Sawyer Valentini, our heroine who would like nothing more than to settle down in a town, away from her stalker, and live life on her terms. She's clearly damaged from her experiences, and when she is suddenly and unexpectedly locked up in a mental hospital following what was supposed to be a routine consultation, her reactions and behavior are certainly genuine of a real person who would experience this. The supporting cast is fantastic, featuring Juno Temple as a fellow mental patient, Amy Irving as the heroine's mother, and even Matt Damon in a cameo as a police officer!
The film is brilliant at creating an unsettling mood, largely done by confiding much of the action to the mental institution. It may have been shot on iPhones, but for the most part, the cinematography still holds its own against more traditionally filmed productions. The narrower-than-normal aspect ratio (wider than an old tube TV, but not as wide as a traditional 1.85:1 production) further contributes to the often claustrophobic feel. Unsane feels both original and unsettling thanks to these filming decisions.
One of the strangest, and surprisingly, most effective, parts of the film, is its commentary on the American health system. It's clear this is a "for profit" health facility in the film that is more intent on turning people into patients to make money from their health insurance than actually making them better. The fact that Soderbergh is able to incorporate this as a major plot point of sorts without it feeling like an afterthought is all the more impressive.
The one problem with Unsane is that, in its third act, it becomes a pretty basic and generic thriller. At least one action moment, as well as the film's ending, are stolen directly from the superior Misery. While there are some interesting revelations, it can't hide the fact that the film's latter moments and scenes tend to drag, and add little to the experience, essentially killing the pacing in some vital moments. There are also a few moments throughout the film with unnecessary and inappropriate musical score that sounds like it was lifted from Seinfeld.
Fortunately, Unsane's strengths outweigh its weaknesses. Soderbergh strikes back, giving audiences a dramatic thriller, that while flawed, will still entertain audiences. It's not for the squeamish, but those who give it a chance are bound to be impressed by what they see.
Rating: Three stars out of four.
DISCLAIMER: All images in this review are the property of their respective copyright holders, including Bleecker Street, Fingerprint Releasing, and 20th Century Fox. For promotional purposes only. All rights reserved.