Isle of Dogs is directed by Wes Anderson. The film features the voices of Bryan Cranston, Edward Norton, Bill Murray, Jeff Goldblum, Greta Gerwig, Frances McDormand, Courtney B. Vance, Fisher Stevens, Harvey Keitel, Liev Schreiber, Bob Balaban, Scarlett Johansson, Tilda Swinton, F. Murray Abraham, Frank Wood and Yoko Ono.
Several years in the future, when an outbreak of canine illnesses comes to a prefecture in Japan, the corrupt Mayor Kobayashi, himself from a long lineage of dog-hating cat lovers, exiles all dogs to nearby Trash Island. The Mayor's young ward, Atari, misses his own dog Spots, who was exiled according to the decree, and steals a plane, flying it to the island to look for his dog, hoping he is still alive and well. Meanwhile, Mayor Kobayashi puts further steps in place to achieve his own corrupt goals.
This is Wes Anderson's second stop-motion animation film following Fantastic Mr. Fox, and once again, he breathes new life into this oft-forgotten and underused art form. Anderson beautifully infuses his own whimsical world building and directorial style into this animated adventure, which proves to be one of the most memorable films of the year so far, with an ensemble cast of voice actors and actresses, a fun story, and a unique approach to the material that audiences are sure to laugh at and sympathize with as well.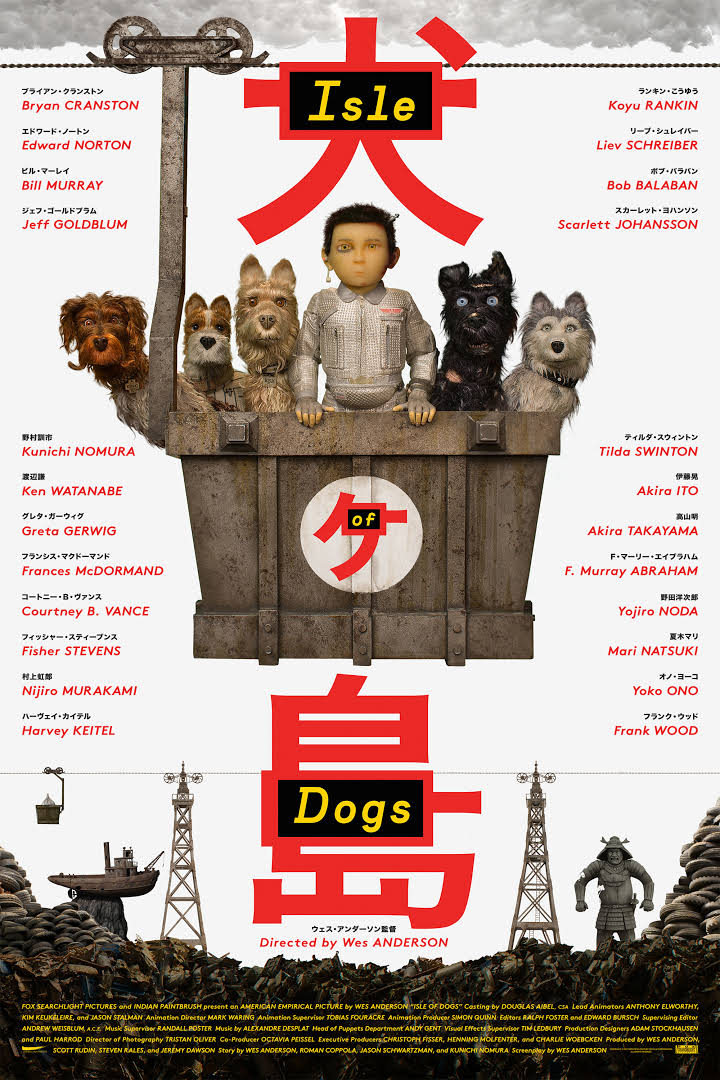 Just one look at that voice cast alone is sure to have an audience in awe. We've got Bryan Cranston as a stand-offish stray dog who befriends our young hero. Greta Gerwig as an exchange student sympathetic to Atari's cause, who the film criminally underuses. Hell, the film even has Yoko Ono! Anderson clearly pulled out all the stops in bringing this cast together, and everyone is perfect for their respective role.
The look and production style of the film are ideal as well. You can tell Wes Anderson had a great time bringing this world to life. It's a believable, lived-in atmosphere with interesting, fun characters, human and canine alike. Dog talk is translated into English, while most other characters speak in Japanese with limited translation, leading the viewer to deduce for themselves what is going on, making for a rather interesting viewing experience. Over time, you'll come to bond with the characters, and find yourself absorbed in the quest.
There are very few flaws; the film is just about the right amount of time, and never drags for the most part, even if the climax is a bit stretched out. A few characters, namely Greta Gerwig's exchange student, deserved more screen time and development, but this can ultimately be forgiven in the long run.
Isle of Dogs is Wes Anderson doing what he does best, and having a great time of it. The ensemble cast of voice actors is fantastic, the production values for the animated presentation are top notch, and above all, Anderson has succeeded in giving us a fantastic story as only he could do. Don't miss this one.
Rating: Three-and-a-half stars out of four.
DISCLAIMER: Images in this film are the copyright of their respective owners, including Indian Paintbrush, American Empirical Pictures, and Fox Searchlight Pictures. For promotional use only. All rights reserved.