Chappaquiddick is directed by John Curran. The film stars Jason Clarke, Kate Mara, Ed Helms, and Bruce Dern.
In 1969, as America watches the first moon landing on television, Senator Ted Kennedy, last surviving son of Joseph P. Kennedy, Sr., is involved in a car crash during a party with his staff on Chappaquiddick Island, which leaves a woman dead. It's not long before the last surviving Kennedy son becomes the target of an investigation. He soon finds himself arguing with his staff regarding how to handle the incident, and in choosing a plan of action, gains the ire of his father and fellow staff, as he struggles to come to terms with what happened, and how America may react.
Biopics are often the most difficult films both to make and to review, as they often take liberties with historical events, and it comes down to a matter of whether to review the quality of the film versus the accuracy of the events depicted, as these can often be two very different things. While I cannot vouch for Chappaquiddick being a hundred percent historically accurate (especially when you consider what we know about certain events in the film comes from the testimony of a man drunken at the time of the incident), it's a gripping drama that makes no effort to overly glorify its subject nor make him more sympathetic. It's this factor, along with fantastic writing and performances, which makes it a strong film, even if it may not be the most accessible presentation for those not familiar with the incident and persons involved.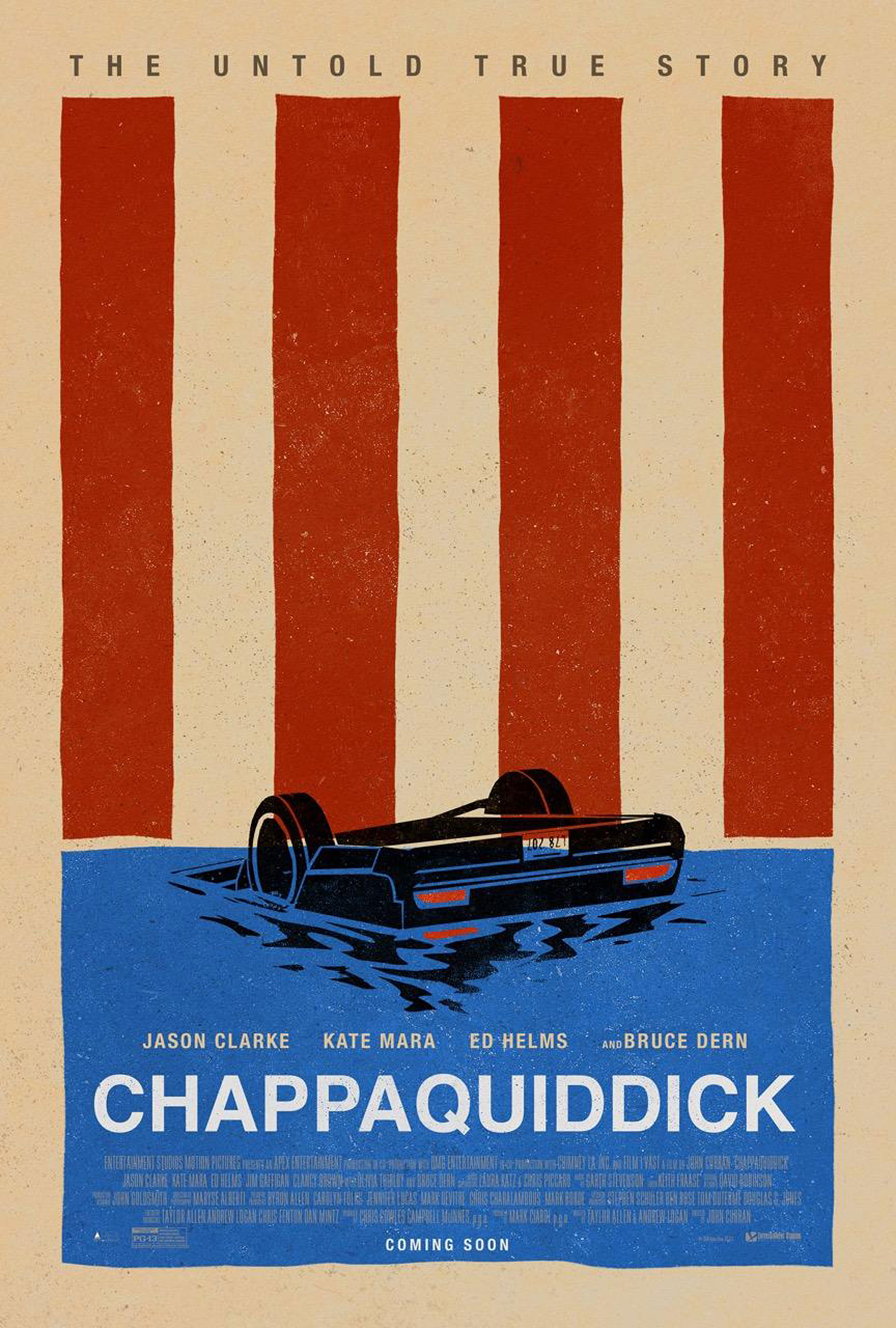 Chappaquiddick features a fantastic cast, including Jason Clarke as Ted Kennedy. The film's strongest asset is that it doesn't paint Ted Kennedy out to be a hero. In fact, some of his actions in the film are questionable and outright detestable. Seeing him struggle with the realities and coming to terms with what has happened are definite highlights. The movie doesn't gloss over the ugliness of the incident and/or its aftermath, either. Aside from Clarke's inability at times to pull off the "Kennedy accent," he's excellent in this role. Great supporting roles include Ed Helms (in a rare non-comedic role) as Ted's adoptive brother, and Bruce Dern as his father, who gets limited screen time, but proves nonetheless to be a loathsome human being more interested in his family's legacy than his son's wellness and moral character.
The film also goes to surprisingly strong lengths to recreate its time period and atmosphere, with period-appropriate content, including commercials and television broadcasts of the era, definitely giving the movie the sense of authenticity it requires. The ending of the film leaves audiences with something of a mixed message, though it actually suits the material here well, as it's surely how much of the American public felt at the time of the incident.
If there's one weakness in this otherwise solid production, it's that it's not the most welcoming product for those not familiar with the incident and/or the persons involved. How many people born after the fact even know what how to pronounce "Chappaquiddick," let alone what it means/refers to? Audiences are bombarded with many persons of importance right from the beginning, and keeping track of them all can be a challenge, even with a knowledge of history. Still, these factors don't keep it from being a gripping and entertaining film.
Chappaquiddick is a surprisingly effective political drama, with a realistic treatment of its subject matter, excellent cast, and fantastic production values, even if it's a bit much for those unfamiliar with the subject matter to digest. That said, there's more than enough to merit a recommendation.
Rating: Three stars out of four.
DISCLAIMER: Images in this review are the property of their respective copyright holders, including Apex Entertainment and Entertainment Studios Motion Pictures. For promotional use only. All rights reserved.