Final Portait is directed by Stanley Tucci, and stars Armie Hammer, Geoffrey Rush, and Tony Shalhoub.
In 1964, American writer James Lord is in Paris, where he has a chance encounter with an old friend, artist Alberto Giacometti, which is residing with his brother Diego in an art studio. Alberto asks Lord if he'd be willing to pose for a portrait, which is only supposed to last "an afternoon," but the tortured Alberto struggles with his vision, resulting in the process lasting weeks, much to Lord's frustration, who must delay his return flight to America many times in the process. Will the portrait ever be completed, and will both men still be friends if and when the process is said and done?
Final Portrait is an odd film, but a surprisingly effective one. Hammer and Rush are perfectly cast, and the process gives a look into the mind of a tortured, disturbed artist, both from the inside and outside, the latter perspective via Hammer's character. A great supporting cast and the small, intimate focus of the film prevent it from being overblown, even if there are a few too many subplots and secondary/tertiary characters.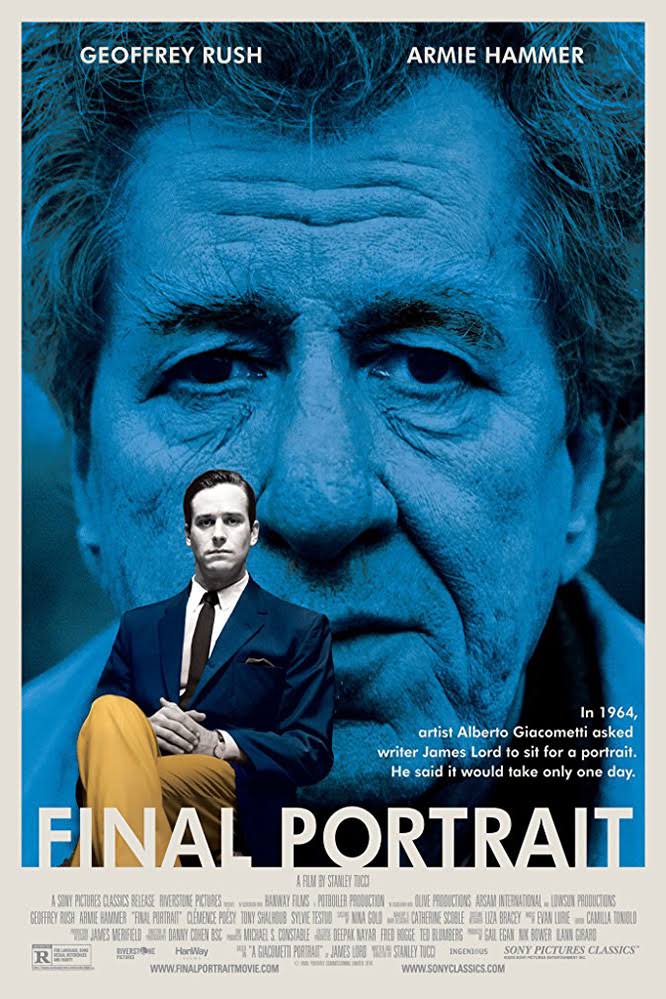 Not enough good things can be said about the film's primary cast. Geoffrey Rush (most mainstream audiences will know him best as Barbossa from the Pirates of the Caribbean franchise) is brilliant as Alberto Giacometti, a talented genius of an artist who continually puts himself down and doubts his own abilities, despite the obvious talent he has. What's supposed to be a one-afternoon painting session goes on for weeks with him struggling to find the meaning in his life, including juggling the relationships in his life, with his wife, his brother, and a prostitute he has been inspired by for years, much to the dismay of her pimps. Words can't describe Rush's performance here; you've got to see the film to appreciate it.
Not far behind Rush's performance is Armie Hammer (co-star of Call Me By Your Name, nominated for many Oscars a few months back) as James Lord. Hammer's character is very much the "straight man" in this film, giving us an exterior perspective of Giacometti's descent into madness. It truly makes you wonder how or why these guys were ever friends in the first place! Their interactions, and the believable reactions from Hammer, who just wants to live his life and get on with things, yet stay loyal to an old friend, make the movie. Generally speaking, the scenes with these two together are the film's best.
The supporting cast is nearly as good, including Tony Shalhoub (probably best known to mainstream audiences for his roles on the television series Wings and Monk) as Giacometti's brother, who the film criminally underuses, but still manages to get in some great moments.
Much of the film is relegated to Giacometti's studio and the community surrounding, which helps to give the movie an intimate feeling, recapturing beautifully its setting and time period. Whether the characters are in the studio or taking a stroll through a graveyard, having a conversation, your eyes will always be on the screen. Given the subject matter, keeping the audience's attention is vital, yet here Tucci and his team of perfectly-cast actors keep viewers interested. It's more interesting, touching, and at times hilarious than a film about a painter has the right to be.
The film isn't quite perfect. There are a few too many subplots that don't quite get the emphasis they deserve. Probably the biggest unanswered question I have is, how did Lord and Giacometti become friends in the first place? These two have almost nothing in common, and while they're perfect foils for one another on the big screen, it makes one ponder this. A lot of subplots, including Giacometti's relationship with his wife faltering and his interest in the young prostitute that has become his muse have potential, but never quite get the level of exploration they deserve.
Despite its emphasis sometimes wavering and never quite exploring certain elements as well as it should, Final Portrait is a strong film, largely due to its small-scale intimate focus on its subjects, and the terrific performances from its cast. It's definitely proof that Stanley Tucci is as talented behind the camera as he is in front of it. A strongly recommended film.
Rating: Three stars out of four.
DISCLAIMER: Images in this review are the property of their respective copyright owners, incuding Olive Productions, Potboiler Productions, Riverstone Pictures, Vertigo Releasing, and Sony Pictures Classics. For promotional purposes only. All rights reserved.