Traffik is directed by Deon Taylor. The film stars Paula Patton, Omar Epps, Laz Alonso, Roselyn Sanchez, Luke Goss, William Fichtner and Missi Pyle.
Brea, a journalist who is doubtful of her job's future, takes a vacation with her lover John, a mechanic, to a friend's corporate retreat to enjoy a weekend away from the rigors of the city, in a classic car John rebuilt himself. In their travels, the two run afoul of a group of gangsters on motorcycles, who are later revealed to be involved with a human trafficking ring. Will the couple escape to safety and expose the criminals, or will they get in too deep?
Traffik attempts to use gritty drama and storytelling to shed light on the ongoing problem of illegal human trafficking, but despite some solid casting, chemistry, and suspenseful moments, it ultimately falls victim to Hollywood cliches, and wastes more time on unnecessary plot elements than it does exposing the plight of the victims. Not to mention there are more plot twists than any movie needs, let alone one in this genre.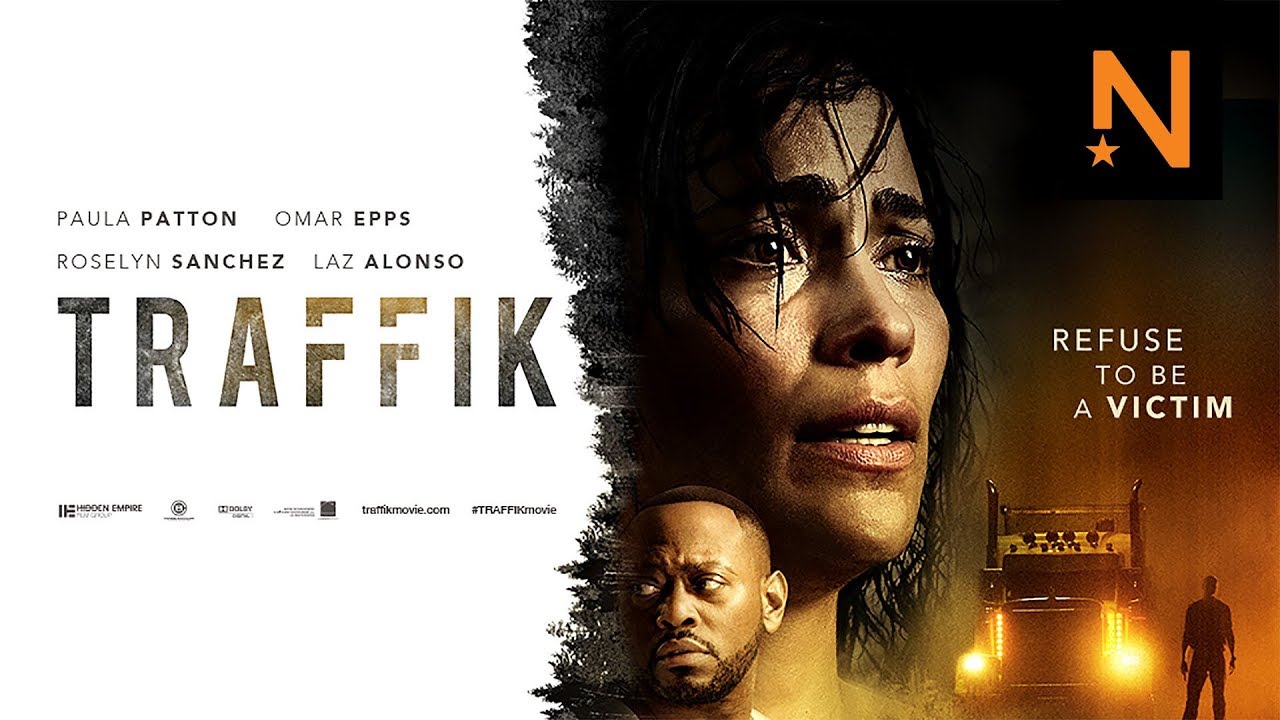 As far as the positives go, there's no arguing with the casting decisions here. Everyone is perfect for the role they're cast in, from the heroes to the antagonists. Paula Patton and Omar Epps are great as a couple getting away for the weekend, and the two have a genuine chemistry. The supporting cast, including the couple they're friends with, is equally entertaining, and it really makes you wish they'd all been in a better movie.
The biggest problem with Traffik is, despite the fact that it's supposed to expose the truth about human trafficking and its victims, the movie seems more interested in giving us gritty, suspenseful scenes, and all kinds of Hollywood cliches. A couple goes out for a stay in a secluded retreat… does any story like this ever go well? A man lets a bleeding couple into his home… again, does that ever end well for the homeowner? A woman kills her captors with conveniently placed dangerous objects… you get the idea. You've seen elements of this movie in countless other movies that do the job far better.
The movie's focus on the couple and their friends in a handful of scenes is an interesting concept, but it brings too many tertiary elements and unnecessary drama into the movie which has nothing to do with the main plot. The filmmakers keep trying to undo the movie's weaknesses by hitting us an audience over the head with repeated plot twists (admittedly, at least one of them I didn't see coming), but it can't change what is, essentially a familiar film in a shiny new wrapper. Ironically, very little of the movie actually has to do with human trafficking, which is relegated to be a plot point and not much else. In fact, a worded epilogue teaches us more about the problem than the actual narrative itself.
Traffik had potential with its cast and shedding light on a serious international problem, but it fails on nearly every front. There just isn't much here for the audience, and a film like this needs to be far more revelatory on its subject matter. Rent it when it comes out on home video formats, but don't rush to the theater.
Rating: One-and-a-half out of four stars.
DISCLAIMER: Images in this film are the property of their respective copyright holders, including Hidden Empire Film Group, Codeblack Films, and Summit Entertainment. For promotional purposes only. All rights reserved.