Bleeding Through – Love Will Kill All
 So I'll be completely honest here…I have been following Bleeding Through since around 2003 or so. I fell in love with This is Love, This is Murderous and The Truth when they were released. Admittedly I have also been following both Bleeding Through and vocalist Brandan Schieppati on social media since I met Brandan in 2009. (Super nice dude, by the way…) I had a Bleeding Through decal on my first car, and I also have one on the car I drive currently. From what I've seen, Brandan has been the most active on social media. So, naturally I follow his Rise Above Fitness gym. (You see what they did there? I have always loved his references to Black Flag! Check his stomach tattoo!) Basically… I've been anticipating this as I've watched the journey that Brandan has been on.
    I was absolutely thrilled when I saw the teaser photos posted on the bands Facebook page. Instantly thinking to myself, "YES. I love these guys!" I was just all around excited to see that a band I grew up with were getting back together. Then the release of "Set Me Free" came, and I was overwhelmed. This track was a perfect re-introduction into this genre of music. I pre ordered the record when that option was presented… I actually pre-ordered it twice, which is another story that I won't even get into… but I will say that I was a pleasantly happy fan with what I had received when it was delivered to me a day after the release date, which was May 25, 2018.
The best thing for me personally, was that that this album still sounded like Bleeding Through. I could pick Brandan's voice out anywhere. Between the upgraded production and style of the band as a whole, they haven't skipped a beat. The mix of dirty and clean tones are a bit of a trademark in the metalcore genre as it is, but the way this band does it is just pretty special. It's still heavier than traditional metalcore. I don't know about you guys, but metalcore when it came up was Avenged Sevenfold, Atreyu, As I Lay Dying, and the list just goes on and on.
    Bleeding Through is heavier than that. They always have stuck out in that sense. I will say that the opening track, "Darkness A Feeling I Know" isn't the strongest opening, but transitions perfectly into "Fade Into The Ash." From that second track listing on, it's an upgraded traditional Bleeding Through record. Marta Peterson, (keyboards) also is far more prominent on this album, at times even sounding like an organ. Which darkens the tones further, giving it an almost melodic death/black metal sound. You don't hear that in metalcore today AT ALL.  There is no slow down to this record, with the exception of the end of the song, "Life.", which is the closing track.
But even then, it's not soft on any level. The ending to the album is perfect in case you happen to have the CD playing in your car… the slow ending transitions back into the opening track and BAM! You're listening to the whole album all over again. (At least, this is the case with me…)
    As far as a conclusion and what I think… I really truly believe this is an album for the fans who have been there for all these years. Bleeding Through opened up a heavier taste for fans such as myself. When Bleeding Through took their break a number of years back,I still had their albums in rotation on my playlist and in my CD changer… But I either was listening to heavier stuff in the likes of The Black Dahlia Murder, or I'd revert back to my preferred genre of thrash and groove metal. Again, very much thrilled to see this band that I grew up with taking back the torch of metalcore. I hope they continue to challenge the bands out there today with this comeback, and re fuel the fire that the genre as a whole desperately needs.
"Love Will Kill All" is available directly from Sharptone, and most music outlets NOW!
Bleeding Through will have their official comeback show on June 8th at The Observatory in Santa Ana, California with Winds of Plague, Lionheart, Too Pure To Die, and Iron Curtain. (Hopefully they will be making their way back to Vegas soon!)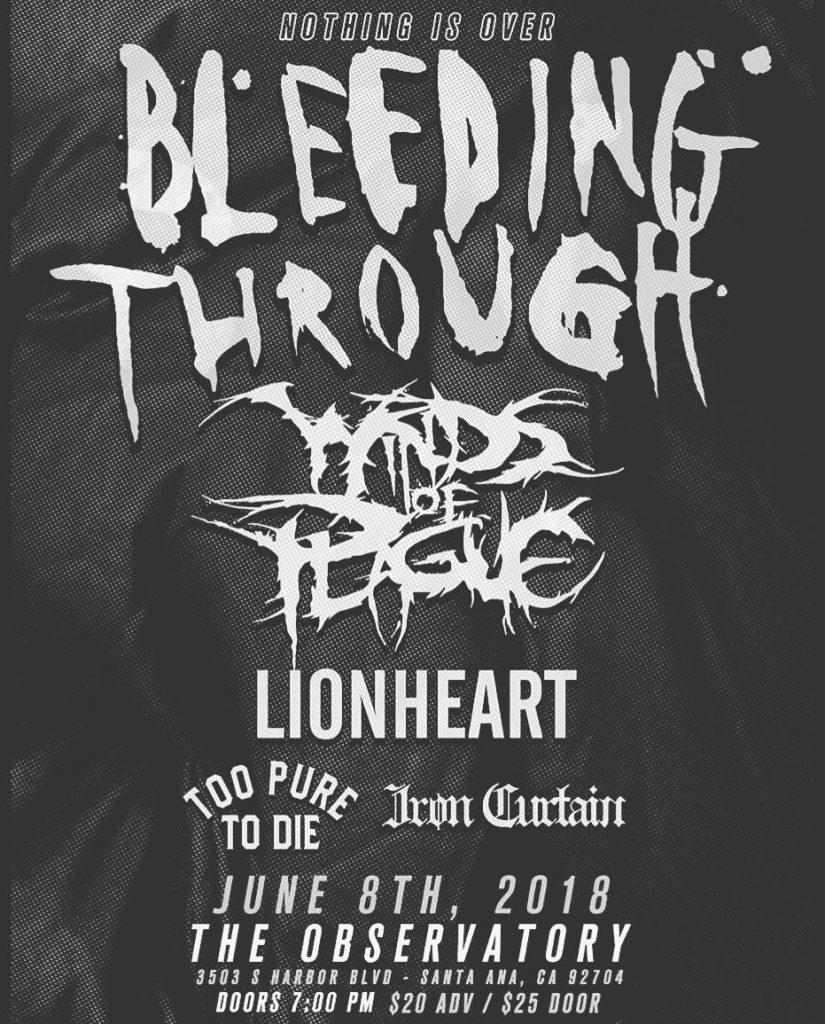 https://www.bleedingthroughofficial.com/
https://www.facebook.com/BleedingThrough/
http://sharptonerecords.co/
PHOTO CREDIT: All photos ©Bleeding Through, Sharp Tone Records, and the Observatory