Jurassic World: Fallen Kingdom (hereafter simply referred to as "Fallen Kingdom") is directed by JA Bayona. The film stars Chris Pratt, Bryce Dallas Howard, Rafe Spall, Justice Smith, Daniella Pineda, James Cromwell, Toby Jones, Ted Levine, BD Wong, Isabella Sermon, Geraldine Chaplin, and Jeff Goldblum. It is the fifth film in the Jurassic Park franchise, following Jurassic Park (1993), The Lost World: Jurassic Park (1997), Jurassic Park III (2001), and Jurassic World (2015).
Three years have passed since the Jurassic World incident, and the island of Isla Nublar sits in a state of abandonment, with creatures roaming the remains of the once-profitable and lively amusement park. A long-dormant volcano returns to life, threating the lives of what dinosaurs remain on the island. Former Jurassic World employee Claire Dearing unites with her old acquaintance, former raptor trainer Owen Grady, to launch a rescue effort alongside a militant group. But it quickly becomes evident things aren't what they seem, and more sinister motives are in play from other parties who have their own interest in the dinosaurs.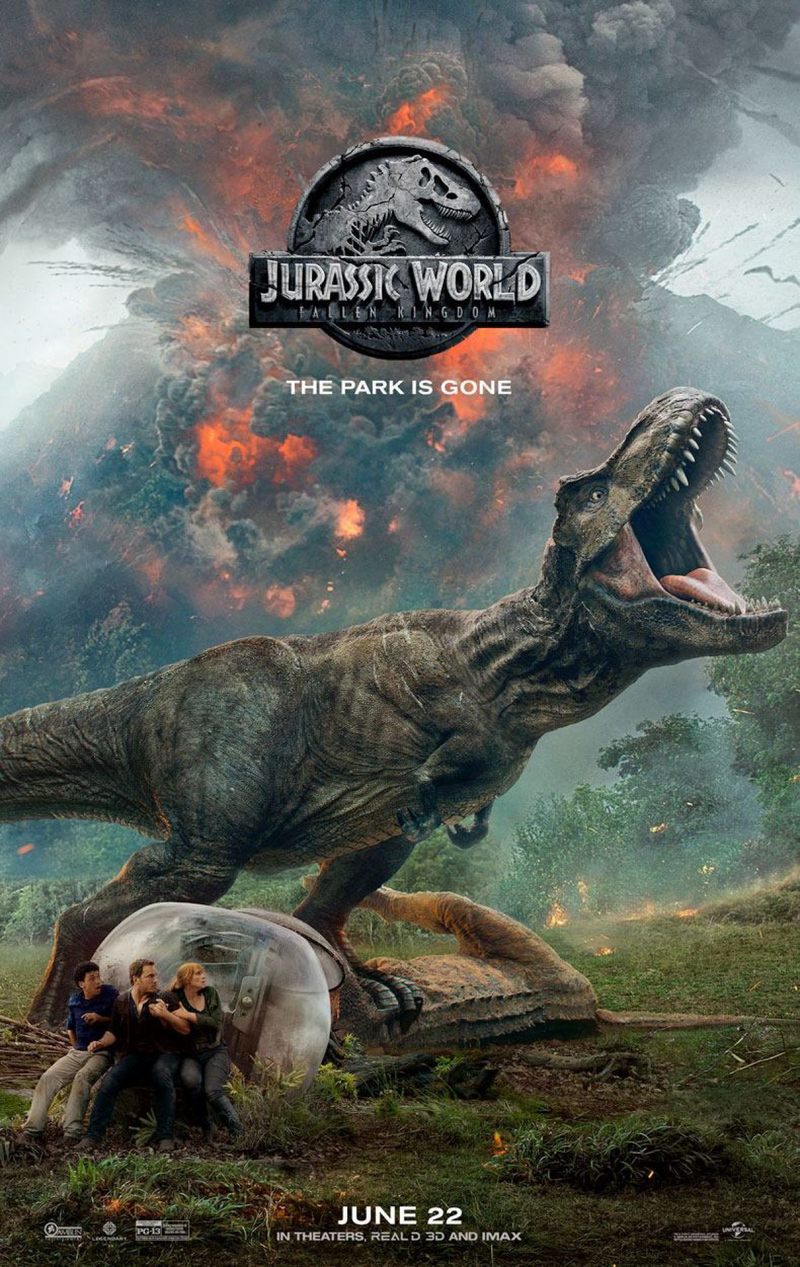 The original 1993 Jurassic Park, based on a novel by Michael Critchton and directed by Steven Spielberg, was an instant success and remains one of the seminal films of the science fiction genre. Attempts to replicate this success in the form of sequels, though, have been hit and miss, with subsequent films losing track of the original's human element. Fallen Kingdom is a decent enough follow-up to 2015's Jurassic World, but it's a movie that's simply going through the motions, taking the best elements of older movies and recycling them, albeit effectively at times. Weak writing and predictability hurt the final product, though one can't deny the movie, while too long, still has some exciting moments.
Okay, let's get the worst parts out of the way first.
Our heroes have to go to Isla Nublar to rescue dinosaurs in danger of dying with the eruption of a once-dormant volcano, alongside a militant group.
Let's take a look at that for a second.
First and foremost, why would you build an amusement park on an island with a volcano? This means that even if the Jurassic World scandal from the previous film hadn't happened, the park's doom was inevitable.
Secondly, our heroes want to go to the island to rescue dinosaurs. Let's see… do human interactions with dinosaurs in this series ever go well, particularly with those distressed by a natural disaster? The heroes of the film basically walk into a disaster knowing full well the risks they take. Without a second thought.
And lastly, the presence of a militant group. When hired military personnel are present in this franchise, again, are they ever on the side of the heroes? Considering the previous movie had a militaristic villain with his own motives, it makes their inevitable actions all the more predictable.
The movie has some great action scenes but suffers too heavily from a "been there, done that" feel. We know our lead heroes and child characters are going to survive despite the odds against them. We know many of the newly-introduced characters, namely the evil ones, are going to meet with a violent end (though seeing the latter get their comeuppance remains one of the franchise's most satisfying elements). Like all entries in this series, the human characters are largely one-dimensional stereotypes, and many of the laughs from new characters feel like they belong in a different movie. Furthermore, many of the tertiary characters and subplots feel unnecessary. That said , Chris Pratt and Bryce Dallas Howard still have some good chemistry and fun scenes together.
I will give the movie credit for the things it does well, however. The opening action sequence is a fantastic attention-getter. Throughout the film we get plenty of scenes which will keep your eyes glued to the screen. An interesting "change of venue" for the movie's third act makes for some surprise sequences as well. The movie is hardly original at all, but it's never boring, even if it tries to throw in too much plot and too many characters/story elements.
Fallen Kingdom doesn't score too many points for originality, but it's a decent addition to the Jurassic Park franchise. The human characters are bland as ever and the writing/story is lacking, but as a big dumb popcorn movie, it fits the bill nicely. See it, but don't get in a mad rush to go to the theater on opening weekend.
Rating: Two-and-a-half stars out of four.
DISCLAIMER: Images in this review are the property of their respective copyright holders, including Universal, Perfect World, Legendary, Amblin, and The Kennedy/Marshall Company. For promotional use only. All rights reserved.