Straight Six is out of Denver, Colorado. Until a few weeks ago I was not familiar with the group, but upon seeing them open for Dio Disciples in concert last month and being blown away by their stage show, I knew I had to explore more of their music. To date, the group has recorded one EP, with more recordings on the way.
Straight Six is comprised of vocalist Jay Quintana, bassist Glen Drieth, Eric Schaudies on guitar, and Joey Shapiro (of the band XYZ) on drums. It's only been about a year since the group formed, but they've already begun drawing in a following. At the Dio Disciples show where I saw the band as a support act, I purchased their EP, which I've been listening to constantly since then. And it's time to give it a review.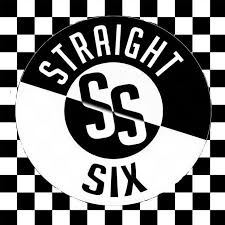 The group's high energy live show got my attention, and I'm pleased to announce the EP certainly doesn't disappoint. There are only six tracks on here, but for its duration of just under 25 minutes, these tracks hold your attention. It's a rock and roll party reminiscent of sounds from the old Sunset Strip days and early Van Halen, with fantastic work from all the musicians. These guys are musically talented and proficient but clearly have a good time and don't always take the lyrical themes too seriously, as is beautifully demonstrated in the opening cut, "Black and Blue."
Most of the tracks on here are straightforward rockers, but the group branches out with a handful of slower and more melodic cuts as well. My personal favorite track on the record is "Old Back Road," with backing vocals which feel like they could have come from an Enuff Z'Nuff song. From the release's opening moments to going out with a bang on closing cut 21 Guns (not a cover of the Green Day song) this EP kicks ass.
The guys in Straight Six make great music and have a fantastic time doing it. Bring on the next release! But in the meantime, be sure to pick up this EP. Any fan of old school rock and roll from the classic Sunset Strip era and/or old Van Halen will love what these guys have to offer. Highly recommended.