Dreams I had as a child often revolved around TV Shows and the most legitimate 90's advertising that fried into to my brain from days of sitting in front of a JVC tube TV. Like most kids, my nightmares sometimes had a guest appearance from clowns, but none more than the diabetes peddler himself, Ronald McMothaFucking Donald!
Another thing that haunted my dreams as a child were the Megadeth posters in my uncle's house.  Six-year-old me taking naps in a room that had the old man from Countdown to Extinction silently screaming at me was intriguing compared to the huge print of the inside slip from Youthanasia that plagued my nightmares. You know, the one where it's a god damn Grim Reaper with long, sharp fingers holding a tiny baby in his arms! The fear I felt from those posters quickly made that burger slinging clown look like Bozo cheering you on during the Grand Prize Game ball toss.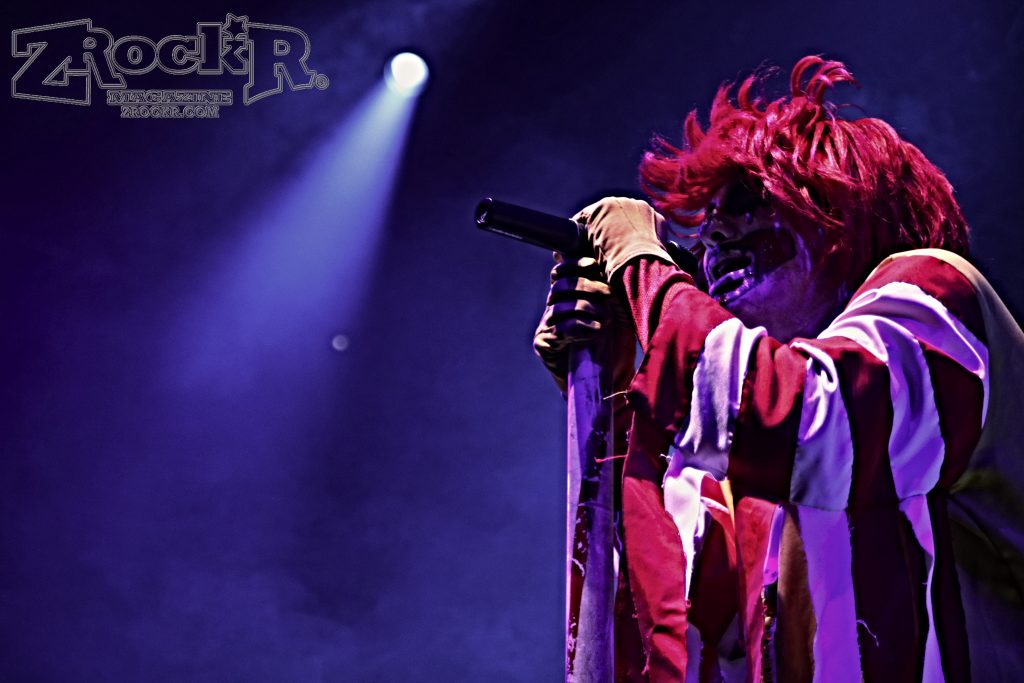 If you told munchkin me that Metal and McDonalds would one day have a strange, British love child, I would first have a few fearful questions about where babies come from, and then after hearing them, scream my face off. Fortunately, when older me heard of Mac Sabbath, I understood more about the world but still screamed my face off in horror of what could be.
I'd heard rumbles about Mac Sabbath's last Vegas show at The Dive and knew I had to drive-thru and see the spectacle for myself when they visited Brooklyn Bowl last month. If you think bigger is better when it comes to cover show venues, I would invite you to the next gimmicky set that happens at Brooklyn Bowl to quickly change your mind.
The Dive can have you fighting for air with 30 people in the room, but when those same 30 people take over a 600 spot venue, it makes you wonder how any of the show was even profitable.
The stage was covered by a yellow tent that looked like a quarantine area at the Ringling Brothers Circus, and peaking behind was a demented clowns head just staring at the crowd. I wasn't sure what to expect, but I knew it would be like nothing I'd seen before.
The tent came down and revealed the rest of the clown that appeared to escape a Jack in The Box toy and take life-like form in the back of the stage, but in front of him was the most mouth-watering drum set I've seen in my life. Manned by The Hamburgerler's twin brother, Catburgler, this was a drum set that not only kicked out beats, but did so with Hamburger drum pieces! Screw bass drum covers; his rack toms were shaped like god damn Quarter Pounders!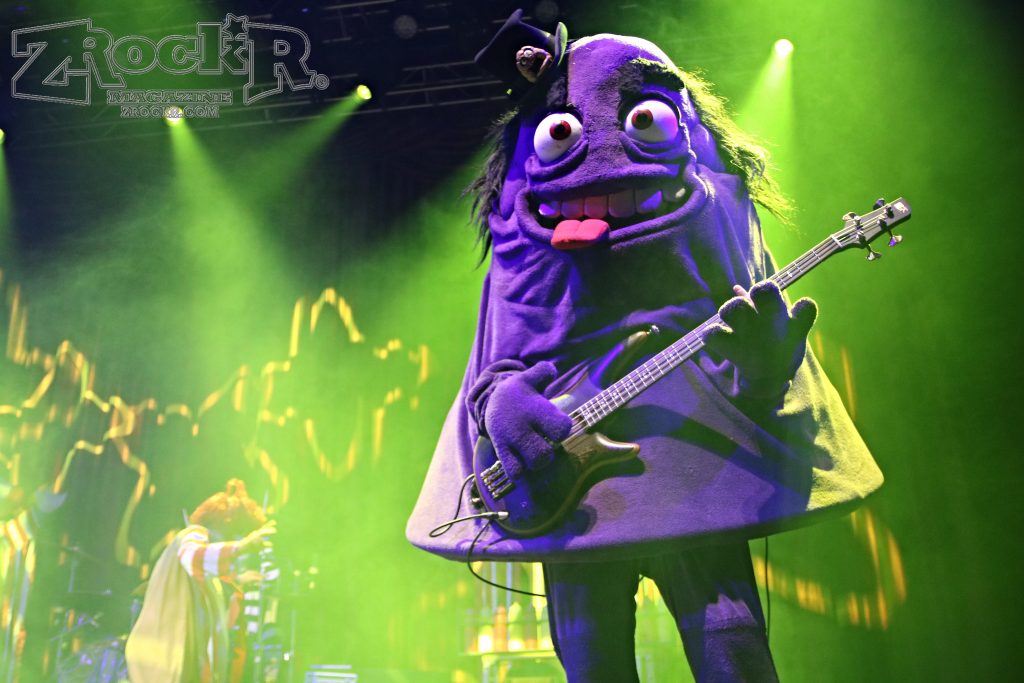 I wasn't sure if a stage reveal could have been any more awesome, but the house speakers started up a familiar tune for the Vegas crowd that seemed a little too fitting, and there's no stopping the foot-tappin' and finger snappin' when Ol' Blue Eyes Sends in the Clown. I heard that the night before Mac Sabbath opened for ICP, so I could imagine their reception was on the same par.
After Catburgler made me blow my Special Sauce load all over the place, I had to act like the reveal of the other cast members was more appealing, but luckily they didn't make that task difficult. My personal favorite McDonald's cast member, Grimace, was taken over by the bass slappin' Grimalice, and the Mayor of McBurgerville, Slayer McCheese, was there to lay down some McFlurried riffs on guitar.
With his supporting cast ready to raise some medium-bloody hell, and those bad ass quarter-pounder drums pounding, the twisted science lab experiment that spliced Ronald McDonald and Ozzy Osbourne together, and the more lazy-named one of the group, Ronald Osbourne made his way to the counter to take our order and bite at all your favorite Sabbath classics.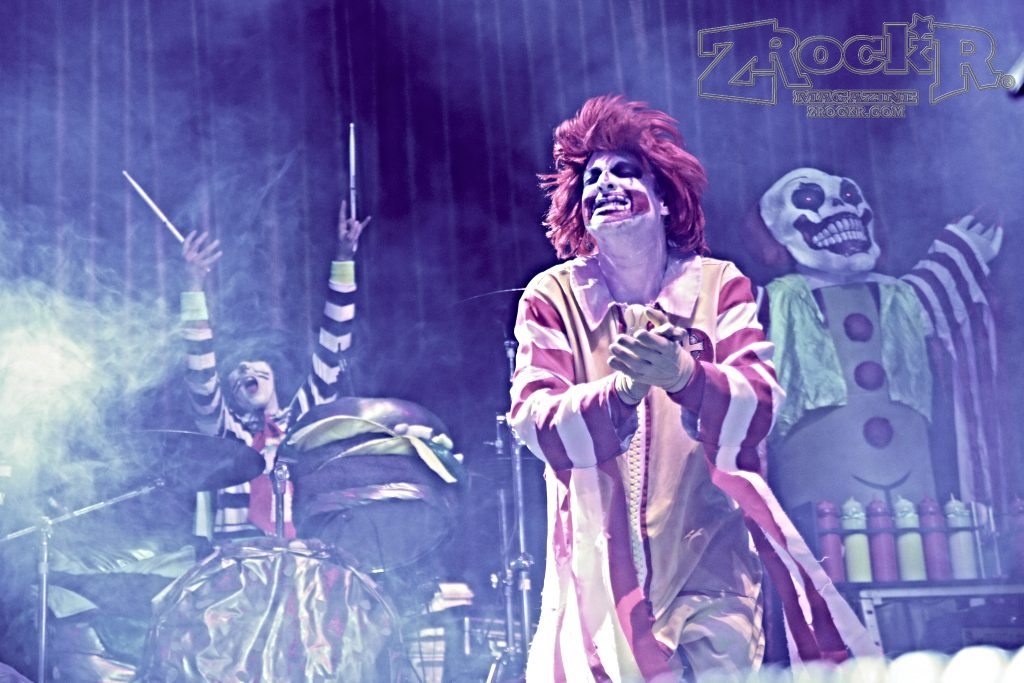 Starting off with the not-so-self-titled "Black Sandwich" and then into the un-electric "Orgnaic Funeral" had a nice and funny start to the set. Grimalice was immediately my favorite of the four based on the fact that he was in a full on purple amusement park costume and still bounced around on that bass like it was nothing.
Their hits like "Frying Pan", "More Ribs", and "Pair-a-Buns" made the set worth it (I'll leave it up to you to puzzle together which Black Sabbath songs those could be based on), and guest appearance from their Shake Boy in a tracksuit, trying his best at what they called "Mac Sabotage", left a sort of unsettling feeling that made me want to just go smoke a cigarette.
I've always known that an act like this can outgrow themselves, but I honestly think the band is getting sick of doing these shows. You don't see that much enjoyment in their face and it almost seems like they are trying to get out of the room as fast as they came in, much like how I find myself feeling in an actual McDonalds. If they can keep those sweat-suits on and push through more tours, I'd pay dollar menu prices to see them again.
PHOTO CREDIT: All photos by Stephy Hayward for ZRockR Magazine - ©ZRockR Entertainment, LLC - ALL RIGHTS RESERVED