The girls of Vixen have been rocking for decades. Despite hiatuses and tragedies, the group has enjoyed a resurgence of popularity in recent years. The current version of the band features classic members Janet Gardner, Roxy Petrucci, Share Ross, and new guitarist Britt Lightning, who replaced late founding member Jan Kuehnemund following her death in 2013, as well as touring keyboardist Tyson Leslie.
Live Fire is a new live album from the current incarnation of Vixen, who recorded it in Chicago in 2017. With the group's resurgence, it's not surprising longtime followers are curious to hear what the band sounds like on a live stage. In addition to showcasing the band's Chicago set, the release also features a newly recorded studio track, and a re-recorded acoustic cut. Is this the live album Vixen fans will want?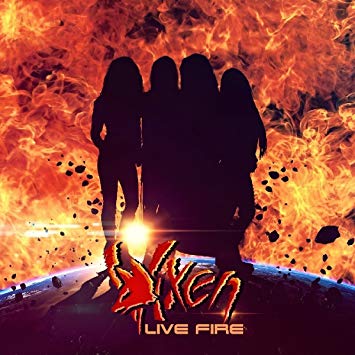 I'm always weary revisiting older bands who put out live albums, as all too often, they're rushed cash grabs that sound terrible. I'm pleased to announce Live Fire doesn't fall into that category. Vixen is a band which has endured a great deal in their lengthy time together, but here they take to the Chicago stage and kick ass from start to finish. Mixed by the iconic Michael Wagener, the whole release sounds strong, and everyone in the band is fantastic throughout the performance. There's not a dull moment here.
The release starts strong with a killer rendition of "Rev It Up," the title cut from the band's second studio record. Of course, we've got the performances of the other obligatory hits, "Cryin'" and "Edge of a Broken Heart," both of which get the life they deserve on stage. The setlist digs into some deeper album cuts as well, including "Rock Me" and "Love is a Killer." Surprises in the live set include a cover of Deep Purple's "Perfect Strangers" (not listed on the jewel case as it's part of a medley with another song) and a cover of "I Don't Need No Doctor," the classic rock anthem popularized by Humble Pie. The live set also features "Big Brother," a previously unreleased song.
Following the 12-track live set, there are two new studio cuts, "You Ought to Know By Now," which the band performed back in the day but never actually recorded on a studio record, and a new acoustic version of "Edge of a Broken Heart," which sounds fantastic.
Vixen is back, and kicking ass on the live stage. Hopefully the band is around for years to come with plenty of new music in the future; this live album is all the indicator you need to know they're still on fire and at the top of their game. If you're a fan there's no reason not to add this to your collection.