Searching is directed by Aneesh Chaganty. The film stars John Cho, Debra Messing, Joseph Lee, and Michelle La.
Following the death of his wife from cancer, David Kim has grown estranged from his daughter Margot. When Margot goes missing under mysterious circumstances, he calls the police and is assigned a detective to handle the case. Utilizing what little he knows about modern technology, he reaches out to those acquainted with Margot and does his own investigations, discovering many potential clues, but will it be too late to save his only child? The story is told in the form of computer screens, online video, surveillance footage, newscasts, and "found footage."
I'll be the first to admit that the gimmick of telling a story through "found footage" and computer/phone screens has been done to death in recent years. After having seen the mediocre Unfriended: Dark Web a few weeks ago, I wasn't exactly thrilled to be heading to the theater to review yet another movie employing the same gimmick.
I was totally wrong there.
Searching defies the expectations and not only employs this method of storytelling better than any other of recent memory; it's one of the best movies of the year. A fantastic cast, brilliant use of its storytelling format, fleshed-out main characters, and the "cautionary tale" nature of the film means it will hit close to home in ways you'd never expect. Furthermore, it keeps you guessing the entire time, on the edge of your seat. You won't want to look away, and when it's all said and done, you'll want to watch it again to see how and where all the pieces fit.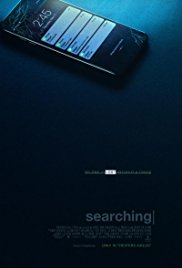 The film starts off brilliantly with a montage of the Kim Family reminiscent of that in the film Up, which shows the family growing close together, happy family memories, the death of David's wife, and Margot's growth into a teen. First impressions are everything on a viewer, and if you want to get my attention and make me care for the characters, this is a brilliant and well-executed way of doing so. I genuinely believed this a real family from the beginning.
John Cho steals the show at David Kim. Here's a man who thinks he knows everything about his daughter, yet doesn't realize he's drifted apart from her following his wife's passing. He doesn't know who his daughter's friends are, what's changed in her daily habits away from him, and so forth. When the unspeakable happens, David's reactions and the actions he takes are true to life and make the character seem all the more authentic, whether it means neglecting his job to search for his daughter, or getting into a fracas with a teen who posted insulting comments on social media. The other standout of the film is the detective assigned to the case, played by Debra Messing, who gets more than her share of strong moments throughout.
The gritty realism of the film and the cautionary nature further contribute to what makes the film one of the strongest of the year. David doesn't know what Tumblr is. He barely knows how to use a computer and/or social media sites outside of what's required for his job. He wants to be a part of the investigation and is genuinely shocked and impacted by what he discovers. Parents today live in a world where everyone is overly reliant on computers, smart phones, and social media; a picture Searching paints brilliantly for its audience. Parents will think twice about their lacking involvement in their kids' lives after watching this film, making its message all the more potent and worth experiencing.
It's called a thriller, and boy, does it ever thrill. Along the film's 100-minute runtime, we see many clues, some of which are shocking and hearken back to seemingly pointless elements earlier in the movie, and these range from red herrings to those which actually play a role in the film's shocking yet satisfying conclusion. You'll encounter plenty of "Why didn't I think of that?" moments throughout the movie; all the pieces are there. Don't let the storytelling gimmick throw you off; it's one of the best thrillers of recent years.
There are a few minor issues with the film, though these are minuscule and shouldn't keep you from seeing the movie. I would liked to have seen more of how the events of the film impact David's career, and the onslaught of clues/characters/etc. we're subjected to is a bit much at times, especially considering many of the leads don't pan out, though this could arguably be considered metaphorical for what David experiences in what seems like a fruitless search for his daughter.
Searching is far better than the trailers and what you've read will lead you to believe. It's a thriller of the best kind which hits close to home due to its gritty realism and cautionary warning to parents in the digital age. Very highly recommended!
Rating: Three-and-a-half out of four stars.
DISCLAIMER: Images in this review are the property of respective owners, including Bazelevs Company, Stage 6 Films, and Screen Gems. For promotional use only. All rights reserved.