The Predator is directed by Shane Black. The movie stars Boyd Holbrook, Trevante Rhodes, Jacob Tremblay, Keegan-Michael Key, Olivia Munn, Thomas Jane, Alfie Allen, Jake Busey, and Sterling K. Brown. It's the fourth film in the Predator franchise (sixth if one includes the Alien vs. Predator crossover films).
Quinn McKenna, a military man estranged from his ex-wife and child, crosses paths with a Predator spacecraft, but the authorities try to silence him and send him to a rehab facility with other military personnel in need of therapy. When the Predator's helmet ends up in the hands of McKenna's son, he inadvertently summons a Predator to Earth, who is hunting another Predator who has supposedly turned traitor. It's up to McKenna to ally with his fellow undesirables and a biologist interested in studying the creatures to put a stop to the deadly being.
While The Predator isn't a great film, it's certainly an entertaining one. Shane Black (who actually appeared in the original 1987 movie) directs and co-wrote the screenplay, and his script and direction keep things both intense and humorous alike. There's plenty of action, violence, and a surprising amount of comedy, even if the latter does get a bit out of hand and feels forced in places.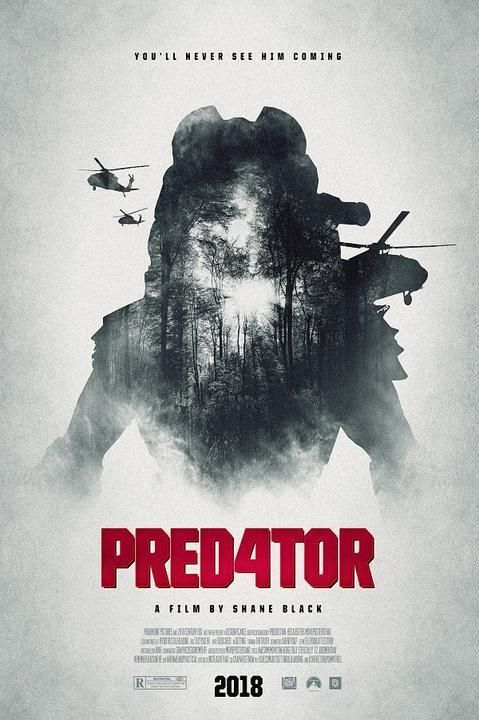 The cast of The Predator stands as one of its best features. I respect the film crew immediately for not rushing out and immediately hiring a group of Hollywood A-listers; these actors aren't necessarily the best known names in the movie industry, yet they all suit their respective roles nicely and have plenty of chemistry, particularly noticeable in Black's trademark back-and-forth rapid-fire dialogue (if you've seen the Lethal Weapon movies, you know this guy's not a knack for writing dialogue). There are certainly bloody and violent moments in the movie, but this coupled with the humor made for quite the entertaining experience. It's well written and scripted, though I will admit the humor does go overboard at times.
One complaint with the film is it does something previous films in the series haven't done, which is bringing child characters into the film. The scenes with Jacob Tremblay are well-acted, but many of his scenes feel more like they belong in Wonder, the film he starred in last year, as he plays a misfit struggling with a disability here too, albeit more the mental kind than the physical kind this time around. I love this kid; he's entertaining as hell. But I certainly don't want him to end up typecast as "the child actor who always plays kids with disabilities."
As far as the action goes, the movie delivers plenty of R-rated violence. We get to see the Predators doing what they do best, and our human heroes attempting to do their part to stop the potential invasion. There are the usual plot developments, and while it's a bit predictable and there are some pacing problems in a few places, the effects and action may very well be the best in the franchise so far.
The Predator makes a few missteps, but for what it is, it's a fun action/sci-fi movie with entertaining characters and rapid-fire dialogue. This isn't a masterpiece and certainly doesn't dethrone the original 1987 film, but it entertains, and that's what counts. Moderately recommended, but for mature audiences only due to the levels of violence.
Rating: Two-and-a-half stars out of four.
DISCLAIMER: Images in this review are the property of their respective owners, including 20th Century Fox, TSG Entertainment, and Davis Entertainment. For promotional purposes only. All rights reserved.