The Old Man and the Gun is directed by David Lowery. The film stars Robert Redford, Casey Affleck, Danny Glover, Tika Sumpter, Tom Waits, and Sissy Spacek. The movie is based on the true story of career criminal Forrest Tucker.
In 1981, career criminal Forrest Tucker has broken out of prison, something he's done many times in his life, as he's more into the thrill of committing crimes than the actual score. When several banks are held up, detective John Hunt is on the case, following the trail and attempting to do his part to stop the mysterious "happy gentleman" robber who's been committing crimes with a gang of his peers. Tucker befriends and falls for an old woman, but continues his crime spree. Will Hunt catch the crook? Will Tucker's life catch up with him?
Robert Redford has announced his intent to retire from acting following the release of The Old Man and the Gun. At 82 years of age, the veteran actor has left behind a massive body of work which will continue to be revered long after his passing. For a crime film, The Old Man and the Gun is surprisingly light-hearted and breezy, but its charismatic leading man, a strong supporting cast, and brilliantly executed period atmosphere make it a strong film for Redford to go out on.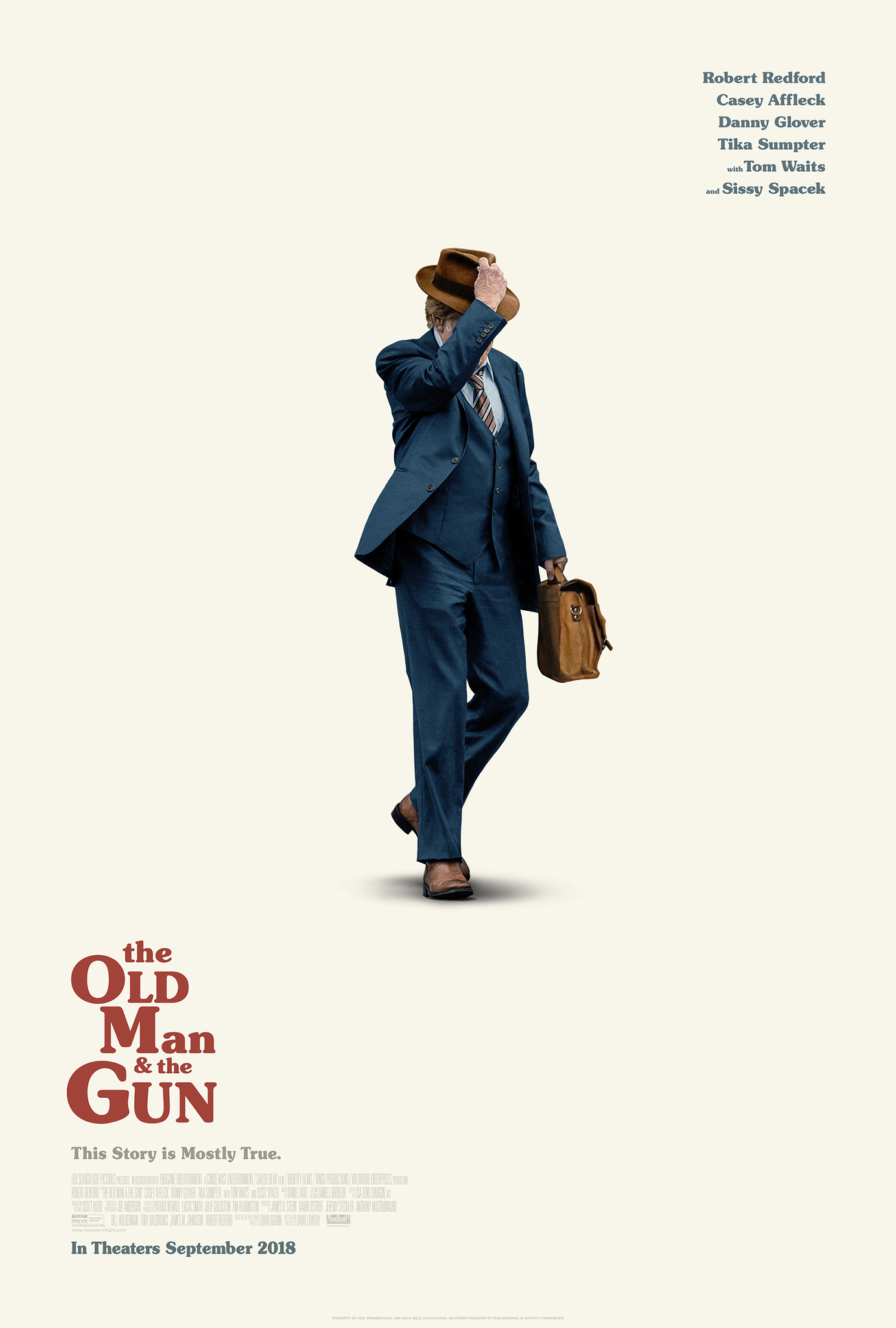 We've seen crime films before. We've seen movies about criminals who are more in it for the thrill than the score. Those elements are nothing new in the world of cinema. But the WAY Mr. Redford brings Forrest Tucker to life makes for a memorable movie. This isn't a man who wants to bring down the authorities or who is screaming demands to those he robs. Rather, he's a seemingly kind-hearted gentleman who finds his own way to succeed. His fellow crooks, including one played but the always-entertaining Danny Glover, have their share of moments, though they're disappointingly neglected for most of the film. Another stand-out performance comes from Sissy Spacek, who falls for Redford's character, making for the most interesting relationship of the movie.
On the other end of the spectrum we have Casey Affleck as the detective out to stop the strange robber and his gang he's heard so much about. A stressed family man who isn't sure his efforts on the job are making a difference, he gives a strong performance, and seeing the "cat and mouse" game unfold on film makes for some interesting viewing. I wish there had been more emphasis on his day-to-day life and living with his family, as despite his best efforts, he can't quite match what the ever-charismatic Redford is doing here. A few other subplots/threads/etc. don't quite get the fleshing out or emphasis we'd like, but everyone does a great job with what they're given.
The film also does a good job replicating the era in which it's set. Even the musical score sounds like something one would expect to find in a crime thriller movie made around the time period the film is set in. Elements like pixelated CRT-style TV footage and the color palette of the movie manage to do a superb job placing the movie squarely in the era.
The overall tone and feel of the movie makes it all the more memorable. Despite its leading man being a criminal, there is surprisingly little violence. It's largely a character study, yet it never feels like something which talks down to its audience, and it breezes right by with its hour-and-a-half running time. The film is easily accessible to a wide variety of viewers, and I have no doubt it'll find a sizable audience given the proper distribution. As what may very well be Redford's final film, it deserves to be seen.
The Old Man and the Gun is a fantastic swan song for Robert Redford, helped along by its strong supporting cast, authentic period setting, and surprisingly nonviolent and light-hearted tone. It's well worth seeing despite its minor flaws.
Rating: Three stars out of four.
DISCLAIMER: All images in this review are the property of their respective holders, including Endgame Entertainment, Conde Nast Entertainment, Sailor Bear, Identity Films, Tango Productions, Wildwood Enterprises, and Fox Searchlight Pictures. For promotional use only. All rights reserved.