The Nutcracker and the Four Realms (hereafter simply referred to as "Four Realms") is directed by Joe Johnston and Lasse Hallstrom. The film stars Keira Knightley, Mackenzie Foy, Eugenio Derbez, Helen Mirren, and Morgan Freeman.
Young Clara is distraught by the death of her mother, but is dragged to a Christmas party by her father at her godfather Drosselmeyer's house. Clara seeks to open a mysterious golden egg she received as a Christmas gift, and her search for the key leads her into a strange land where the kingdoms are at war with one another. Searching for her key, Clara befriends the Regents of the Four Realms in this mysterious land her mother had once visited. But she quickly discovers the hard way things aren't what they seem at first glance, and finds herself in a heated struggle between good and evil.
There's no arguing Four Realms is a fantastic looking film with its fantasy kingdoms, eccentric cast, and sprawling setpieces. It's even well cast. Unfortunately, the beauty on screen can't disguise the movie's generic paint-by-numbers story and an overdone "believe in yourself" lesson we've seen a million times in other films. This isn't a horrible film, but it's not worth rushing to the theater to see it.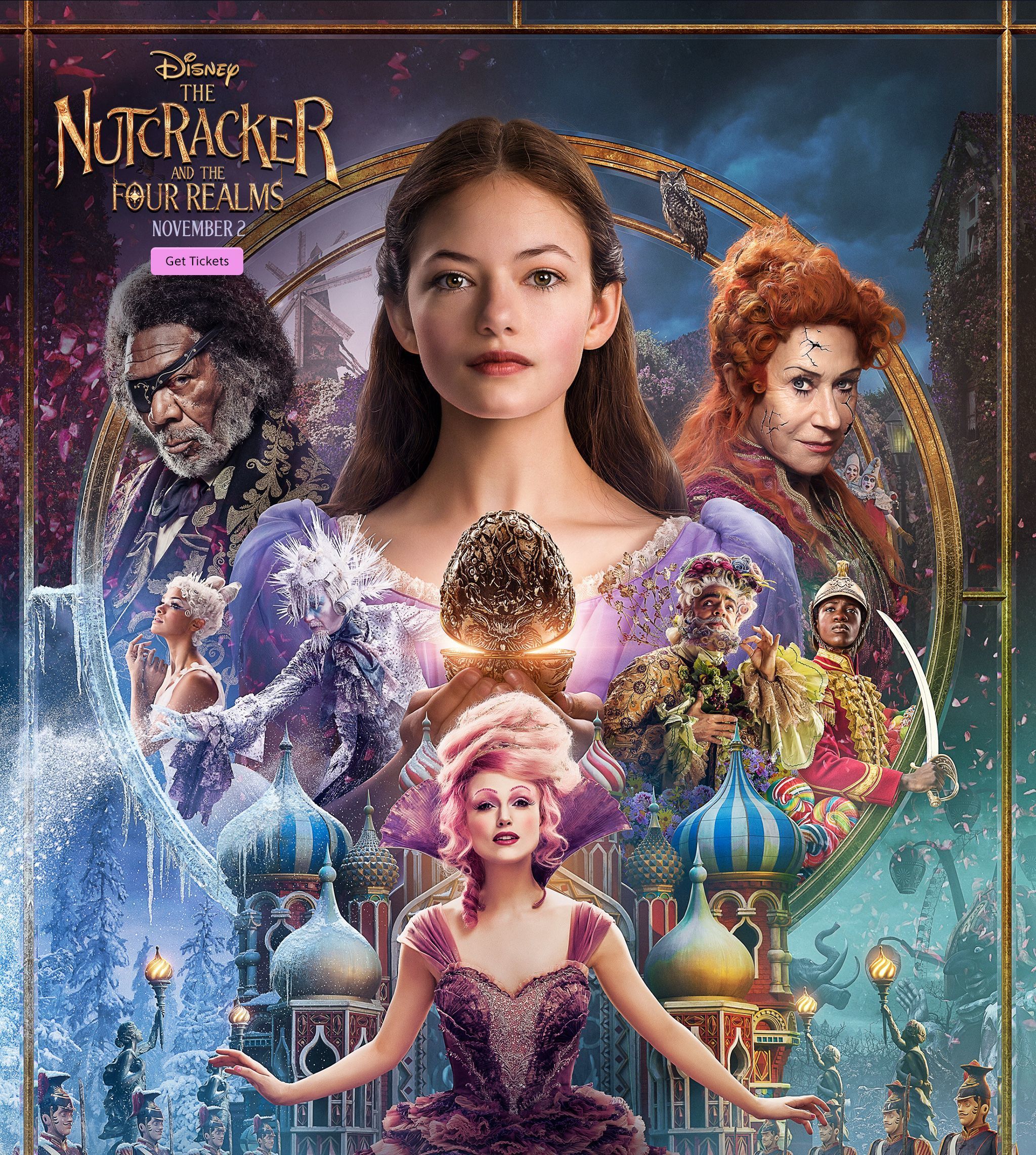 The casting and the look of Four Realms are fantastic, with Mackenzie Foy making for a likable young heroine dealing with a difficult time and circumstances, suddenly flung into a conflict over her head. The colorful environments are definite eye catchers, and even the film's bookend sequences in Victorian-era London look fantastic (even if the latter scenes would have been more at home in A Christmas Carol). From a production standpoint, Four Realms shines. Keira Knightley also shines as Sugar Plum, doing the best she can with what material she's given.
Sadly, other aspects of the movie just don't hold up as well. Morgan Freeman fans will be disappointed to know he's hardly in the film at all, despite appearing quite heavily in the advertising. The "bookend" sequences which introduce and close out the film have the potential for genuine drama, but these elements are essentially shafted in favor of an approach which relies more heavily on its visuals. Pacing suffers as well, with far too much time wasted on introducing Clara to the film's fantasy world. It's simply too long before anything interesting happens, and I believe younger audiences will be bored despite the visuals.
The movie also falls back on too many cliched elements we've seen in too many other movies. Clara receives a locked golden egg with a note saying everything she needs "is inside." What does this riddle actually refer to? If you've ever seen any movies before in your life, you'll have this figured out long before Clara herself.
You'll be impressed with the visuals of Four Realms, but the film disappointingly suffers from weak storytelling and little to keep the interest of the viewer. The final product is disappointingly conventional. A decent weekend rental title when it gets a home release, but don't rush to the theater.
Rating: One-and-a-half out of four stars.
DISCLAIMER: Images in this review are the property of their respective holders, including Walt Disney Pictures and The Mark Gordon Company. All rights reserved. For promotional use only.