The Sisters Brothers is directed by Jacques Audiard, and is based on Patrick deWitt's novel. The film stars John C. Reilly, Joaquin Phoenix, Jake Gyllenhaal.
The Sisters Brothers are two hitmen in the employ of a man known as the Commodore. The two are tasked with hunting down Hermann Warm, a man who has invented a new tactic for locating and mining gold from rivers. When Warm allies with the Brothers' former ally John Morris, they must formulate a plan to complete their mission, all the while dealing with the frustrations the Frontier and less-than-welcome towns throw their way.
I love Westerns, and it's no secret there aren't nearly as many of them as there once were. What few films in the genre come out these days tend to be hit-and-miss releases. So, how does The Sisters Brothers fare?
Somewhere in the middle. The film has two great leads, but you'll wish they were in a better movie.
I'll give immense credit to Reilly and Phoenix for stealing the show. One's an optimistic man who drinks heavily and aims to cement his reputation in history, while the other is a realist and a pessimist who considers leaving the business behind but stays loyal to his brother. The chemistry between the two is easily the film's greatest strength, and it's fun to watch their relationship unfold on the big screen. It's also a beautifully shot film, showing the natural beauty of the West and some rather ugly and gruesome moments along the way.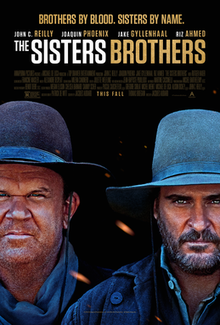 Unfortunately, other aspects of the film don't fare as well. The narrative is a mess, and it's difficult to know what's going on in many scenes and plotlines. The move feels very episodic, moving from one "episode" to the next without much development. The tone can also change in the blink of an eye, from outright hilarious to bleak and dismal. One of the film's greatest weaknesses is it suffers whenever Reilly and Phoenix aren't together on screen. Sequences with Gyllenhaal and his accomplice have their moments, but pale in comparison and drag the narrative down as we jump back and forth between the two stories. The change of tone in the third act and lack of a real climax don't do the movie any favors, either.
I liked The Sisters Brothers, but wanted to love it. Its fantastic leading pair is unfortunately derailed by an overlong running time, scattershot narrative, and episodic structure. Rent it when it comes out on video.
Rating: Two stars out of four.
DISCLAIMER: All images in this review are the property of their respective holders, including, Why Not Productions, Annapurna Pictures, and Page 114 Productions. For promotional use only. All rights reserved.