Overlord is directed by Julius Avery. The film stars Jovan Adepo, Wyatt Russell, Mathilde Ollivier, John Magaro, Gianny Taufer, Pilou Asbaek, and Bokeem Woodbine.
In World War II, in the days leading up to the Allied D-Day liberation of Europe, a group of paratroopers lands behind enemy lines in the midst of a gruesome firefight. Their mission is to destroy a radio tower which is necessary for air support during the forthcoming assault on the Axis Powers. The surviving members of the squadron take refuge in a German-occupied village, but during their investigations and planning, it becomes clear the Third Reich has a few unexpected surprises for the Allies, which are the result of Nazi scientific experimentation to create the perfect soldiers. Will our heroes destroy the tower, or will they be overtaken by the Nazi's evil experiments?
Overlord is what you'd get if you threw Captain America: The First Avenger, Inglourious Basterds, and Planet Terror in a blender. The film opts for a cast mostly of actors who aren't big-name stars, and features many memorable setpieces and scenes, with plenty of gory R-rated violence. If you can get past a first hour which drags, the payoff is worth it.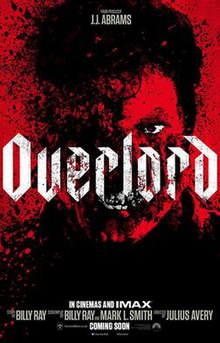 I'll give the film crew credit for not simply going out and rounding up a bunch of A-list stars. The cast members, most of whom I found myself unfamiliar with, actually all do a surprisingly good job with the material they're given. Yes, they're largely the "stock stereotypes" you'd get in your average war movie, and don't have a whole lot of depth, but putting them into an unexpected scenario like this which defies the average war movie allows them to put in some great performances. You'll totally be rooting for them throughout the experience, even if they're not the most original crew. The film also offers believable oppressed villagers and evil Nazis, all of whom round out the cast nicely.
The locales and cinematography bring something special to the experience as well. Opening and closing credits are done in the style of vintage war film-style broadcasts, including the title screen. It definitely helps to lend a feeling of period authenticity. Settings include a literal mine field, a German-occupied French village, and an old castle filled with Nazi experiments which feels like something ripped right out of a Wolfenstein video game.
Once Overlord gets going, it doesn't hold back. It's an extremely violent film with grotesque monsters and creations, and action scenes which hold nothing back. Yet it's still a ton of fun. I have a feeling this one's going to become a cult classic in the years to come.
The biggest problem with the movie, however, is its first hour. Following an impressive opening sequence of the soldiers paratrooping and dealing with the immediate threat, not much happens during the rather slow first half, which feels more like exposition than anything exciting and of substance. A movie which has the central goal of "fighting Nazi zombies" needs to spend more time fulfilling that premise and less on rather generic plot development. Cutting a good 15 minutes or so from the first hour of the movie would've streamlined the end result.
Overlord, despite a drawn-out and often tedious first half, delivers in its latter half with a gory bloodbath and an over-the-top good time. A work of art this isn't. But it's a good, violent fun time at the movies. Be warned, though – this is most definitely NOT a film for the squeamish!
Rating: Three stars out of four.
DISCLAIMER: All images in this review are the property of their respective owners, including Bad Robot and Paramount. For promotional use only. All rights reserved.