Good Charlotte
The Pearl
Las Vegas, NV
November 24, 2018
I can't say that I was the biggest Good Charlotte fan in my youth. However I always found myself getting into those couple of hits I'd hear from time to time. "Lifestyles of the Rich and Famous" and possibly one of the more original "emo" songs, "Hold On."  (Yeah, I'll admit to crying out some shit back in the day to that track…) I wasn't really too sure what I would be walking into, seeing as I hadn't really kept up through the years. But, ya know, that's not really a big deal.
Knuckle Puck and Sleeping with Sirens
I missed the first opener band, so I couldn't tell you guys much about them. (My apologies! GC spoke highly of them though so I'll have to take a listen later.) I got to my seat right before Knuckle Puck took the stage. Knuckle Puck is a seriously high energy pop punk band from Chicago, IL. (Just an FYI, I almost typed out Knuckle Punk. So… that's where my mind went with these guys…) Whether they're a headliner or an opener, they do not disappoint if you like your pop punk on the more aggressive side.
Sleeping with Sirens has been a little bit of a bucket list band for me the last 5 years or so. I've always felt a connection to their sound and lyrical content. I wouldn't lump them in the same groups really in reference to the full line up for this bill. They've got a pretty drastic sound difference in comparison to Knuckle Puck and Good Charlotte. However, this always opens up people to different music, which I am never really opposed to. One thing that resonated with me pretty intensely for Sleeping with Sirens' set was vocalist Kellin Quinn's mini speech on depression and anxiety, and how important it is to know you're not alone.
I can't tell you guys enough how much I love these artists for bringing constant awareness to the ever growing problems contributing to anxiety, depression, and addiction. We would hear a similar mini speech by GC's Joel Madden later on in the night.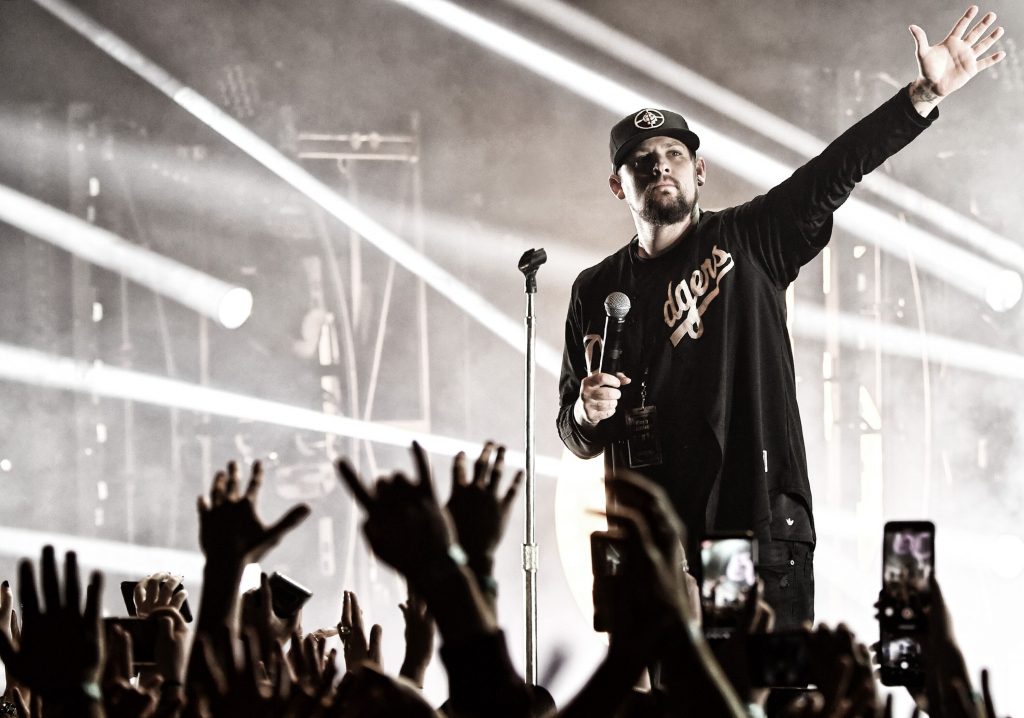 Good Charlotte
And then the lights dimmed. Good Charlotte opened up their set with SUPER dark lights and charged directly into the tracks, "Generation Rx" followed by "Self Help", which is pretty much the opening to their latest album titled, "Generation Rx". Immediately after those two, they plunged directly into "The Anthem," and you see the whole floor of the Pearl Theater just go nuts.
It was very noticeable that the guys were trying to make an as personable and intimate setting as they possibly could. They did this by bouncing back and forth within their catalogue, and interacting with the crowd on a more personal level by asking questions such as, "Where were you in 2006, Vegas?" (I couldn't help but sit back in my seat and chuckle. This was a nice touch to their performance as a whole.)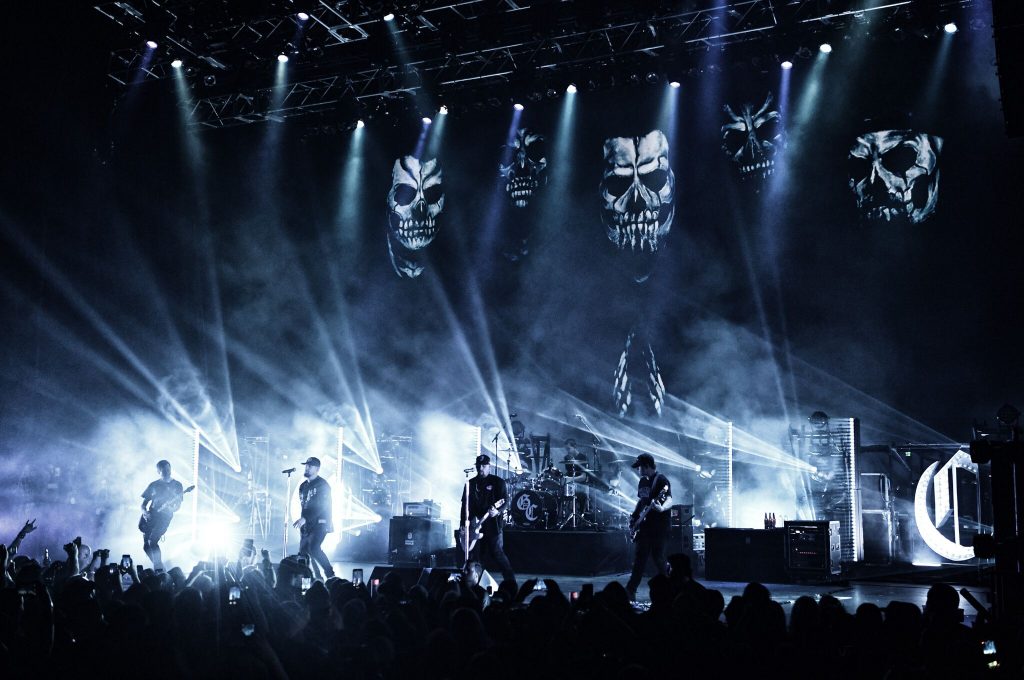 Story Telling
I'm just going to call Joel Madden a story teller at this point. He talked- a lot. But, in this case, it really wasn't that much of a bad thing. Ever go see a show and the singer is so fucked up blabbing away that you're like, "GOOD GOD SHUT UP." ?
Haha…. Yeah this wasn't like that. Mention worthy storytelling would be the bits around "Riot Girl" and what that song means to Joel now, as an adult, as a parent. He praises women for what we are doing as a whole in society, and he declares the band as having no tolerance for sexism, racism, or intolerance on those levels. It even went as far as calling said ideals a trick. Which, I thought was a pretty interesting way to put it- but also valid. "The government is messed up, but there are still good people all around you." That's not a direct quote, but something along those lines was said. It was great to see a room full of people take this message in.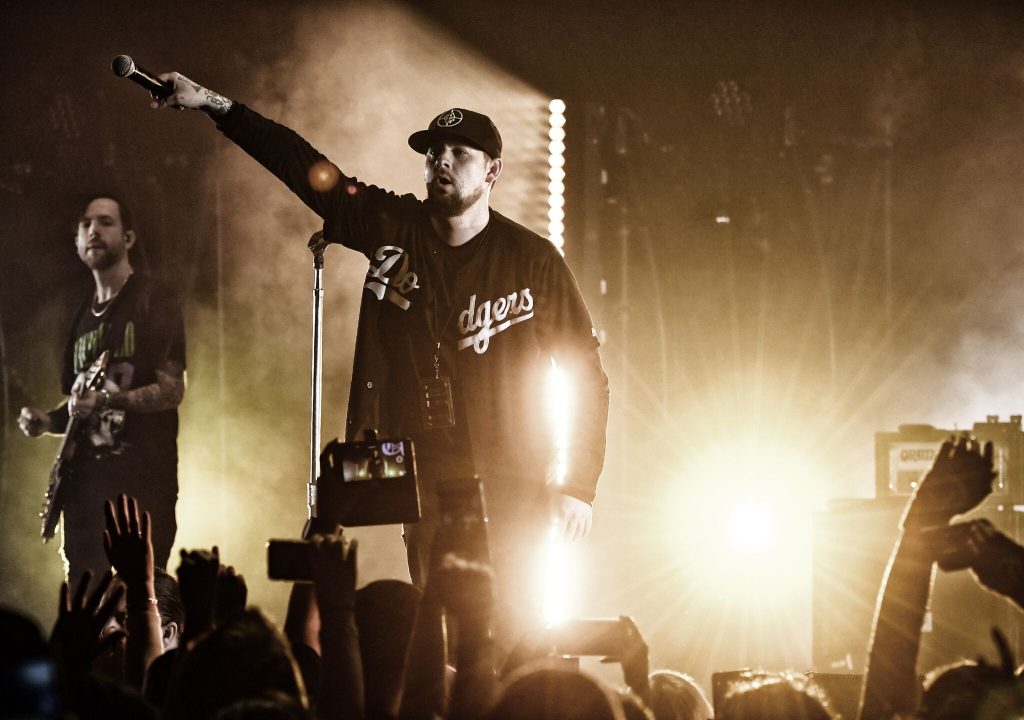 Backtracking just a little bit to Kellin Quinn's talking of depression and anxiety, Joel Madden also made his own statements in regards to these topics. Stating that the entire reason they play this one specific song is to make sure that anyone in the room knows that they'll be okay. "Hold On" is probably my favorite of all of their songs, simply because of the message it holds as a whole. It was this moment where I couldn't help but notice all the connected and happy people in attendance.
Endgame
All in all, Good Charlotte made a pretty good impression on me as far as how they sounded playing in the beautiful Pearl Theater inside The Palms hotel. (Seriously guys, it really is an amazing place to see a concert.) I couldn't tell you for sure if I'd go see them again or not… As I said, I never was a diehard about their brand of music. But if they ended up on the right bill, you just might catch me back out at one of their shows. Their new music is very solid sounding and mature in comparison to their punky rebellious roots. We will be watching the further progression and evolution of these guys.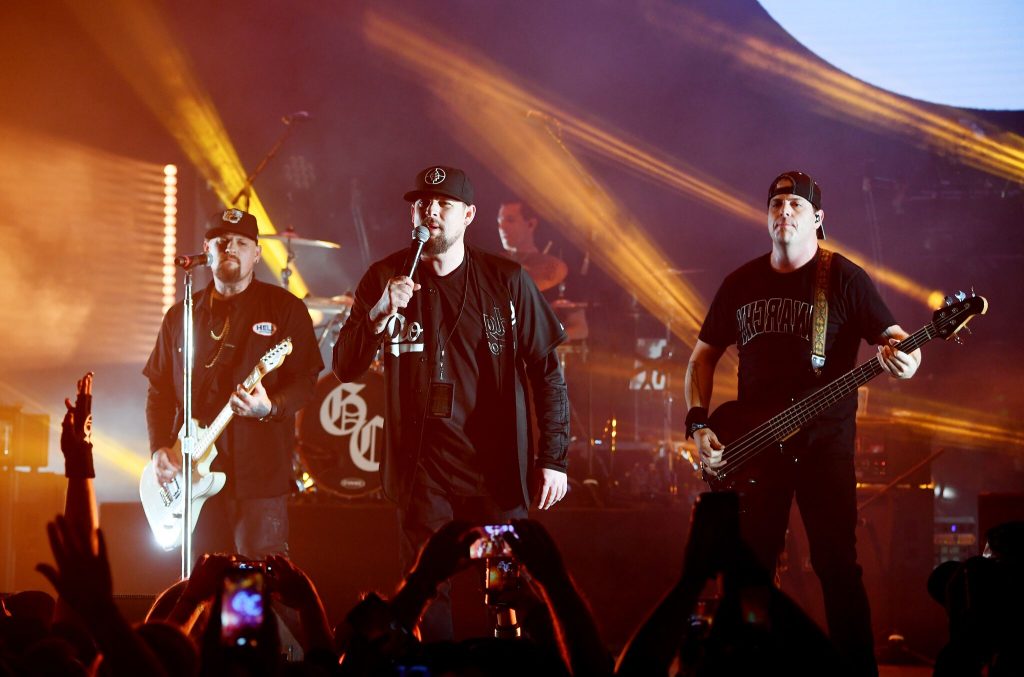 In the meantime, "Generation Rx" can be found on most music platforms including Spotify, Amazon, and directly from the artists at https://www.goodcharlotte.com/
Full Setlist:
Generaton Rx
Self Help
The Anthem
The Story of my Old Man
Keep Your Hands Off My Girl
Girls & Boys
Riot Girl
Prayers
Predictable
Hold On
Little Things
The Young and the Hopeless
The River
Dance Floor Anthem
I Just Wanna Live
Lifestyles of the Rich & Famous
Photo Credit: Denise Truscello – Getty Images. Used with permission.
Header Photo: Good Charlotte Promotional Image