It may only be 8 tracks, but Shiny and Oh So Bright, Vol. 1/LP: No Past. No Future. No Sun., the new album from Smashing Pumpkins, has drawn quite a bit of attention (some good; some bad) since its November 16th release.
Kicking off the album is "Knights of Malta". Aside from Corgan's vocals, the main focus points of the track are piano and strings backed up by Jimmy Chamberlin on drums and a very raw guitar solo.
"Knights of Malta" can't decide if it wants to be rock n roll or soul, and I think that's what makes it good. For just over 4 minutes, your ears are taken on a journey to God knows where.
"Silver Sometimes (Ghosts)"… Can we just talk about the video for a moment? If you saw the Shiny and Oh So Bright Tour, then I am sure you remember Sugar Ray vocalist Mark McGrath all done up and appearing on the screen during intermissions. Well, we are graced with him again in the video, this time acting like a radio DJ meets Circus Leader about to send the band on some weird Scooby Doo adventure. I don't know. It's weird… Anyway… Song wise, it's strong. There's a hint of "1979" in the instrumental, and Corgan's vocals are melodic and strong.
Next up is "Travels", which if you close your eyes, kind of feels like Summer. I know that sounds nuts, but this is a song I could totally see being on a Sisterhood of the Traveling Pants soundtrack. That's not a knock in my opinion. It's catchy and bright (no pun intended).
"Solara" is probably the most classic Pumpkins sounding song on the record. Released in June as the first single, its catchy and moody sound really caught the eye of fans and non-fans alike. For me, I was instantly taken back to when I was a little girl hearing "Bullet With Butterfly Wings" for the first time.
"Solara" showcases each member of the band perfectly as well. Chamberlain's drums? Like sex; rough and hard and rhythmic. Corgan's vocals? That perfect, slightly off-pitch tone that you crave in a Pumpkins tune and his guitar is equally on point. James Iha? Bass is deep and powerful like it should be. Jeff Schroeder? Guitars do exactly what they are supposed to. In and out and the tonality is perfect for the song itself. If you have someone in your life who is hesitant to try out Vol. 1, just show them this.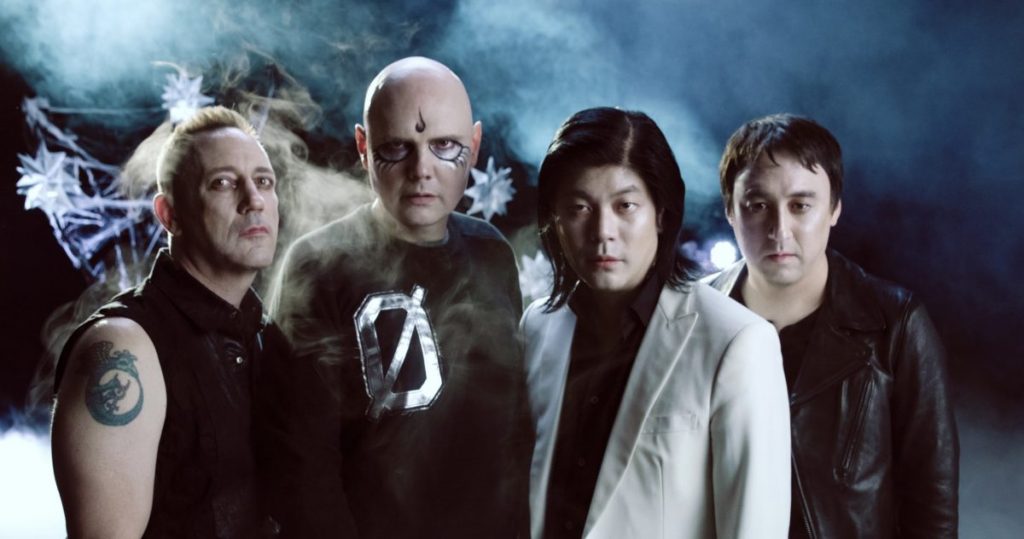 "Alientation" starts out kind of slow, but by the second verse, we are greeted with an almost disco-swing beat, but not in the annoying "I Was Made For Loving You" way that KISS did, taking the song to a new level. The song is almost bipolar with the different genres that the ear can pick out. Then comes a muted in tone, Brian May-esque guitar solo, which shouldn't fit, but somehow does.
"Marchin' On" is probably the weakest track on the record, which okay since it's only 2 minutes and 39 seconds. It's not completely un-listenable. It's just that compared to the other 29 minutes, it's weak and seems to not fit as well.
The only track not written solely by Corgan, but with Chamberlin's assistance, "With Sympathy" is a bass heavy, melodic dream. Corgan's vocals are layered a little bit during the bridge, giving the song that kind of Summer feel again.
Rounding everything out is "Seek and You Shall Destroy", which is like a pop-punk anthem. This is one that will get stuck in your head for sure. Ending on a single chord, it is exactly the type of ending on a record to leave you wanting more, and boy do I…
Like I mentioned at the beginning of the article, the album has gotten some good and some bad press. I read some of these reviews prior to checking the album out to see what I was getting myself into. Even though the Shiny and Oh So Bright Tour was awesome, that didn't mean the record was going to be.
I would like to think my review falls into the good press category. It's overall a very strong record, and I think that Chamberlain, Corgan, and Iha together again really creates magic that seemed to be missing on the past 4 records. Even with the absence of bassist D'Arcy Wretzky, there's something that's been missing creatively for the past (almost) decade that I believe is captured again. If you are someone who is a fan of nothing but Smashing Pumpkins' hits, you'll dig this. If you like the deep cuts as well, you'll dig this.
Ignore what the old moving boulder full of cynics and jaded "journalists" say; the ice cream truck that is Smashing Pumpkins is still giving us some delicious treats.
Shiny and Oh So Bright, Vol. 1/LP: No Past. No Future. No Sun. is so against everything that is out right now, especially in rock and roll and alternative. Smashing Pumpkins sticks to their roots and what makes them great. Corgan has kept the formula that has worked for him for 30 years and ran with it to bring us another masterpiece with the help of producer Rick Rubin, who worked with the band on 1998's Adore.
I can only hope that if there is a Volume 2, it is out sooner rather than later, because I need more of this in my life.
Smashing Pumpkins are currently wrapping up their US tour and have announced 2019 European dates. To check out our review of the Shiny and Oh So Bright Tour, click here.
Remaining Tour Dates (2018):
11/28 – Madison, WI @ The Sylvee
11/30 – Chicago, IL @ Aragon Ballroom
12/01 – St. Louis, MO @ Stifel Theatre
12/02 – Tulsa, OK @ Brady Theater
12/04 – San Antonio, TX @ Sunken Garden Theater
12/06 – Tucson, AZ @ The Rialto Theatre
12/07 – Phoenix, AZ @ Mesa Amphitheatre
12/08 – Los Angeles, CA @ The Forum
Future Tour Dates (2019):
05/30 – Oslo, Norway @ Spektrum
05/31 –  Stockholm, Sweden @ Gröna Lund
06/01 – Kvaerndrup, Denmark @ Heartland Festival
06/05 – Berlin, Germany @ Zitadelle
06/06 – Prague, Czech Republic @ Forum Karlin
06/07 – Nürburg, Germany @ Rock Am Ring
06/09 – Nuremberg, Germany @ Rock Im Park
06/10 – Antwerp, Belgium @ Lotto Arena
06/11 – Amsterdam, Netherlands @ AFAS Live
06/13 – Florence, Italy @ Firenze Rocks
06/16 – Castle Donington, United Kingdom @ Download Festival
07/13 – Libson, Portugal @ NOS Alive
PHOTO CREDIT: All photos ©The Smashing Pumpkins, Napalm Records, and Original Photographer