Aquaman is directed by James Wan. The film stars Jason Momoa, Willem Dafoe, Dolph Lundgren, Nicole Kidman, Amber Heard, Patrick Wilson, Yahya Abdul-Mateen II, Ludi Lin, and Temuera Morrison.
Following the battle against Steppenwolf alongside the Justice League, Arthur Curry AKA Aquaman, the love child of an Atlantean and a human lighthouse keeper, learns of the plight currently impacting Atlantis. His half brother, Orm, has been preparing Atlantis and the various kingdoms for a war against the surface world, which Curry is ushered into in an attempt to stop further bloodshed on the surface. Initially reluctant, Curry travels beneath the waves to face his brother and hunt for the trident of Atlan, Atlantis' ancient king, which may be the only weapon strong enough to combat Orm and his followers.
DC's Cinematic Universe (officially called the DC Extended Universe, or DCEU for short) got off to a rough start, but the good minds at DC seem to finally be on the road to making better movies, scoring a solid one-two punch last year with Wonder Woman and Justice League. And while Aquaman himself has always been something of a laughingstock in the DC comics world, the gritty reinvention of the character, played by Jason Momoa, has been a definite highlight of the film universe so far. The film is another hit for DC with an amazing leading man, great supporting cast, fantastic and inventive action sequences, and plenty that will keep your eyes on the screen for its duration, even if it is a little too much to digest at times, and the running time is excessive.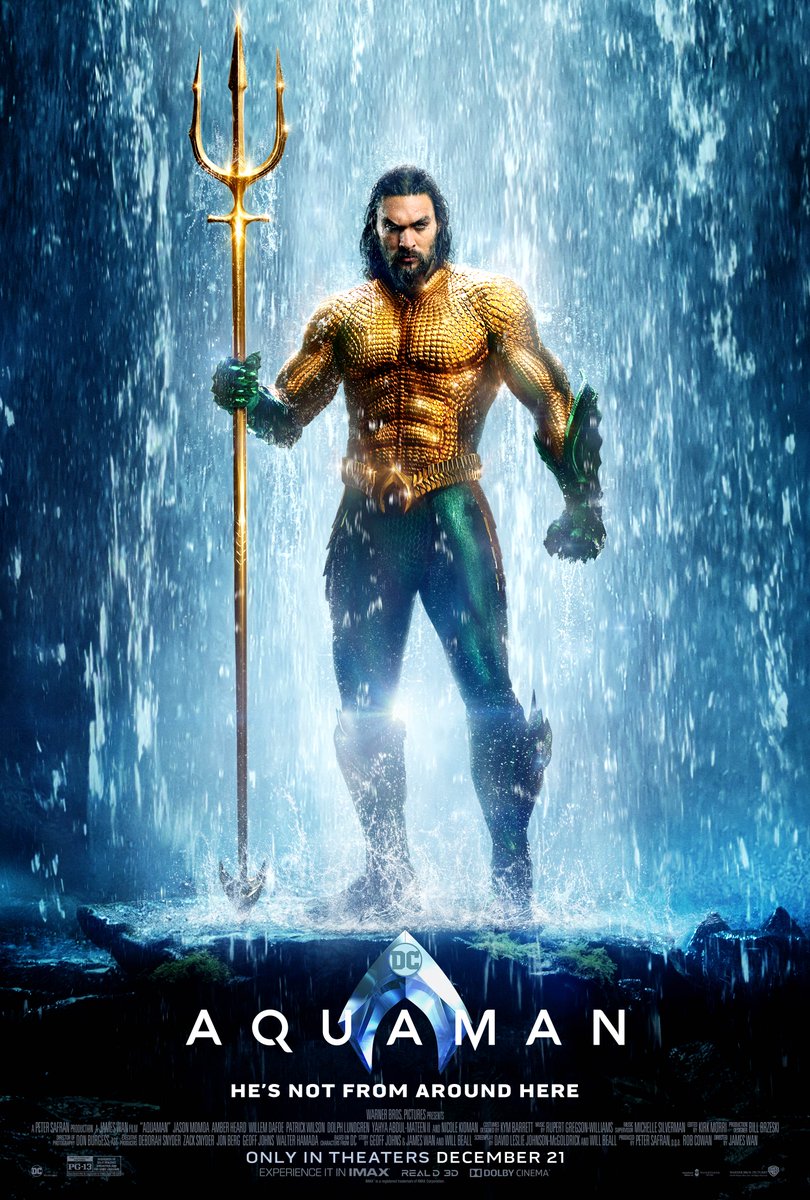 Jason Momoa has been one of the DCEU's best casting decisions, and he's breathed new life into a character many people had written off as dated. A tough and overconfident bad-ass who sometimes gets himself into trouble due to his approach to life, we experience everything from impressive action sequences to plenty of humorous quips and one-liners. He owns this part. The casting of the lead actor makes or breaks a movie, and I'm happy to say Momoa doesn't disappoint in the least. I hope we'll be getting movies starring this guy as Aquaman for years to come.
The tone of the film tends to fluctuate, juggling drama, action, and humor alike. Fortunately, the comedy doesn't feel forced or out of place. We're genuinely invested in these characters, thanks to a superb supporting cast featuring the likes of Willem Dafoe, Nicole Kidman, and Dolph Lundgren. It's a borderline campy and predictable film at times, but I was having too much fun to care. You're likely to feel the same.
Despite being predictable at times, I won't deny the movie did hit me with a few surprises. A sequence in a bar involving some typical barflies confronting our hero is one viewers are sure to expect to descend into Thor or Kingsman territory with the hero's anger being provoked… but what you end up getting is hardly what you'd expect, and quite hilarious! Moments like this help give the film a tone of its own.
Fear not; Aquaman doesn't disappoint in the action department either. Being set largely under the sea, the film is a great showcase of unique and original action sequences which are a far cry from the ones we get on land, in the air, and in space in other films. From Atlanteans battling one another to other sea species, marine life, and undersea monsters, it's a visual sight to behold with plenty of fantastic action setpieces. A movie like this absolutely must deliver on the action front for its audience, and the DCEU certainly pulls it off this time around.
That said, there are a few weaknesses which slightly bog the film down. The run time of over two hours is excessive, and there are way too many Atlanteans to keep track of, not to mention too many subplots. It's a very "full" film but probably didn't need to be. A subplot involving a B-villain probably could have been excised with no real loss of depth (though I won't deny we get a cool action scene involving that character, who may return in a sequel). As much as I love the action scenes, I won't deny there are about two too many. A more streamlined film, about 20 minutes shorter, would have been welcomed with open arms.
Aquaman is a triumph for the DCEU, who finally seems to have gotten down the formula of putting out good movies. A great leading man, fantastic supporting cast, unique and original action scenes… it's everything you want in a winter blockbuster and more, even if the running time is a little too long. If it's not the best DCEU movie so far, it's definitely in the top three. Highly recommended.
Rating: Three-and-a-half out of four stars.
DISCLAIMER: All images in this review are the property of their respective owners, including Warner Bros. Pictures, DC Comics, The Safran Company, Cruel and Unusual Films, Mad Ghost Productions, All right reserved. For promotional use only.