Amity Affliction/Senses Fail/Silent Planet/Belmont
Brooklyn Bowl, Las Vegas
January 5, 2019
I had been looking forward to this co-headline tour since it was announced. Mainly because I'm a lifelong fan of Senses Fail and I'm pretty sure I've seen them almost every time they've hit Vegas since 2005… I don't really care much about being biased there. As for The Amity Affliction, I remember when they came out, but didn't keep track of their journey. I've got an album or so of theirs on a couple playlists of mine, but that's about all I know about the Aussie rockers.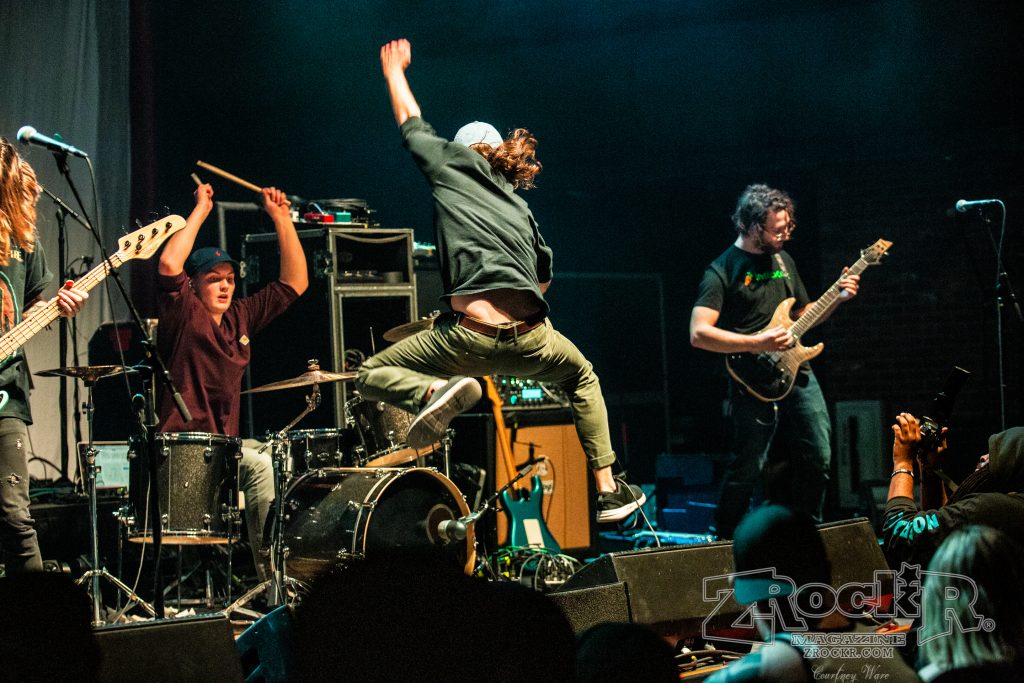 I hadn't been to the Brooklyn Bowl since November for Underoath. It was rainy-ish and cold outside. I was unaware of the additional construction that popped up in the area within the last two months. There was an additional road blocked off there so at least I didn't have to worry about being t-boned because nobody over there uses the four way stop properly… ha! I had walked up to the venue about 10 minutes before the first band came on.
The original line up of bands for this tour was Belmont/Bad Omens/Senses Fail/Amity Affliction, in that order. After a mishap/misunderstanding in regards to the materials promoting this tour, Bad Omens withdrew from the line up and the band Silent Planet took their place. (Pretty sure this was over how small their name was on the fliers… which… whatever really. That's on them.)
Belmont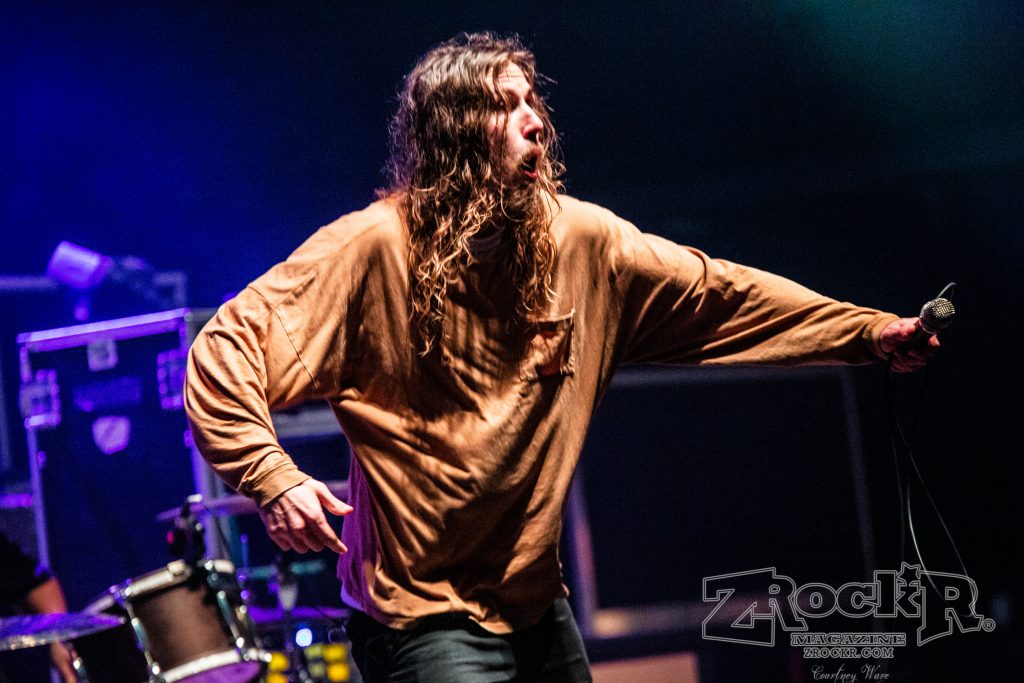 Chicago pop punk outfit, Belmont, kicked off the night with a very high energy set. The singer could be seen jumping around, and they overall seemed very excited to be a part of this run. If you were just walking into the venue during this set, it's likely that excitement was almost immediately provoked. They reminded me of a mix between the 2000's acts The Starting Line and The Matches combined into something that really packs a good punch.
Silent Planet
Los Angeles' Silent Planet came on next, and I really enjoyed the intensity that came along with their performance. I didn't even realize until I was scrolling through my photos that the singer wasn't even wearing shoes! I'm not sure why I think that's interesting, but it stuck out when I realized it. They reminded me of Underoath, oddly enough. Only a little heavier. Spoken word is incorporated quite a bit with them, and for me that was a nice added touch. The vocalist could be seen several times in the crowd connecting with the fans, which I have always loved to see. They're one of those bands that I'd really like to see again if they come back through Vegas.
Senses Fail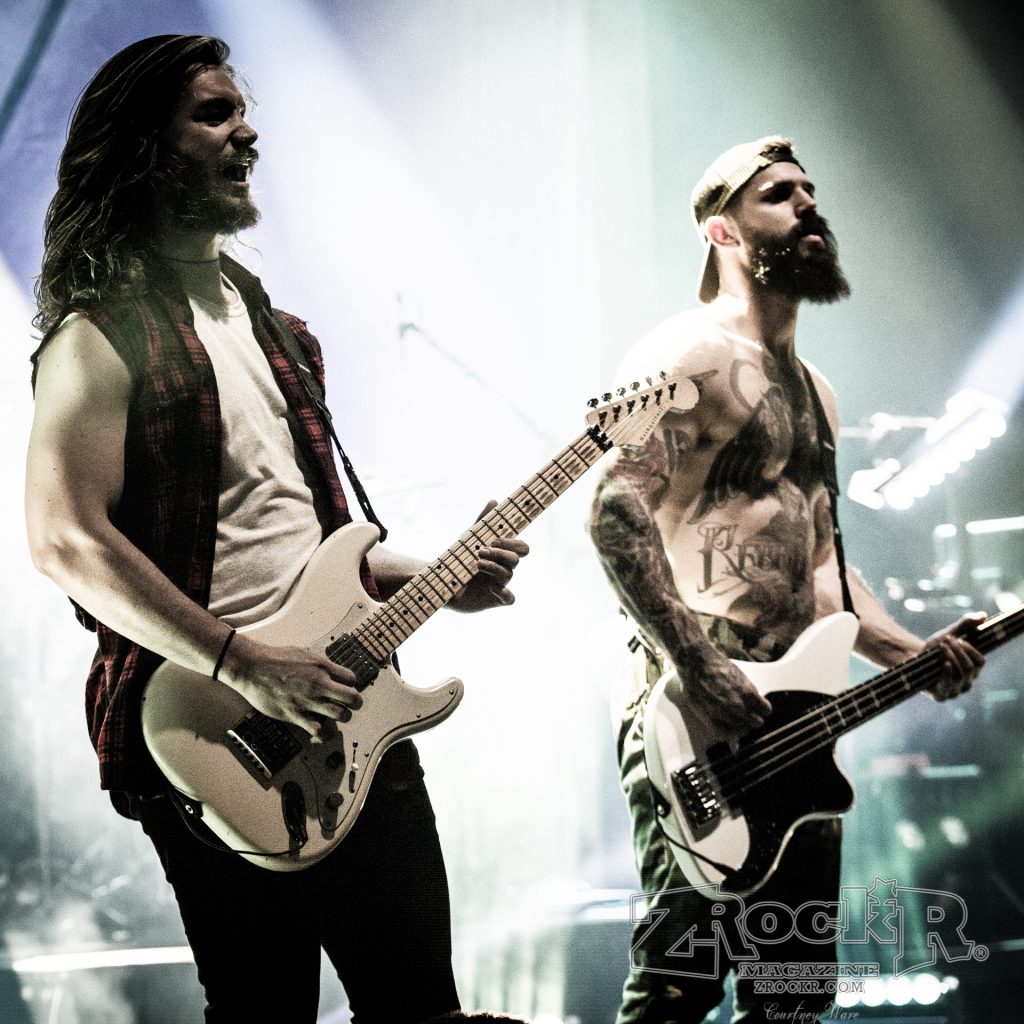 As if I needed to talk MORE about New Jersey's finest post hardcore band… ha! Senses Fail was up next. Opening up with the track "Can't Be Saved", you could see just about the entire Brooklyn Bowl floor filled, and the pit in the middle of the room was already in full force. What I love about Senses Fail shows, is how incredibly personable they are. The last time I had seen these guys play this venue, Buddy talked about his wife and his daughter. He did the same this show. I didn't feel that it was repetitive, or overdone. These is where my biased opinion comes in because I follow him on social media, and I love how sweet and cute he and his family are.
I wish I could remember if Senses Fail did this years ago, (the first time I saw SF was in 2005… and I was 16… I don't remember the whole set, but I just remembered how good the music made me feel.) but right before the screaming parts in Bite To Break Skin, the band breaks down into a medley of popular hard rock songs from the 90's – early 2000's. This was the third time I've seen them do this and it is one of the GREATEST things I've ever seen, as a fan. (Video of this specific part can be seen here: https://youtu.be/ieqpegj_z9E )
Their set regularly is a healthy compilation of new and old material, and even though the line up has changed quite a bit over the last decade, they are solid as ever.  I will keep going to Senses Fail shows for as long as they stay active. They are by far one of my favorite bands to see live.
The Amity Affliction
The final band of the evening was Australia's The Amity Affliction. Since this show there has been a bit of an outrage about how the vocalist handled a fan in the crowd… I understand the disappointment that this possibly has/had caused for some people. (I will not state my full opinion here, but another fan was apparently harassing the band Silent Planet at the merch table over a positive messaged shirt, according to a tweet the band sent out after the incident… You can reach out to me personally if you want to discuss this further.)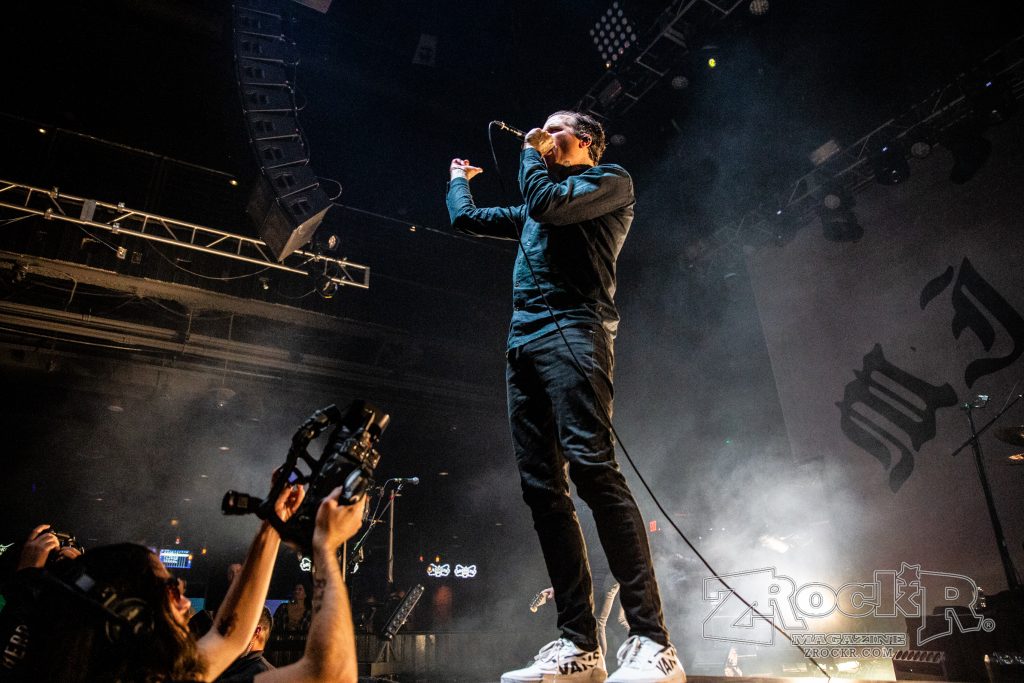 As far as their performance goes, I have nothing bad to say about their set. I'm familiar with a handful of their songs, and I do remember when they started gaining traction in the post hardcore/metalcore genre. They may have a few fun cover songs from back in the day floating around somewhere? I digress. They had a healthy dose of mostly positive interactions with the rest of the crowd, and their energy stayed high throughout the set. I had missed their Warped Tour set last year so I'm glad I was able to catch them this run. I would gladly go see them live again when/if the opportunity arises.
Closing
The Misery Will Find You tour is currently promoting The Amity Affliction's latest album release titled MISERY. It is their sixth studio album. It's also appropriate to say this is a second support tour for Senses Fail's 2018 release, If There Is Light, It Will Find You, which is their seventh studio album. Both bands have exclusive tour merch that can be found at the merch booths of these shows. Go get em while they're available! This tour continues for the next month!
Galleries:
Senses Fail
The Amity Affliction
PHOTO CREDITS: All photos by Courtney Ware for ZRockR Magazine – ©ZRockR Magazine – ALL RIGHTS RESERVED