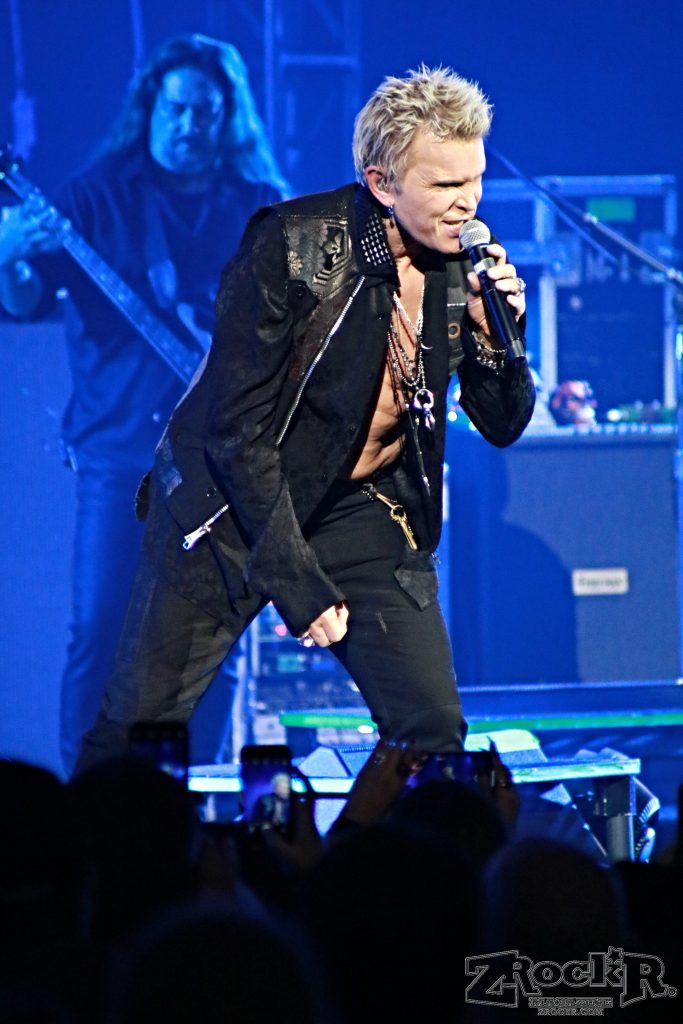 Billy Idol played the Pearl inside the Palms on Friday, January 18, 2019. This is part of an ongoing semi-residency with additional January dates, and more following in October.
Billy Idol has been rocking the world for years. Having first come into the public eye in the late 70s as part of British punk rockers Generation X, it's when he went solo that Idol became an international, well, idol.
His fusion of rock and new wave sounds created anthems like "White Wedding", "Rebel Yell", "Eyes Without a Face", and countless others. His solo band lineups have long fluctuated between an assortment of talented players, but have almost always included Steve Stevens on guitar.
I previously saw Idol and Stevens on stage at the House of Blues in 2016, and that gig was one of the best shows I had the pleasure of experiencing that year. To be able to see Idol and company once more was a long overdue pleasure, so upon hearing he'd be doing some residency dates at the Pearl inside the Palms, I knew I'd be there.
Given the fact that the line to get in the show stretched from the Pearl door to the Palms' front door, plenty of other people clearly had the same idea! The crowd filled several floors of the concert complex, with attendees from all around the globe. It's great to see Mr. Idol retaining a global fanbase, which is rightfully deserved. On this night, there's no place I would rather have been in Vegas, and this international crowd spoke for itself.
I've attended a number of shows at the Pearl before, though this was the first in several years, and the first since the venue had been renovated, along with many of the other areas in the resort, following its acquisition by Station Casinos in 2016.
Ultimately, the Pearl can pack almost arena-sized crowds, but it's more compact and intimate than many other stages in Vegas. My press ticket was for the floor, which was standing room only, and despite not being right next to the stage (plenty of people were packed up there), I was close enough to see Idol's eyes and facial expressions, which was a huge plus!
A few minutes after 9:00 PM, the lights in the venue went down, with entrance music, and Idol's band members taking the stage. Given Idol's extensive back catalogue of work, I was eager to see if this would be a show of just the hits, or something with some deep cuts thrown in for good measure. Right from the get-go, his band, including Steve Stevens on lead guitar, proved they were more than up for rocking the crowd.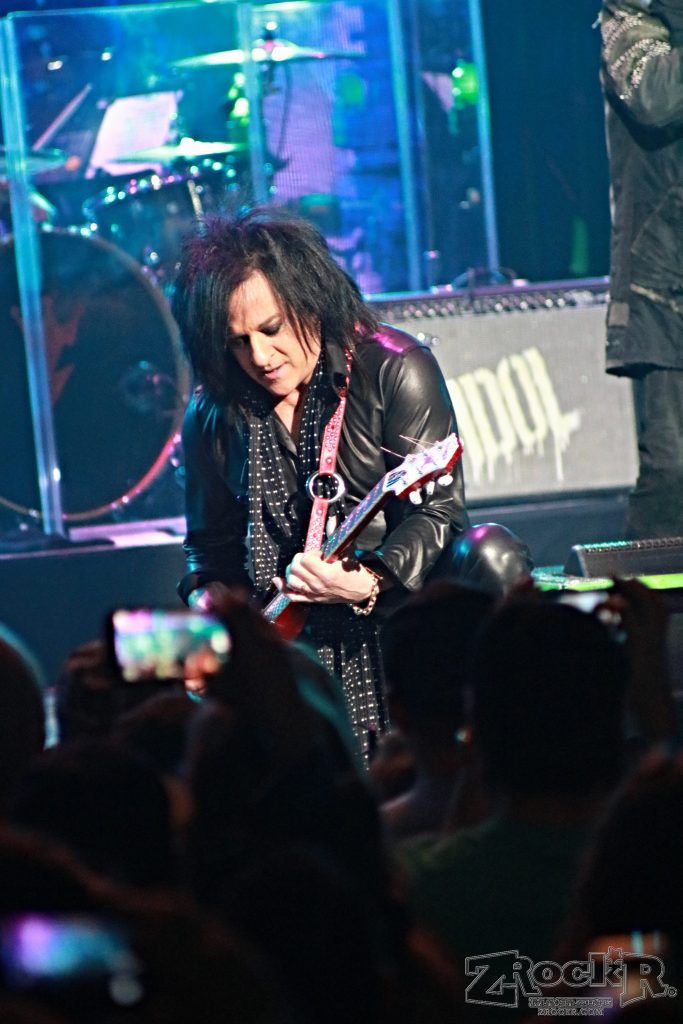 The opening moments of a concert are vital for hooking the crowd and keeping their interest, and Idol did that with a surprise (yet appropriate) cover of "Viva Las Vegas", kicking off the night and enthusing the legions of fans in attendance!
One of the biggest and most surprising elements of the night was a massive video screen behind the band during their performance, which showed an assortment of cityscapes and other elements, including a large logo, along with huge spotlights. I definitely appreciate Idol and company not only giving a superb musical performance, but for going all out and making these shows at the Palms a true production. It's also been stated in interviews Mr. Idol will be changing up the setlist with the subsequent performances, so you may get different songs if you go on more than one night!
So, how'd the setlist fare? Pretty damn good, actually. We got plenty of the hits, including "Dancing With Myself", "Eyes Without a Face", "Rebel Yell", a half-acoustic version of "White Wedding," and the final encore was Idol's cover of the classic Tommy James tune, "Mony Mony". There were plenty of deep cuts thrown in, including Generation X's "King Rocker", and even some songs from Idol's studio albums of the past decade and a half, including "Scream" from 2005's Devil's Playground.
Some of the best moments came from Steve Stevens' guitar solos, including one where he showed off everything from Flamenco-style guitar to other iconic rock riffs, and a moment where he even played a portion of the "Top Gun Anthem"! For the unfamiliar, it was Stevens who played lead guitar on the original 1986 recording of this piece of music, done for the film Top Gun. There were a few cuts missing I would liked to have heard, though this will likely be rectified on another night with one of the changed-up setlists.
And the quality of the performance was nothing short of excellent. Despite being in his mid 60s now, Idol brings plenty of energy to whatever venue he's playing. The audience was clearly impressed throughout, and Idol's backing band, comprised of plenty of quality musicians, didn't fail to please. A highlight here included a keyboard solo which incorporated the "James Bond Theme"! Idol's a great frontman, and it's good to see him giving his fellow musicians a chance to show off their abilities as well.
Idol rocked the Palms and everyone in the Pearl on this night, and if given the opportunity to attend one of the later performances, I'll definitely be there. I'd recommend the same for any fan of Idol's living in or visiting Sin City!
PHOTO CREDIT: All photos ©Stephy Hayward and ZRockR Magazine