One of Vegas' most unique events, The Dark Arts Market, is approaching its one year anniversary!
I was super excited to talk to its creator, Erin Emre, about the accomplishments the market has had over the past year, its performers, its artists, and and that it (and she) has done for the local community of not-so-normal people. Unfortunately, with all of the rain and lots of to-dos, I didn't get to sit down with Erin this time, but our phone call was just as fun!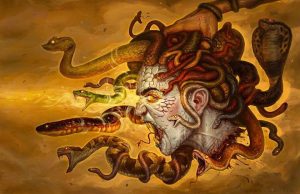 ZR: So, Dark Arts is reaching it's one year! How excited are you about that?
Erin: I'm super excited, and I am so proud of all of us. It's really awesome!
ZR: Tell me about everything you have done to get it to its one year. For something, that I don't think anyone thought would make it as far as it did, how did you manage it all?
Erin: I don't know! I just like proving people wrong. It's pretty fun! We had some trouble with some people's attitudes about it, but we overcame. I love that new people keep hitting me up to join the event. When we first started, I felt like it was going to be the same group of weird kids that I know, which would be awesome, but there's so much new blood mixed in with old favorites. I love it.
ZR: Tell me about some of the new blood. When we last spoke it was you, some other folks like Blashpheme Boutique, We Become Monsters, Kitchen Mystic Goods, etc. So, I'm excited to hear who is joining you now! You've worked so hard on this, and seeing the events throughout the past year, there are new names every single time!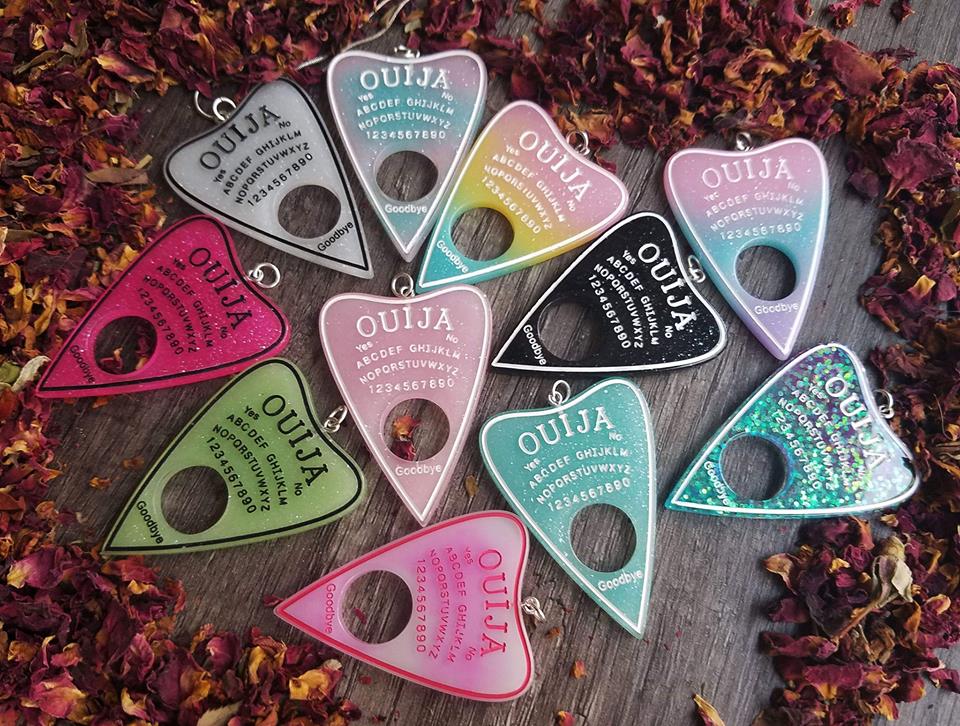 Erin: Right! I love it, and I love how they are so surprised by how affordable it is to be a part of it. We're not charging hundreds of dollars to come hang out. It's twenty bucks. I try to keep that affordable for everyone always. This time around we have a new tarot card reader – Sin City Witch. She's been a card reader and metaphysical life coach here in the city forever. So, it's awesome having her on board. Stormi Nichole is an artist I'd heard about for a long time, and she hit me up to be in the Market, and I was so excited. House of Von Seebach's Stacia Gorusch has artwork that all the kids are going to want to hang with one day. She's on the road to becoming a major artist. She's working with the Cirque du Soleil kids and working on the Tim Burton art exhibit. Artist James Bousema, who has been at Punk Rock Flea Market before, has amazing art. He does mostly prints, but it is incredible. There are so many people who I feel are famous, and they are stoked about the Dark Arts Market and want to be a part of it, like Kurtis Rykovich.
ZR: That's really awesome.
Erin: There's also Fire Skull Pit Shop. They make life-like ceramic skulls that go in your fire pit, and it's amazing. They're also really affordable.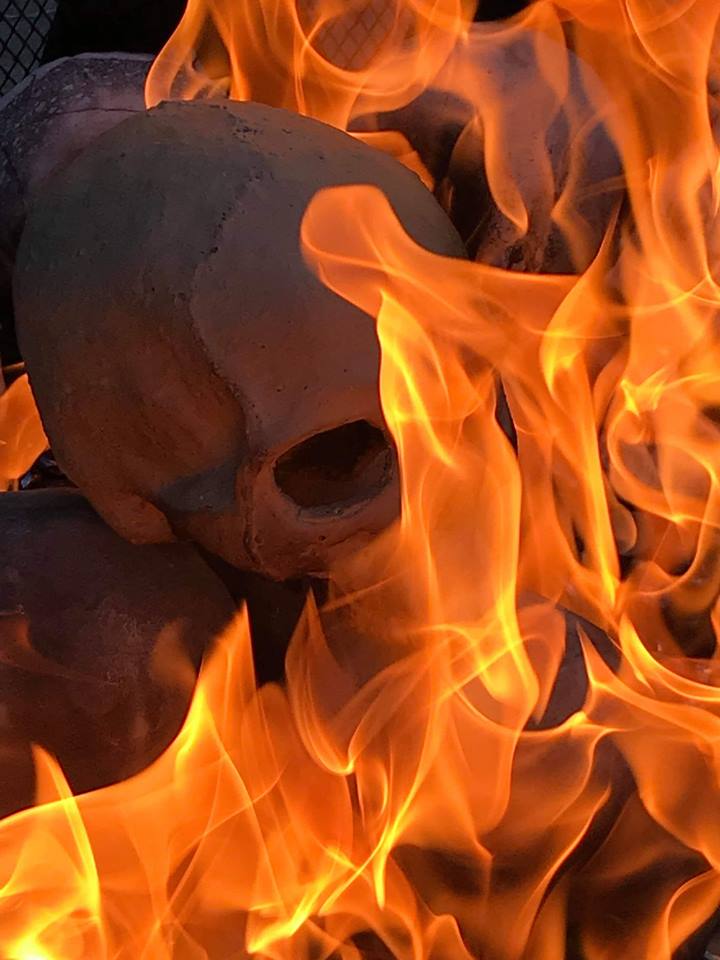 You see stuff like that online and it's so expensive, but theirs is reasonably priced. Tortured Orator is new. He's a poet, which we've never had before, and he seems really interested. We have magician Dyno Staats, who has been on Penn & Teller before. Arana Sings is amazing. She does beautiful covers. Anna De La Strange will be back with us, and she is amazing. She does violin and dance and choreographs all of it herself. Ronnie Pless is someone who does amazing wood burning, and he does it with such precision I'm peanut butter and jealous.
ZR: I'm going to steal that phrase!
Erin: Heather Rose will be with us as well. She's coming in from Pahrump. She does amazing things with butterflies and a lot of jewelry. Heather Mulvey will be with us as well. She's new with us, but has been around town. She does a lot of pop art with a horror feel, so that's going to be cool.
ZR: Wow. A lot of new folks. That's awesome! Did you ever expect it to grow the way it has and have so many people wanting to be a part of the Dark Arts Market? I know there's been times where you've had to say you were full and to hit you up for the next one, and that has to be a good feeling to have so many people wanting to be a part of it!
Erin: It's not! It's terrible! When it fills up, it fills up like bananas. Within 45 minutes of me putting up the post that I am accepting artist, it will fit up. For the next month and a half, I have people messaging me weekly for a spot, and I'm like, you have to get at me quickly. Some people get upset and are like "You said that last time." and it's like "I know, but you have to get at me quickly!" It's a bummer having to turn people down, but Cornish Pasty is a little on the small side. So, having 25 vendors is already bananas.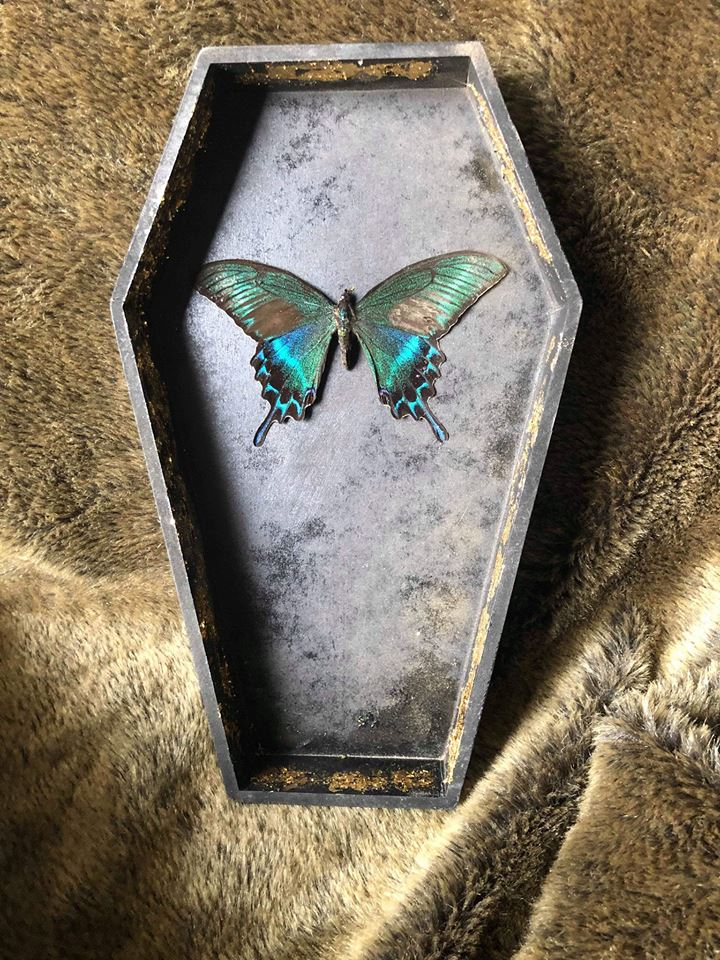 ZR: Do you ever keep a log of people who have hit you up so you can reach out to them?
Erin: I do. I keep everyone's email in case someone backs up or something happens. With The Dark Arts Market getting bigger, I try not to let it get to my head. It's all about being a humble artist and local artist. Everyone looks at me like, "Well, you're the promoter." I'm not a promoter at all. I'm just an artist that wants to have my stuff showcased and not be turned away. That's why the Dark Arts Market was invented, so myself and people like me won't get turned away from the norm. It's to give all the weird kids somewhere to do their thing. There's a lot of places where we'd be turned away because our stuff is too weird or not family friendly. As far as it growing, I'm glad people come! To me, it's all sciency stuff. It's not weird or occult; it's science. There's some really amazing talent.
ZR: I think that's something that tripped me out last time I was there is that, you'll see the regular kids you see at gigs or the dive bars around town, but then you see people with strollers who are super normal looking. Does that trip you out?
Erin: I love it most when little kids come up to me and they're not scared. They just ask questions or they know what things are on the table. It takes me everything in my body not to just give them what they are pointing out, because I'm like "You're amazing. This is yours now!" There's times I do that and Chris [Erin's husband] is like "We're not going to have anything if you keep giving stuff away to kids!"
ZR: It's cool though because, especially as a kid, you look up to the people you see who aren't 100% normal. When I was a kid we had Billy Nye and the guys from Mythbusters, so for you, you're kind of like the macabre science girl inspiring little kids to go into taxidermy and art someday. Did you ever expect to do that while doing this?
Erin: To inspire kids? No. It's awesome. I had no idea that would be a thing. Generally, kids are afraid of me because of my appearance. So, when they come up to me and are so curious, and sometimes their parent's are like "Oh my god" and they're like "No, mom this is cool!" I get so impressed, and it takes me back to my childhood because I didn't really have, other than Bill Nye, there wasn't a real person you could reach out to and be like, "Hey! Wanna be weird with me?" So, having little kids be excited about my stuff is like "YES!" It's so much better than the adults.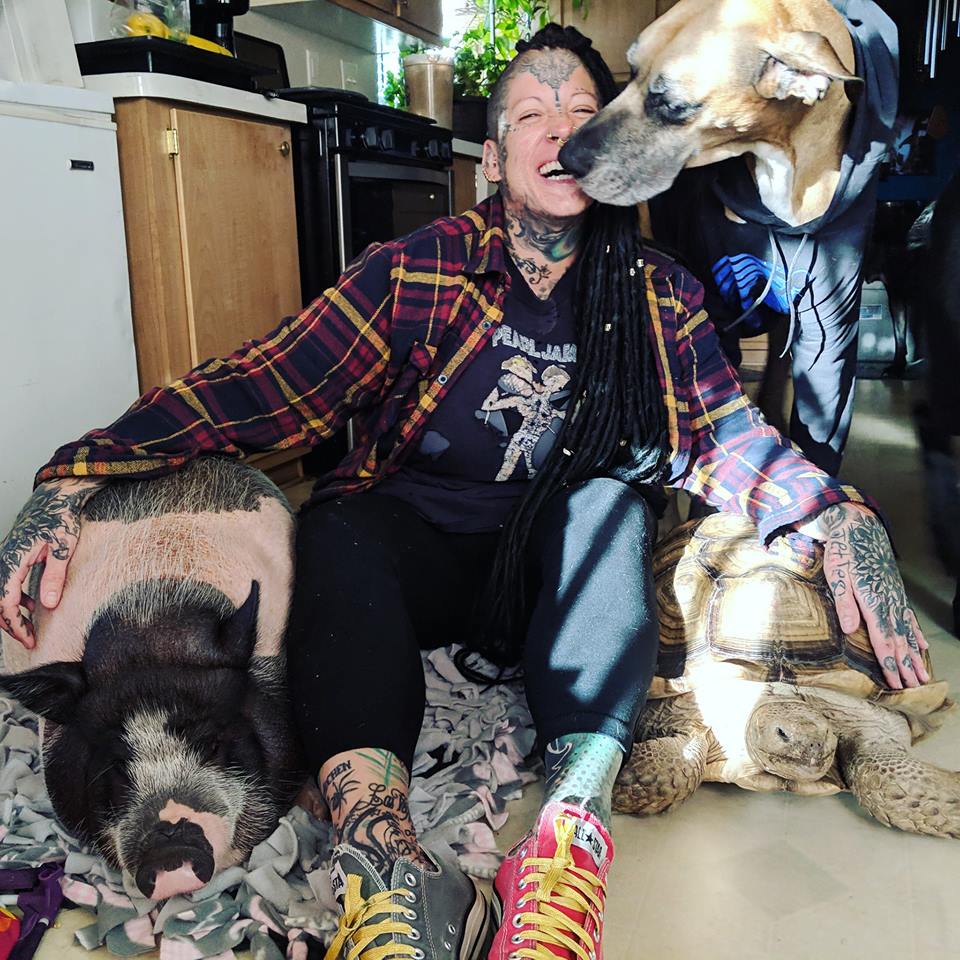 ZR: On the flip side, do you ever have any adults that come up to you and they're like, "I have always wanted to do this and didn't know it was possible." Do you get that acknowledgement that you've kind of started something major here?
Erin: Absolutely. I get messages all the time asking for help on how to do things. I am always 100% willing and able to help if I have the knowledge. There was no one there to teach me, and everything I learned was trial and error and fucking up a lot. Even know, I am still learning better ways. If people come to me and say, "Erin, I want to do this and make this, can you help?" I will absolutely do it. Message me, call me, whatever. I am just excited that other people want to get into it. It's really cool.
ZR: Do you ever worry that with other people doing this and getting involved it might take away from what you do or make it harder for you to be successful as an artist?
Erin: I guess there's always a tiny insecurity in your head that they'll be better, but all artists have that. You have to push through that. That's not why we started our art. Our art isn't about making money. A lot of times, art isn't a choice. It's something you have to get out of your head and out of your heart, and put it into a physical form. So, for me, I just want to help people. Being an artist isn't about being famous and making money. 90% of us, maybe even more, are poor. There's a lot involved in this, and for right now, we're poor and it's okay.
ZR: Do you think that if you were ever given the opportunity to take this on a grander scale, regional or state, because I've seen people at the Dark Arts Market that I haven't seen before, so I assume they're not from here and stumbled upon it?
Erin: I think that would be awesome as long as the principles stay the same. I'm not ever going to charge these kids more than they can afford. There's a couple of us that even that twenty dollars is tough, and they need a little bit of time to come up with that money because of families and life. I think people who charge a ridiculous amount of money are not really for the artists. I understand there's permit fees and things like that. I get it, but there are ways around it. It's all networking. Sometimes you just have to tell someone your idea, be turned down a thousand times, and then there will be the one person, like Cornish Pasty, who is like "Yes! Come down! We'll figure it out!" They are so gracious to us. Even though they have this super delicious restaurant, and it's super small, they tolerate all of those vendors in there. It gets packed!
ZR: Oh for sure. There are times where it is hard to walk from one booth to the booth literally next to it, which is fantastic!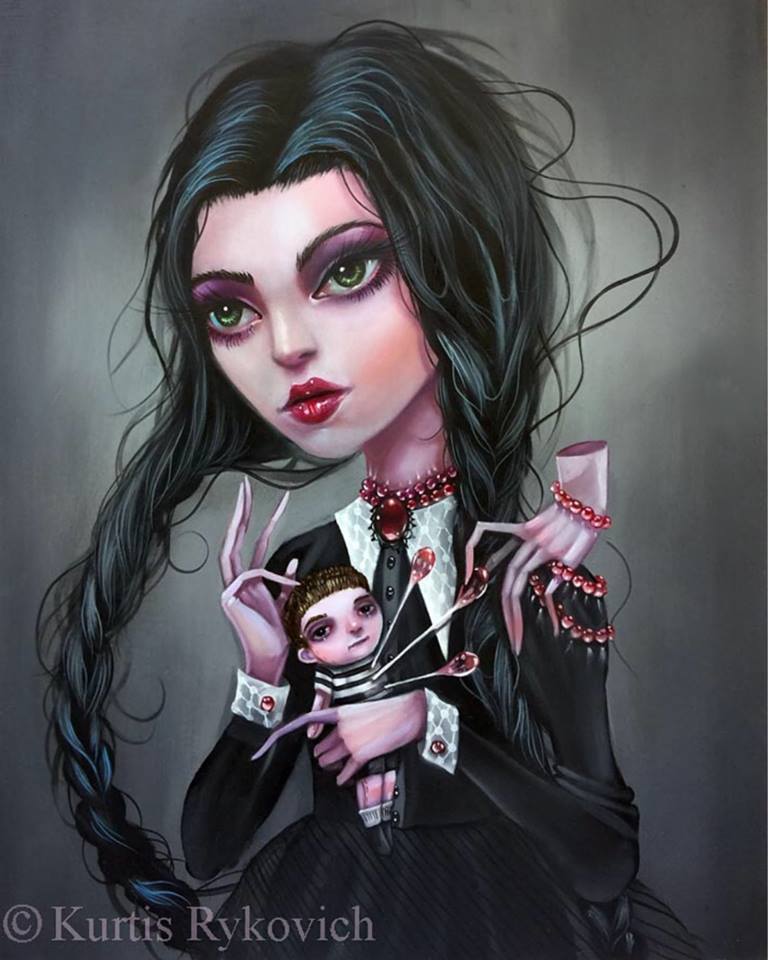 Erin: Right! Maybe one day a bigger room would be cool or out of state, but as long as it is okay for the artists. If that's the case, then sure, let's make it bigger, but the prinicples would absolutely have to stay the same.
ZR: Have you had any artists from out of town hit you up and be like, "Hey. I will drive down, but can I be a part of this?"
Erin: Just the lady from Pahrump, Heather Rose. I'm not sure if Kurtis Rykovich is from California or not. I'm not entirely sure. Not really too many. I think we are still pretty small, which is fine.
ZR: I've noticed that there's a really good camaraderie between the alumni and the new folks that get involved. You all help each other and promote each other, which is really cool.
Erin: That's a big deal!
ZR: Have you collaborated with anybody, or has anybody that you know of on the roster worked together and been like "Hey! You do cool shit! I do cool shit! Let's combine our cool shit!"
Erin: I've done that with a few people! Especially Peter Scaturro of Coffin Customs.
He is who taught me how to do wood working. We collaborate a lot. I'll give him skulls. He'll teach me trades. We do stuff like that together all of the time. He is one of my very trusted teachers, and I respect him a lot. The camraderie is a big deal. Danielle [O'Hara] and I work hard to make it a drama free zone. In the beginning there was a couple people that were out just for themselves and not the team. We're a family at the Dark Arts Market, and I want to keep it that way. I make a big deal out of people sharing the event and working hard because just showing up and making money to me is a spoiled brat attitude. You have to help out. The community of artists here is small so helping each other is an epic deal and something I don't want to go away with the Dark Arts Market. I want to keep it that way, right where its at. When we get there, Chris and I always help people unload.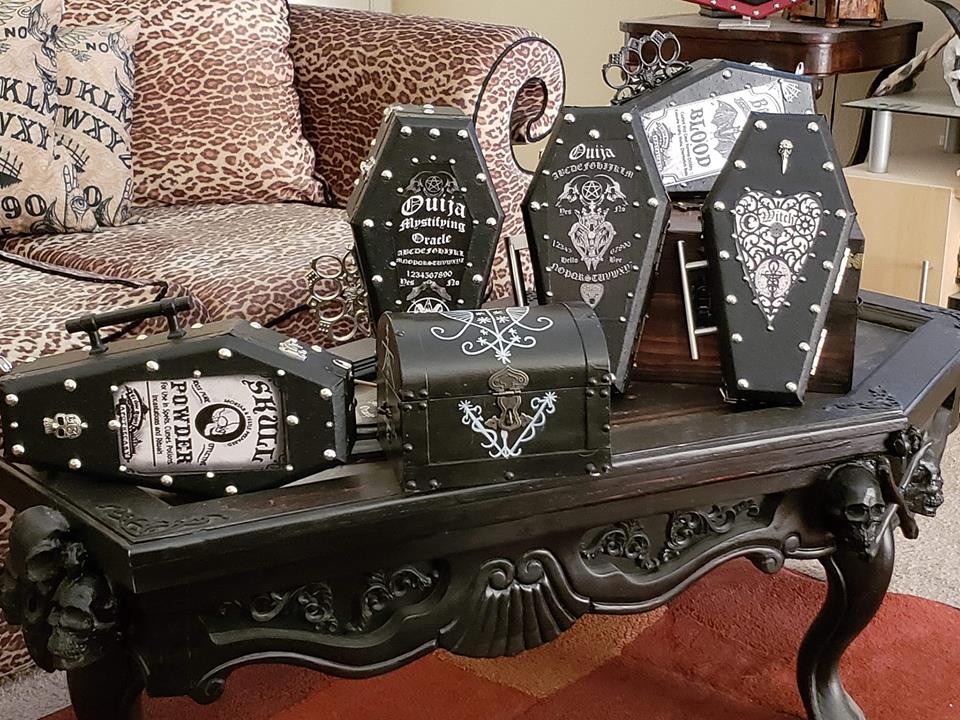 We try to keep it less business and more family oriented. Danielle is good at being businessy, and I'm very good at being like "Here, let me help you."
ZR: It's good to have that balance though.
Erin: Definitely. Without Danielle I would have failed because she is very, very good at the business side and I am very bad at it. I'll just give shit away.
ZR: With this being year one coming up, obvioously you are hoping to keep it going into a second year. Are there any goals for year two or is it just to keep it steady?
Erin: I guess gaining a bigger audience. Reaching more people. I think the goals of keeping it a family affair and making sure when the artists come, they feel like family and aren't just here to sell their stuff. That's a big deal to me. I don't want them to feel like they have to just come, sit at their table, and leave at the end of the night. I didn't really think about any goals. Let's just not suck in year two!
So, there you have it! The Dark Arts Market will be taking place at Cornish Pasty Co. on Charleston this Saturday, February 9, 2019! It is a free event at begins at 7:00 p.m.! Go say hi to Erin and all of the other artists at the event and make sure to tell your friends! The ZRockR Team will be in attendance as well, as we love what the market has to offer, and we of course want to give our locals some love!
We want to thank Erin Emre of Just Us Freaks (check out her art on the page HERE) for taking the time to talk to us, and we also want to give a big thanks to Nevermore Productions and Cornish Pastry Co. for putting on such an amazing event for the artists in our town!
For the full list of vendors and more information, check out the event page HERE . If you'd like to learn more about the Dark Arts Market and how it came about, check out our initial interview with Erin HERE .
See you all on Saturday!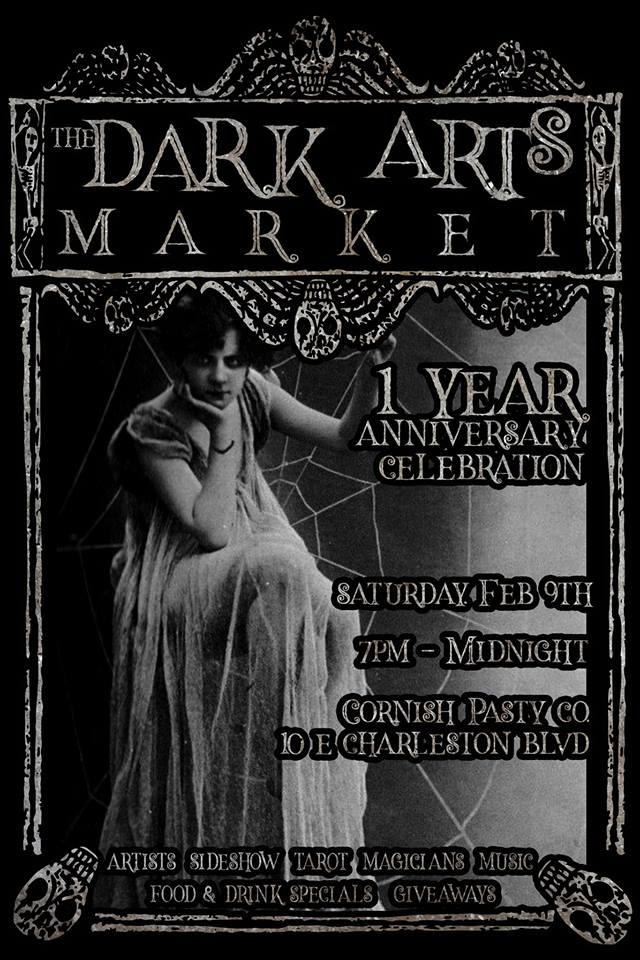 PHOTO CREDIT: All photos belong to the original owners and vendors involved in the Dark Arts Market – Used for promotional purposes only.