Captain Marvel is directed by Anna Boden and Ryan Fleck. The film stars Brie Larson, Clark Gregg, Lee Pace, Samuel L. Jackson, Ben Mendelsohn, Annette Bening, and Jude Law.
In the mid 1990s, a human woman known only as "Vers," who has super strength of unknown origin, fights alongside the Kree race against the shape-shifting Skrulls, who have become an apparent threat. When Vers is stranded on Earth following her latest battle, she first encounters the SHIELD organization, and begins piecing together her mysterious origins. But is all as it seems in the Kree and Skrull war, and what threats loom ahead for our young heroine?
Captain Marvel is the last Marvel Cinematic Universe film to be released prior to the hotly-awaited Avengers Endgame, which will end Phase Three of the films, and the first MCU film to be released following the death of Stan Lee (don't worry; he gets a fitting tribute here). Furthermore, it's the first female-fronted film of the MCU (we've had some tough female heroes in the universe before, but not one carrying their own movie until now). The end result delivers, with Brie Larson kicking ass as the titular heroine, a nice dosage of 90s nostalgia, fantastic action scenes, and a nice "connect the dots" of sorts for characters who've appeared in previous films, featured here at a younger age. It's a shame some inconsistent storytelling and a rushed first half hour or so keep it from perfection.
As usual with the MCU, the casting doesn't disappoint. Brie Larson does a great job bringing this long-overdue super-powered woman into the universe, and watching her on screen is always a delight, whether she's battling aliens, reconnecting with old friends on Earth, or struggling with piecing together her past and the origins of her abilities. The "fish out of water" aspect is one of the film's best elements, and seeing her interactions with younger versions of Coulson and Fury (still two-eyed and with hair!) are an absolute delight. Fans of the MCU will appreciate the addition of a powerful female hero with a personality all her own, as well as the connection to previously released films.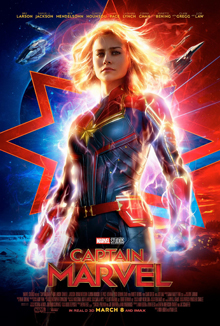 I'll also give the film credit for its 90s nostalgia elements. Much like Jonah Hill's directorial debut Mid-90s, released last fall, this one is brilliant in the way it takes the viewer back to 1990s America in many of its most iconic scenes. The fashion, the music, the overall atmosphere (does anyone else remember internet cafes and Blockbuster Video?) are magnificent. And what a soundtrack, featuring everything from TLC to Nirvana! It's a blast from the past in more ways than one, and you'll love what you see here. Truth be told, I would loved to have seen more emphasis on this element of the movie.
How does the movie fare on the action end? You'll be pleased to know Captain Marvel doesn't disappoint. We see our titular heroine on other worlds fighting aliens, and on Earth encountering plenty of other threats. Despite a running time of just over two hours, Captain Marvel is never boring. The film also doesn't take the conventional origin story route, opting for flashbacks/discoveries of sorts, similar to Man of Steel.
However, the film does falter somewhat in its storytelling element. The first half hour is a mess and feels very rushed, with it difficult to piece together what's going on (not unlike Captain Marvel herself trying to piece together her own origin story, interestingly enough). We're basically thrown into the action on a foreign world, not knowing what's going on, and left a bit confused and overwhelmed. Likewise, the actual "war" between the two alien races never gets the fleshing out it needs, and a plot twist in the film I won't discuss here for obvious reasons ultimately feels quite shallow given some of the aliens' actions earlier in the film.
Another disappointment comes in the form of someone who was featured as a rather one-dimensional villain in an early MCU film. I was hoping said character's reprisal here would flesh out his backstory and make him more interesting. Sadly, that doesn't happen here, and the appearance ends up feeling more like a glorified cameo which adds nothing to his (already lacking) mythos.
Despite some issues with its storytelling, mainly in a rushed and sloppy first half hour, Captain Marvel picks up momentum and finds itself a solid addition to the Marvel Cinematic Universe. It can't touch the better entries in the franchise like Black Panther and Avengers Infinity War, but easily outclasses lesser fare like Thor: The Dark World and Ant-Man and the Wasp. The end result still comes solidly recommended.
Rating: Three stars out of four.
DISCLAIMER: All images in this review are the property of their respective copyright holders, including (but not limited to) Marvel Studios and Walt Disney Studios Motion Pictures. For promotional use only. All rights reserved.