Planet Desert Rock v1
Las Vegas, Nevada
November 29, 2018 – December 1, 2018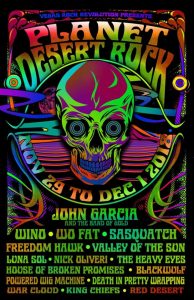 Last November Las Vegas' own John Gist, put on one of his most successful showcases that we've seen. The Planet Desert Rock festival featured some amazing underrated rock bands from all over the place. This festival took place over three days, and three venues. Day one at Vinyl at the Hard Rock, night two at the Bunkhouse over near Fremont St, and night three over at Beauty Bar.
Night one we got the legendary headliner, John Garcia and the Band of Gold. But! Before getting to this headliner, we had the opportunity to see and capture other talented musicians with their own personal ties to Garcia via the band, Kyuss. (If you don't know who they are, do yourself a favor and check them out. They were also named the number one underrated act of the 90's by Loudwire.)
Day One, John Garcia and the Band of Gold
For day one, Death in Pretty Wrapping was first. They are a pre- House of Broken Promises project that has been recently resurrected. Guitarist Arthur Seay is the clear light of the stage with these two bands. (We would see House of Broken Promises perform the next day at Bunkhouse.) A photographer's dream with his facial expressions, contagious energy, and mildly perverted humor in between songs during instrument tuning. Right after DiPW, legendary Nick Oliveri takes the stage with a very cool acoustic performance. For those of you who don't know, Oliveri is one of the most known past members of Kyuss, and was also a core member of Queens of the Stone Age from 1998-2004. We also see Oliveri do a short opening mini-set the next day for day two headliner, Wino. Luna Sol featuring Dave Angstrom from his and Garcia's project, Hermano was next. Yet another engaging performance from a long time musical partner and friend of John Garcia's.
Closing the night was John Garcia himself with his band of gold, along with a number of special musical guests. Throughout this set you see an intense level of fan appreciation and admiration fill the packed room in the Vinyl venue.
Day two, Wino
Day two we see even more diversity come through on the much smaller Bunkhouse stage, located a bit deeper in the downtown/Fremont area of the city. King Chiefs pulled in enough energy to bring hype to the steady filling venue. Definitely enough energy to prepare the room for War Cloud's set. (They are one of my favorite bands that John has brought to the city, and you definitely should be checking them out if you dig that older rock vibe.) Following War Cloud was House of Broken Promises. Arthur Seay, Mike Cancino and Joe Mora share a very special energy on stage together. They of course bring their hard rock, and then a dash of occasional inappropriate humor to provoke and make the crowd laugh and it really is their own brand of rock & roll. Following HoBP, The Heavy Eyes, (TN) and Valley of the Sun (OH) both of which brought a considerable amount of faster energy to the room.
After bringing the energy up, we get that acoustic entrance by Nick Oliveri right before Wino takes the stage. Robert Scott Weinrich, ("Wino") is most known for his influence on the doom metal and punk genres. His headlining set showcased this, and it's no wonder that he's so popular within these and the stoner rock niches within the hard rock scenes.
Day three, WoFat
Day three at the Beauty Bar on Fremont Street was a chilly night of (mostly) Ripple music fronted bands. (Kudos to Ripple Music, by the way. They're killing it as a smaller label.) Strange Mistress kicks of this evening. I believe they were the only local act featured on this specific festival. They are one of Vegas' top psych/blues rooted bands. I've been able to see them a number of times and have never been disappointed by their stage show. Red Desert had their very first appearance in Vegas this night. They brought a very well put together brand of hard/groove rock. Members of Fuzz Evil, (another frequent band on Vegas Rock Revolution bills,) Wayne and Joseph Rudell, are put in the spotlight in their project Powered Wig Machine. They were one of the more energetic bands that we saw on the bill that night. (Maybe I was a little distracted by that leather looking jacket the frontman was wearing. I dug something about it in general! Not in a bad way though.)
Following PWM, we got to see Blackwülf, Freedom Hawk and Sasquatch put on just the right amount of fire to prepare us for the almighty Wo Fat. Sasquatch was seen on a previous bill of VRR's and they're just one of those bands that really brings the crowd in. Wo-Fat was an unexplainable performance. The bass is so fat, that you just can't help but come crawling back for more.
ARE WE READY FOR ROUND TWO OR WHAT!?
So where does this leave us now? We've got John Gist putting together Planet Desert Rock Weekend VERSION TWO! It will take place May 16th through the 19th. (Yeah, that's FOUR full days of desert rock for ya!) This second run of this festival will again feature John Garcia and the Band of Gold, along with crowd favorites, Sasquatch. Plus Vegas Rock Revolution regulars that include Kyng, The Watchers, and Death in Pretty Wrapping. Add in about 20 additional bands; Nebula, Rifflord, Red Fang, and Omega Sun just to name a few.
There are currently full weekend passes as well as single day passes HERE. This run of this festival is guaranteed to be full of fun and surprises! So if you're into some desert rock, classic rock vibes, and an all around fun and friendly vibed rock show that doesn't fall short of the rockin' intensity, this is THE event for you to catch!
Make sure you are following John Gist's Vegas Rock Revolution across all social media platforms for updates! (I will have links below to make it easy for y'all!)
Vegas Rock Revolution: Heavy and Hard Rock Facebook Community
Photo Credit: Live photos taken by Courtney Ware on behalf of John Gist/VRR, contributed to ZrockR Magazine All Rights Reserved 2018
Show fliers belong to John Gist/VRR and used for promotional purposes only.