Let me start this one off by saying if you missed this show, SHAME on you! If you don't know who the Metal Allegiance are, it is pretty much a super group featuring the almighty Mike Portnoy (Sons of Apollo, The Winery Dogs) on drums, along with Alex Skolnick (Testament) on guitar, Dave Ellefson (Megadeth) on bass, and Mark Menghi (MA founder) also on bass. Skolnick and Menghi are also producers of this project.
According to the group's Facebook,the project started as a celebration of heavy metal, and these songs were written and played in Portnoy's basement. They kicked this shit old school and played it all together prior to the tracks being recorded. This is an important factor for them to put forth, given the new age of technology. And the emailing back and forth tracks and such that is commonly done with musicians of this scale, in a project of this nature. This year marked the 5th anniversary of the project, and with that came a special round of shows to be played!

HOUSE OF BLUES, LAS VEGAS.

I can't speak much for the (first?) openers, as I had arrived a little late, (for me… anyway… I don't usually miss the openers!) I walked into the House of Blues towards the end of Weapons of Anew's set. They received a somewhat mixed, but mostly positive reaction from the crowd from what I heard from a few friends and other show-goers. The band delivers a decent mix of hard rock into their style, and overall I'd say they were a good addition to this bill. With former Axiom and HavocHate guitarist, Freddy Ordine along with former Spread Eagle vocalist, Ray West, I'd say they're doing something right! What I did see was good energy on that stage, despite the little bit of it that I had seen. Hopefully I'll be able to catch a full set for myself in the future!
Superfix

Superfix came up next, and from what I've researched, their line up doesn't seem completely updated, or that we saw some stand ins this night. I only say this because we all saw a couple of the dudes from Once Human up on that stage, and it only took me ALL NIGHT to realize that's who they were. We had covered them a couple years ago and I was really frustrated with myself for not picking up on that right off the bat. I digress. The band is fronted by Kalen Chase, who worked with Korn as a backing vocalist/percussionist back in the day. (We saw SO many great artists on the stage this night, I swear!)
Later in their set we see the first appearance of Lauren Hart, who is Once Human's lead lady. She is also currently working with the band Kamelot and she's pretty much a badass. At any rate… This was yet another solid hard rock band that I wouldn't mind seeing on another bill, or one of their own in the future.
Metal Allegiance!

Onto the Metal Allegiance! These guys have definitely made a name for themselves not only because of who they are as individuals, but also because of all of their special guests that they bring with them! The band has recorded tracks with guests such as Randy Blythe from Lamb of God, Phil Anselmo from Pantera, and Bobby Blitz, from Overkill; and with that kind of track record, we were sure ready and excited for all the goodies they were about to unfold onto us!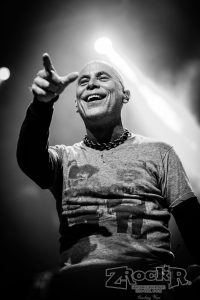 The first vocalist we see on stage is John Bush from Armored Saint and from some of the earlier years of Anthrax. He truly is a killer vocalist! We got to hear some not-so-heard tracks from Anthrax's catalogue that you don't hear with the most recent line up of the band. After John, the mighty Chuck Billy from Testament hit the stage and I was overjoyed. Testament is one of my favorite bands so there's that. If I recall correctly Billy mentioned twice that John Bush was his new favorite vocalist. And well, that's pretty fucking cool if you ask me. I love seeing that kind of appreciation being shown in these kinds of situations.

Special guests galore!
The line up switches back and forth between Chuck on vocals and Dave on bass, to John on vocals and Mark on bass up until about mid set when we get Mastodon bass player and shared lead vocalist, Troy Sanders. Boy, does that man have some great energy on stage! (I've never seen Mastodon, but.. One day maybe I'll get to.) Not too long after Sanders' appearance, we see Lauren Hart again. I cannot stress enough just how phenomenal that woman is with her vocals. She is an aggressive powerhouse, and she packed quite a killer punch for this set of shows with Metal Allegiance!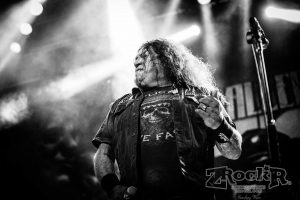 What do I think?

All in all, I can definitely say I was very pleased with the overall energy and show performance. I could only really relate that much talent and great energy to the Randy Rhoads Remembered event with all those amazing artists sharing the stage. One of the really cool things about Metal Allegiance, is that they seem to bring up special guest appearances based on where they are actually doing the show. Which, to me, is pretty fucking badass.
The Vegas show HAD to have been completely different than the show they did the next night in San Francisco at The Fillmore. (I saw some of the videos for that show, too… Happy Belated birthday to the almighty Mike Portnoy!)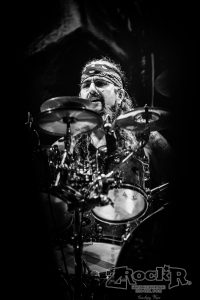 5/5 would see again! Cheers!

Metal Allegiance Setlist – Las Vegas – 4/19/2019
Pledge of Allegiance – Metal Allegiance
Can't Kill the Devil – Metal Allegiance
Leper Messiah – Metallica
The Accuser – Metal Allegiance
Bound By Silence – Metal Allegiance
Room For One More – Anthrax
Bonded By Blood – Exodus
Gift of Pain – Metal Allegiance
Let Darkness Fall – Metal Allegiance
Dying Song – Metal Allegiance
Voodoo of the Godsend – Metal Allegiance
Into the Pit – Testament
Liars & Thieves – Metal Allegiance
Only – Anthrax
Peace Sells – Megadeth
Roots Bloody Roots – Sepultura
Metal Militia – Metallica
Iron Fist – Motorhead
There you have it! The band is a wonderful representation of the appreciation of the metal genres. This is apparent in the variety of the songs they are playing. Brilliant original music, along with the amazing cover songs thrown in!

PHOTO CREDIT: Courtney Ware for ZrockR Magazine 2019, ALL RIGHTS RESERVED.