Whitesnake began over 40 years ago, following David Coverdale's participation in Deep Purple. Aside from a few hiatuses in the 90s and early 2000s, Coverdale has kept the band going strong with an assortment of strong players. It's 2019, over four decades since Whitesnake began, and there's a new album from the band out.
Flesh and Blood (I guess they forgot Poison already used that title) is the thirteenth studio album from Whitesnake, following The Purple Album from 2015; that release being rerecorded versions of songs Coverdale did in his Deep Purple days. As such, it's the first album of original material from the group since 2011's Forevermore.
The current lineup features Coverdale on vocals, guitarist Reb Beach (Winger, Dokken), guitarist Joel Hoekstra (TSO, Night Ranger), bassist Michael Devin, drummer Tommy Aldridge (Ozzy Osbourne), and keyboardist Michele Luppi. Mr. Coverdale turns 68 years old this September, so does he still have what it takes to front a classic hard rock band?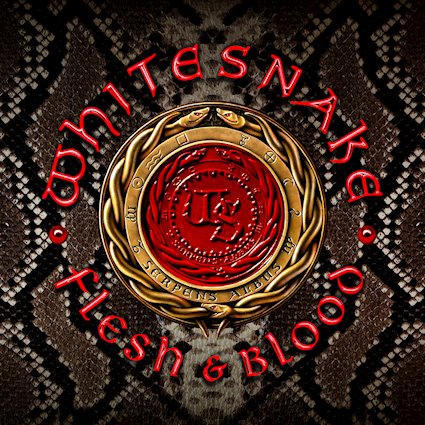 No matter how many different incarnations and lineups Mr. Coverdale has assembled over the years to keep Whitesnake alive, he's always surrounded himself with some of the best players in the business. Beach and Hoekstra's guitar work on this record is, far and above, the highlight. They help give the album a delightful old school rock and roll sound. The rhythm section of Devin and the always-reliable Aldridge doesn't let up either. There's a nice assortment of pop rockers, hard rockers, and everything in between. And then there's the vocalist.
So… what about Mr. Coverdale?
Unfortunately, David Coverdale's years have caught up with him. I saw him perform last year out here in Vegas, and noticed he sounded weak throughout the gig. Sadly, no amount of studio trickery can hide this. The man's voice is on the way out, and it's definitely time for him to retire. This is such a shame, considering it's the best selection of tunes the band has written and released in years! Unfortunately, without a capable vocalist to bring them to life, the otherwise-stellar album suffers.
An album with stellar songwriting and strong instrumentation doesn't work if the man singing it is on the decline vocally. Sadly, David Coverdale simply isn't up for the task to carry the band anymore. I adore the guy and nearly everything he's ever played on (the pre-US breakthrough records are some of the best in their catalogue), but it's time for him to throw in the towel. As much as I love Coverdale's past work and the contributions from the other members of the band, I can't recommend this release.