God Bless Ozzy Osbourne (hereafter simply referred to as "God Bless") was released in 2011. The film got a Blu-ray release from Eagle Rock.
Ozzy Osbourne needs no introduction. He's rock and roll's bad boy who simply will not die. God Bless is a documentary film running roughly 90 minutes in length which tells his story from his early days growing up in the factory town of Birmingham to his rise in the music world, subsequent falls from grace, and his efforts to reinvent himself as one of the most prominent presences in the world of rock and roll, complete with footage of concerts and backstage footage filmed not long before the release of the documentary in 2011. Interviewees in the film including Henry Rollins, Paul McCartney, Tommy Lee, and several past and present bandmates and family members.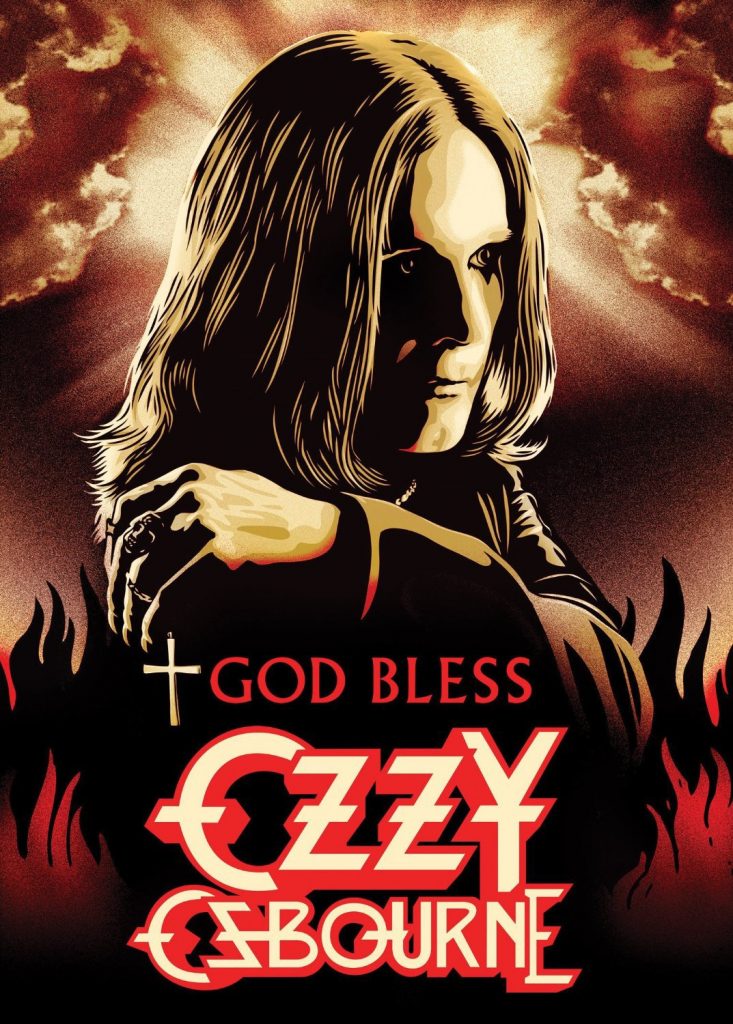 Mr. Osbourne's life has been chronicled in many shapes and forms, but it's nice to see an accessible hour-and-a-half documentary which is easy to absorb and hits the high notes. God Bless isn't the most thorough portrait of Ozzy's life by any means, but it's a nice overview of one of rock's titans and his ups and downs. Interviewees present some interesting new perspectives on the Ozzman, while rare archival footage and new interviews alike help bring the story to life.
One of the most enlightening features of the documentary is it doesn't just go after rock stars to be interviewees. We even get to see interview content with Ozzy's children from his first marriage, prior to marrying Sharon Arden. Seeing how they were negatively impacted by their father's rock lifestyle is startling. Even his children following his marriage to Sharon have less-than-flattering things to say, and it's nice to see the doc isn't afraid to reveal less-than-favorable aspects. It helps give the movie a gritty and real feel, and I'm thankful to see the presentation not gloss over things.
The footage itself is one of the best attributes of the film, as well. We get to see rare television performances from the classic Black Sabbath lineup, scenes of the band's performance at the legendary 1974 California Jam, and even a BBC Top of the Pops performance of the title cut from the Never Say Die! record. We even get some video recordings of Ozzy with the late Randy Rhoads! I'm not sure how much of this content is previously unreleased and/or how rare it is, but seeing it compiled here to tell Ozzy's story is a revelation.
That the doc is easily accessible makes it a pleasant alternative to needing to read books on the subject. Even if you know very little about Ozzy, it makes for a good "stepping on" point where you can learn from scratch, getting an idea of who the man is. I'm not sure how much die-hard fans who love Ozzy and know his career inside out will get out of this, but I certainly learned a few things I didn't know, and even saw footage I hadn't seen before.
I wouldn't quite say it's a perfect documentary, though. Due to the fairly short duration, it has to cram decades worth of material into a 90-minute window. Not surprisingly, a lot gets rushed or neglected (the home releases have deleted scenes, though admittedly working those back into the film probably would have dragged out the run time and hurt the accessibility to general audiences). There were certainly elements I wanted to see touched on more, but it's still a great look at his career overall.
God Bless is a fantastic documentary even if it comes up short in a few places. That said, I don't think anyone who's an Ozzy fan, casual or die-hard, will be too disappointed with the end result.
DISCLAIMER: Images in this review are the property of their respective owners, including Eagle Rock Entertainment, Next Entertainment, and Schweet Entertainment. For promotional use only. All rights reserved.