Aladdin is a live-action remake of the 1992 animated Disney film. The movie is directed by Guy Ritchie, and stars Will Smith, Naomi Scott, Mena Massoud, Marwan Kenzari, Nasim Pedrad, Billy Magnussen, Alan Tudyk, and Frank Welker.
In the Middle Eastern kingdom of Agrabah, Aladdin is a street rat fending for himself, alongside his only friend and partner in crime, the monkey Abu. A chance encounter with the mysterious and reclusive Princess Jasmine changes his life forever, prompting him to try to find a way to win her over. When he comes into possession of a magic lamp, he uses the magic of the Genie inside to attempt to win her over with a prince facade, as she must marry someone of royal descent. But the vizier Jafar has his eyes on the lamp and its magic as well, and sets out to get his hands on it by any means necessary.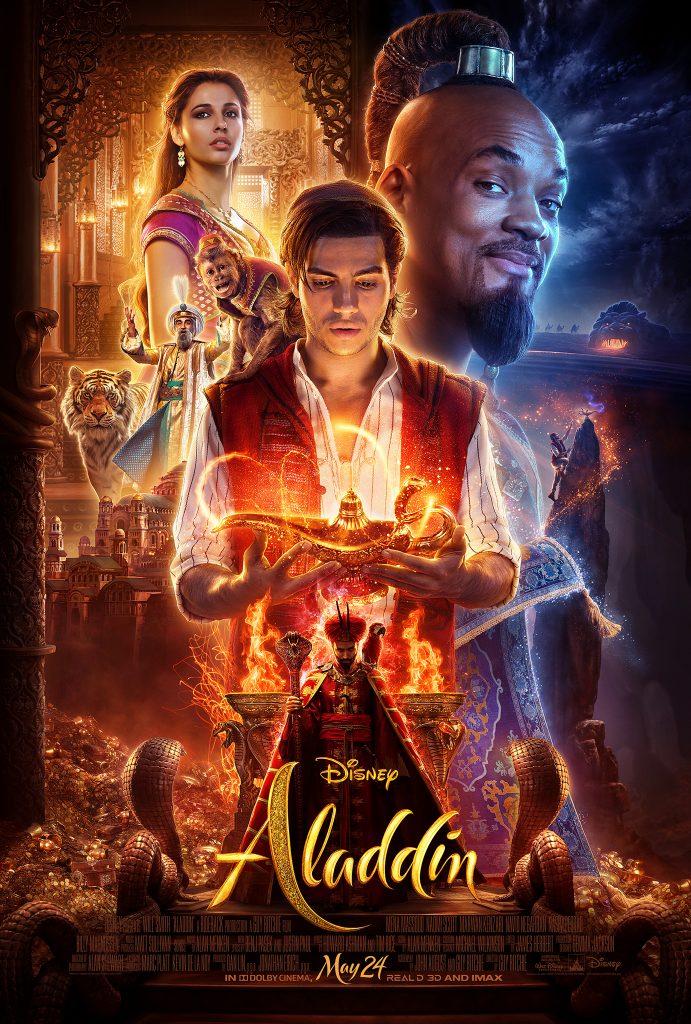 Aladdin is the latest in a long line of Disney live-action remakes of their older animated feature films. Following the disappointing take on Dumbo earlier this year, I can't say was overly enthusiastic about the next one (we're getting several in 2019 alone). While Aladdin doesn't really tread a whole lot of new ground in regard to this story and is a little too long, the film is a pleasant surprise, due to its brilliant set and costume design, great casting, superb action and suspense sequences, and what might just be the best performance of Will Smith's career (naysayers be damned!) It should be a hit with young and old alike.
While I was honestly a little puzzled by the decision to enlist Guy Ritchie (one-time husband of Madonna who directed the Robert Downey, Jr. Sherlock Homes films) to direct, he ends up being the perfect man for the material. He brings our titular hero to life in some exciting early chase sequences, getting the attention of the audience from the get-go. Ritchie handles all the material perfectly well, with action, choreographed musical sequences, and the more dramatic material. While Aladdin may be a little too long (it's about 30 minutes longer than the original animated movie), it's never boring. Ritchie proves himself the perfect man to sit in the director's chair for this live action reimagining.
I wasn't familiar with most of the actors and actresses in the film initially, but I admire Disney for their diverse and ethnic casting choices. Furthermore, everyone bring something excellent to the table. Mena Massoud shines as the title character, regardless of what he's tasked with at the time, whether it's being a street rat or masquerading as a prince (and doing a comically poor job of it!) Naomi Scott (Kimberly from 2017's Power Rangers reboot film) is fantastic as Jasmine, who's more than a match for our hero and holds her own in a male-dominated society. The central cast is rounded out by Marwen Kenzari as the villainous Jafar, who gives the antagonist all the on-screen personality he needs and more; he's particularly formidable throughout the movie, even if you know what his final fate will be.
And then there's Will Smith.
When the movie was first announced, people were bashing this casting choice, criticizing the look of the character as well.
After his introduction in the "Friend Like Me" sequence, the screening I attended was filled with applause and cheers (and this wasn't the only time it happened). In a few short minutes, he'd shattered the doubts of the naysayers and defied expectations. The movie may be called Aladdin, but Smith stands out as the star of the show. Fortunately, his screen time is balanced so he never overshadows the central plot. He's laugh-out-loud hilarious and over-the-top in more ways than one, and I have no doubt when you go to see the movie, his performance is what you'll take away from the two-hour presentation. I'm also pleased to see him put his own spin on the character rather than copying the late Robin Williams from the original film, though I think even the die-hard fans of Williams' portrayal will respect with Smith does here.
If Aladdin suffers slightly, it's from an overlong run time and the failure to really do anything new with the material. At just over two hours, the movie is simply too long and does lose some momentum in a dragged-out third act (though it's never boring). The film pretty much follows the structure of the original and doesn't take a whole lot of risks (though given the not-so-favorable critical reception of Dumbo, adhering to form here probably isn't such a bad thing).
Aladdin is fantastic, thanks to Guy Ritchie's direction, a fantastic and diverse cast, including a show-stealing performance from Will Smith, and plenty of moments, from the comedic, action-packed, and dramatic, to appeal to young and old alike. In a world of questionable remakes and reboots, this take on Aladdin is, truly, a diamond in the rough!
Rating: Three stars out of four.
DISCLAIMER: Images in this review are the property of their respective owners, including Walt Disney Studios Motion Pictures, Rideback, and Mark Platt Productions. For promotional use only. All rights reserved.