Dark Phoenix is directed by Simon Kinberg; it's his directorial debut. The film stars James McAvoy, Michael Fassbender, Jennifer Lawrence, Nicholas Hoult, Sophie Turner, Tye Sheridan, Alexandra Shipp, and Jessica Chastain.
In the 1970s, a freak accident involving her powers left young Jean Grey an orphan, who was then adopted by Charles Xavier, who had to apply mental blocks and walls in her memory to keep her from unleashing her powers. Two decades later, with the X-Men and the mutants in general more respected thanks to Xavier's efforts, Jean is attacked by a mysterious force during an outer space rescue mission. Before long, her powers manifest, and she finds herself unable to control the dangers emanating from her body. Further adding to the stakes, aliens living on Earth in human disguises have their sights set on Jean and her mysterious powers, but will she be able to get under control, or will the people she cares about be on the receiving end of a deadly force she doesn't understand?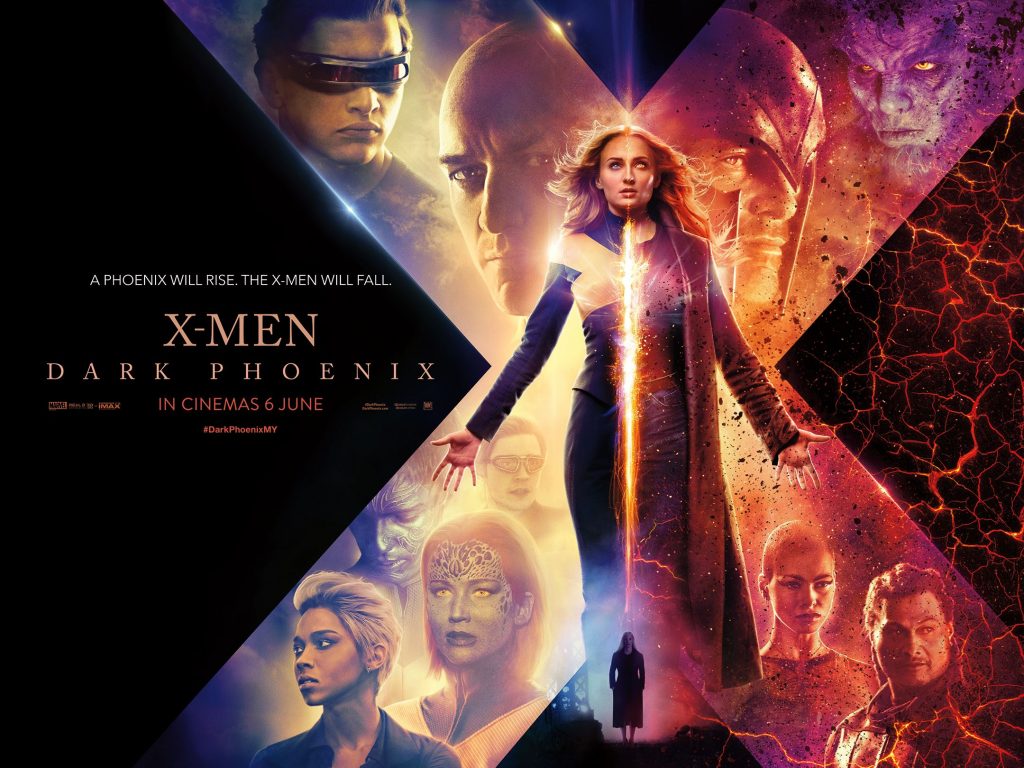 What a trip it's been with the X-Men over the years, which began nearly 20 years ago with the first movie in 2000 (damn, I feel old now). With Disney's purchase of Fox, this will be the final film in the franchise (unless one counts the frequently-delayed spin-off The New Mutants, now scheduled for release next spring). The "First Class" sub-series has been pretty solid, giving us younger versions of the characters over the years, spanning history, even if X-Men Apocalypse was a bloated mess which ran far too long because of unnecessary tertiary characters, subplots, and underdevelopment. Dark Phoenix rectifies nearly every problem of the previous film, and it's a far better version of the "Dark Phoenix" story from the comics than the weak rendition seen in X-Men: The Last Stand. The acting is superb, the pacing is perfect, the action scenes are some of the best in the franchise, and there's never a dull moment. Aside from the villains being a bit underwritten, it's damn near perfect. I'm going to miss Fox's X-Men franchise, and movies like Dark Phoenix are the reason why.
The ensemble cast is, far and above, the best part of Dark Phoenix, and seeing the actors play these characters one last time is a revelation, with plenty of drama and brilliant action scenes, not to mention social and political commentary, showing just how intelligent and entertaining this franchise was most of the time. Mutants in the film are far more respected and idolized due to their potential to help mankind, something which shows Charles Xavier's ongoing efforts have paid off, yet not everyone in his inner circle shares his beliefs, which leads to some interesting developments and personal conflicts.
The true standouts of the cast remain James McAvoy as Charles Xavier, and Michael Fassbender as Eric "Magneto" Lehnsherr. The two's clashing beliefs come to the forefront more than a few times here, but seeing how they've both grown over the course of four movies is truly remarkable. Admittedly not everyone quite gets the screen time I'd have liked (not enough Quicksilver!), but it's a small price to pay for what may be the most consistent, concise, and all-around satisfying film is this franchise has had in years. There are tragedies in the making, as well as developments and drama which threaten to not only tear the team apart, but also everything Xavier worked so hard for in order to get better public views of mutants, and the end result is an intelligent, beautifully-made work of art.
Oh, and did I mention it doesn't come at the expense of action? Right from the get-go, the team is thrust into a hazardous outer space rescue mission – if you wanted to get my attention from the beginning, nice job! Seeing Jean Grey's Phoenix persona endanger the world will keep your attention, as well her relationships with fellow X-Men, all of which are endangered and put to the test here. It's a shame this film will likely be overshadowed by Marvel Studios' Avengers Endgame and Spider-Man Far From Home, as the action sequences in this movie are some of the best. Seeing the mutants do battle with their foes on a speeding train and seeing their means of dealing with their enemies are some of the best scenes in the entire franchise. If your favorite part of this series was watching Fassbender's Magneto cut loose and kick ass, the sequence in question will more than satisfy!
The one weakness of an otherwise excellent film is in its villains, shape-changing aliens who've been living on Earth in secret, who desire the powers Jean finds herself with. The leader of the team is played by Jessica Chastain (Molly's Game, The Martian) a great actress who's given frustratingly little to do, and much of her team feels fairly one-dimensional. It's a small price to pay for a final product which is satisfying, but you'll wish a little more screen time had been devoted to developing them.
Dark Phoenix is the fitting farewell the X-Men franchise deserves. The next time we see these characters on the big screen in several years, it'll be with them played by different actors, as part of the ever-evolving Marvel Cinematic Universe. James McAvoy, Michael Fassbender, Sophie Turner, Nicholas Hoult, Evan Peters, and Jennifer Lawrence make their final outing one not to soon be forgotten, with amazing action sequences, brilliant social commentary, gripping drama, and everything in between. And it's paced perfectly, clocking in at just under the two hour mark, yet at no expense of depth. Very highly recommended film which may very well now rank as one of the best in the franchise. Don't miss it.
Rating: Three-and-a-half out of four stars.
DISCLAIMER: Images in this review are the property of their respective owners, including Twentieth Century Fox, Marvel Entertainment, TSG Entertainment, Walt Disney Studios Motion Pictures, and The Donners' Company. All rights reserved. For promotional use only.