Men in Black: International (hereafter simply referred to as "International" is directed by F. Gary Gray. The film stars Chris Hemsworth, Tessa Thompson, Rebecca Ferguson, Kumail Nanjiani, Rafe Spall, Laurent Bourgeois, Larry Bourgeois, Liam Neeson, Emma Thompson, and Tim Blaney.
Ever since young Molly witnessed the Men in Black outside her parents' home investigating extraterrestrial activity, she has aspired to join the mysterious organization. She eventually comes into their company, taking on the moniker of Agent M, joining the handsome but often inept Agent H. The two go out to investigate numerous goings on around the world, but quickly find not is all as it seems, as they cross paths with unexpected friends and foes, human and alien alike.
International is a sequel/reboot of sorts to the Men in Black franchise, which started in 1997, based on the comic book of the same name. There were three films released between 1997 and 2012, starring Will Smith and Tommy Lee Jones, with International being the fourth film, and the first to not feature Jones or Smith, though the two are briefly referenced. Taking over from Barry Sonnenfeld, who directed the first three films, is F. Gary Gray, who has directorial credits including Friday, the 2003 remake of The Italian Job, Straight Outta Compton, and The Fate of the Furious. How does the fourth installment fare?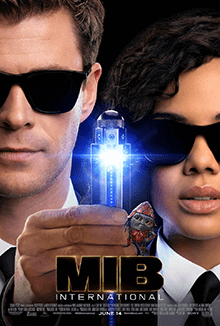 International doesn't quite capture the chemistry of Smith and Jones from the original movies, though it's a decently made action/sci-fi/comedy. It's overlong, has pacing problems, and has way too damn much going on, but the leads are top-notch and a lot of fun, and there are worse ways to kill two hours.
I'll give International credit for the leads it employs; Tessa Thompson (Thor: Ragnarok, Creed) as M, and Chris Hemsworth (Thor: Ragnarok, Bad Times At the El Royale) as H. An underused Liam Neeson portrays their superior, High T. The main character pair of Thompson and Hemsworth clearly has plenty of comedic chemistry as we saw in the Marvel Cinematic Universe, and it's good to know this same chemistry translates to the Men in Black franchise. I'll also give the screenwriters credit for not trying to force a romance on the audience. Even if other aspects of the movie don't hold up as well, these two are a ton of fun. Of course, the real standout in the cast is Kumail Nanjiani, who voices pint-sized alien Pawny, who quickly becomes a fan-favorite character.
The action, sci-fi elements, and creature designs remain appealing, reminding audiences of why they fell in love with this franchise in the first place. While it isn't exactly anything revolutionary, it remains fun to look at, as any moviegoer will quickly see for themselves.
Sadly, what could have been an amazing comeback for the series falls short for a number of reasons. The film features far too many subplots, including M joining the Men in Black, a pair of alien twins seeking a deadly weapon to serve their own needs, the potential of a mole having infiltrated MIB, and travel to many worldly cities and destinations. Is your head spinning yet? One of the best things about the older movies is they, despite their exotic alien characters and over-the-top sci-fi elements, still took a "less is more" approach. While International is rarely boring, it's about 20 minutes too long, and many of the plot elements and twists feel ripped off from better movies.
That said, it's still a funny action-packed movie, and while I can't say you should rush out to the theater to see it, I'll make for a decent rental upon its eventual home video release. It's not the best thing you could be seeing in the theaters this summer, but certainly far from the worst.
Rating: Two-and-a-half out of four stars.
DISCLAIMER: Images in this review are the property of their respective copyright holders, including Sony, Columbia, Amblin, Image Nation, Parkes + Macdonald, and Tencent. For promotional use only. All rights reserved.