What did you do for your 21st birthday? Do you even remember? What if thousands of people celebrated it with you in Downtown Las Vegas? What if you had five wild nights of Punk Rock shows to kick your ass during it? Well, I'd say your name may be Punk Rock Bowling and happy fucking birthday, big guy!
Memorial Day weekend is here and that means it's time for the unholy mecca of Punk Rock Festivals to bring us back together under the sky-lit canopy of our glowing home. When you do things right by getting a hotel on Fremont Street to keep as HQ for the weekend, nothing can stop you!

This year ZrockR was perched up at The Plaza, ready to take you through all the wonders that Punk Rock Bowling has to offer. All of it's drunken and debaucherous wonders we've been going through for twenty-one years!
New to 2019
With great alcoholic powers comes great alcoholic, um, Happy Hours? Yeah, that's it.

What better way to celebrate Punk Rock Bowling's 21st birthday than with free alcohol at the Hooligan Happy Hour! Making it early this year paid off. With free drink coupons to get you through what's usually a blaring heat, but was shockingly cool and breezy, for a Vegas Memorial Day Weekend.
While the Happy Hour itself may not be new, Punk Rock Bowling paired up with r.CUP to make PRB a bit more environmentally friendly. For just a couple extra bucks, that reusable cup stayed out of the trash can, and you could either turn it back in and get your money. Or you could do what all of us on staff did and take it home to add to your bookcase of concert memories.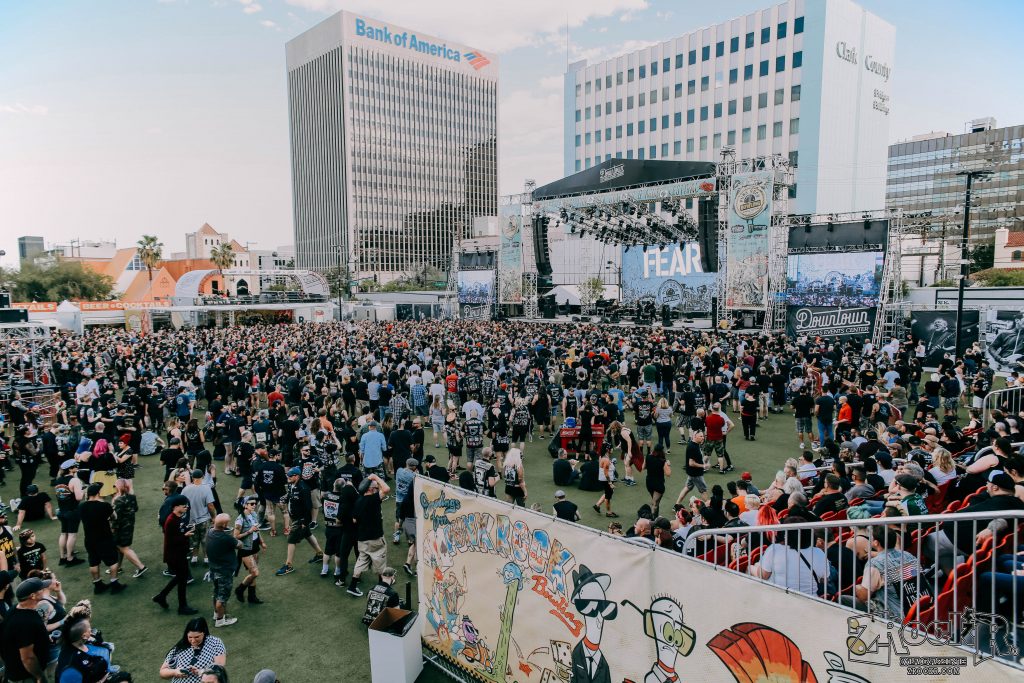 One must also take on more work when they turn 21. Ya know, to pay for the alcohol!
Why not add another stage on Bridger Ave. in the shadow of the Clark County School District building that cultured so many of us Las Vegans into rebel punks! Hosting some of the most anticipated sets of the weekend, there was no holding back with this upgrade. And from day 1 it was an instant party.

Droogettes
This mischievous bunch of milk-sippers were a surprise. You may be thinking that The Adicts have already given us our Clockwork Orange Punk band. Are these just the chick Adicts? Boy, would that be wrong.

They have a melody that could end up on the newest Tony Hawk Pro Skater and an attitude that'll kick you off the nearest dock. Check out this band with a clear mind and you'll have a guaranteed fun time.
Maid of Ace
I hate myself every time I make this comparison with female lead singers… but this compliment goes to the band (okay, and the singer for a couple of ranges). If you ever liked The Distillers, Maid of Ace will leave you chuffed to bits!

"Made in England" let's you know the unique sound these bad ass pond hoppers hold. Tracks like "Stay Away" and "Disaster of Noise" could be anthems for a generation.
The Skints
If you're walk out music is the X-Men Animated Series theme song, you have my curiosity. If you have a mixed race ska band that seems to be the living embodiment of the mutant values The X-Men stand for… Well shit, you have my attention.
You can tell the impact The Specials have on this group, but their sounds is totally unique; breaking the wall into modern day Beach Ska. Like the sound of Dirty Heads, with a major Dance Hall feel. Singer Marcia was two moves away from waltzing with her keyboard while bassist Jonathan backed up with a bumping raps that accompanied his Fred Astaire dancing style.
For the Two-Tone heads that came out to the most irie Punk Rock Bowling lineup ever, this was a good way to loosen up those hips and get you moving.
Perkele
Perkele is the Swedish medicine this dying world needs, and we can only hope this first time they're in the states won't be the last. After taking over a Club Show with INFA RIOT the night before, it was time for a lot of us to get our first taste of their oi's.
If "Leaders of Tomorrow" doesn't make you move, you're broken. The most inspiration the festival could offer was on stage with these three. I hope we get them back to share more of their truly one-of-a-kind sound.
Lower Class Brats
Oh, you didn't Oi hard enough during Perkele? Well get in your Durango 95 and come on down for some "Ultra Violence"!
The wait is over for Las Vegas to get their Lower Class Brat fix. Holy shit were we ready! 2016 Plaza Pool Shows seem like a distant memory in our substance ridden heads, and we acted like our high needed to hold us up through another three years.
If anyone wrote the rules for the new rebellion, it was these Punk Rock Godfathers. I can't think of a better place for it to start than at Punk Rock Bowling.
FEAR
What else could make a 21st birthday one-of-a-kind? How about a beer with Fear!
1234!! 1234!!
The L.A. outfit that's been been destroying stages from coast to coast since the 70's are still here to show you what the real deal is with "Beef Bologna" and how a saxophone should really sound in New York City.
Lee Ving may be up there in age, but he still doesn't give a fuck what you think about it. It's impressive for anyone to pull off the bouncing vocals in "Gimmie Some Action." Not one syllable was missed when Lee casted a pit spell on the crowd with that vocal voodoo.
We can only hope this isn't the last Fear show for Punk Rock Bowling, but only that bastard Father Time can make that call. I'm not saying he's knocking at Lee's door, but let's keep on him from time to time.
The Damned
There are only three words to be said, but I'll say some more:
Machine. Gun. Etiquette!
From "Love Song" all the way to "Smash It Up." The same songs that changed music as we know it were flawlessly played from front to back, 40 years after their historic release. A truly once-in-a-lifetime opportunity that we may never get again.
One thing must be pointed out though. Dave Vanian does not look like he's aged a devil damned day! Punk Rock has and will always look good on that smooth face.
FLAG
No matter which variation of Black Flag tickles your fancy, you can't miss Keith Morris and Bill Stevenson together on any stage! Honestly, try to hate the most energetic front-man backed up by the most renowned drummer in Punk Rock.
Name a song and it was played! "Police Story", "My War", "Gimmie Gimmie Gimmie"!
Shit, we even got some Circle Jerks with "Don't Care". The only thing that could have hyped this up more is if "Wild in the Streets" all the sudden sent everyone into a riot.
It was practically there when Dez Cadena put down the bass and took the mic over for surprises like "American Waste" and "Six-Pack".
If Mike Vallely is able to do this than I can't wait to see. But until then, this is Black Flag and no one has yet to prove otherwise.
The Casualties
Where were you when The Casualties changed your life? If they hadn't yet, you were today years old and it was at Punk Rock Bowling!
If anyone has bad things to say about David Rodriguez picking up the fallen microphone that was left in a rotting NYC gutter by Jorge Herrera, you must not know The Krum Bums and you must not have been at Punk Rock Bowling.
"Chaos Sounds" and "Ugly Bastard" followed by the new chants of "1312!", "A.C.A.B!", "1312!", "A.C.A.B!" makes you feel like a teenager discovering them all over again.
"We Are All We Have" has been a defining moment in The Casualties' history. But seeing David jump off the side of the Bridge Ave. stage and into the crowd through its chants is going to be the thing to top at Punk Rock Bowling for years to come.
Rancid

"Here it is! Here I am! Turn it up fucking loud!!"
If Punk Rock Bowling has taught us anything, it's that when we got the music, we got a place go. Rancid proves that no matter who you are, you're about to have some fun at their show.
If you were too cool to dance to "Roots Radical" then there was no choice but to see you're way to the gate! It was the biggest sea of dancing Punks I've ever seen, consuming every inch of ground that was visible to the stage.
Again, name it and it was there! From "Tenderloin" all the way to "Where I'm Going", Rancid makes sure to give you your moneys worth every damn time!
They ended on a snazzy note with "Time Bomb" and into the unknown destinations of "Ruby Soho". This can either give you a good send-off to the hotel for resting up, or it could be your first call to the Club Shows. No matter where you go, this historic Day 1 can only lead to more craziness in Day 2!
Stay tuned, Rockers….
Punk Rock Bowling 2019 Playlist!
For more information on upcoming Punk Rock Bowling events, head on over to the official website!
Also check out a recap of last year's main festival here!
PHOTO CREDIT: All photos by Christina Rosenfeld, Courtney Ware, and Stephy Hayward for ZRockR Magazine, All Rights Reserved.