Godsmack is returning to the Joint in Las Vegas on July 5th, kicking off the 4th of July weekend!
The Beginning of Godsmack.
First off, it's hard to believe Godsmack has been around for 24 years. The band started in 1995 when vocalist Sully Erna decided he wanted to try his hand at singing. Originally a drummer, Erna formed The Scam, which was renamed Godsmack after their first demo recording.
A lot of people think the name comes from the Alice in Chains song, but that isn't the case. Although, "God Smack" is a great tune.
Godsmack gained local radio success in their hometown of Boston, MA before finally being picked up and having label support.
On the Rise.
After signing with Universal in 1998 and a few lineup changes, Godsmack released their self titled album. I for one can tell you that little elementary school Stephy had that album. I had cool parents.
Godsmack is a classic, spawning some of the bands biggest hits, which have been an obvious influence on the metal we hear today. With singles like "Keep Away", "Whatever", and "Voodoo", which is on my Halloween rock list every year, the album has continued to be in my rotation.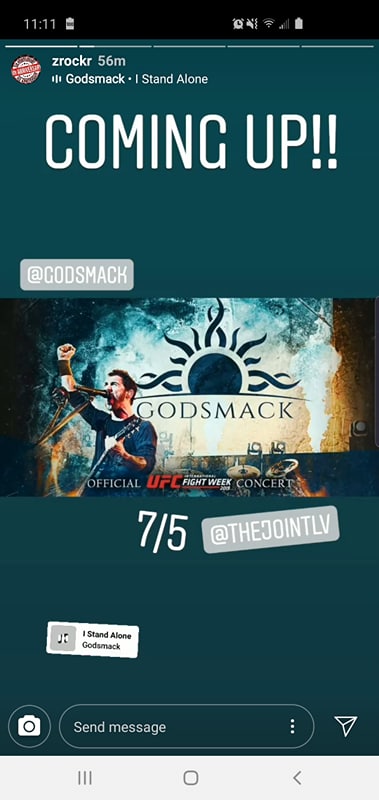 Halloween 2000 brought the album Awake, which was jut as wonderful as the self titled. The band has continued on the up and up from there.
Godsmack Live.
Godsmack have come quite a ways from their first headlining tour with Jim Rose Circus (which I bet would have been a fun tour to see).
I saw the band in 2009 with Motley Crue, which is kind of a weird lineup when you think about it. Regardless, it was one of the most energetic sets I have ever seen.
Regardless of whether you're a fan of Godsmack or not, they put on an absolutely killer show. One of the biggest highlights for me from that night was seeing Erna head back behind the drum kit. He performed a drum duo, almost Vinny/Carmine Appice style, which was killer.
Tour.
As previously stated, Godsmack is coming to The Joint Las Vegas on July 5th. If you don't have your tickets, I suggest you hurry up and get them.
Although they've have announced a Fall tour with Halestorm and New Years Day, it won't be coming to Vegas. So, see them at The Joint! You can pick up tickets to the show HERE !
We'll see you in the pit.
Listen to Godsmack:
Writer's Playlist:
Curious as to what Stephy's listening to right now? Check out her playlist on the ZRockR Magazine Spotify!
PHOTO CREDIT: All photos are used for promotion only ©Godsmack