"Ugh, where are we? Why does this dark hotel room smell like stale pizza and beer? What do you mean it's Sunday? Oh right, it's Punk Rock Bowling!"
Day 1 of PRB 2019 has been set in the history books! Legend after legend. Sets played back to back on both stages. Plus, the pool shows and clu… holy crap! Did H2O really play two shows yesterday?
For those who didn't make it past the opening night, ZrockR was first in line at Hooligan Happy Hour to bring you more from the ground on Day 2. What seemed impossible to outdo 8 hours earlier was quickly turned into the second wind that toppled all expectations.
The Heiz
Where are the suspenders and zoot suits? Dancing shoes were laced up tight for the Rock n Roll business that this trio unexpectedly dropped in the day's opening set.
The Heiz came all the way from Japan to play that good ol' Rock n Roll. Just like a Speghetti Western, they take an American classic and turn it into something more outlandishly amazing. Besides dealing out "Too Much Rock n Roll Business", it was fun to see these cats running around the festival having a blast!
Total Massacre
Three things to help you imagine who Total Massacre is and what their music's about. Portland, Antifa, and a singer wearing a sea captain's hat.
If you came out to PRB with any fascist thoughts, these guys have a message for you. It involves a fat middle finger to the face! They make some good points while claiming "Antifascist", and tearing down the "Border Wall", in a catchy political singalong.
It wasn't hard for Total Massacre to pierce their way into your head and make you repeat their choruses until the next set. Shit, I'm still walking around with "I'm an antifascist, you're an antifascist too!" going through my mind at least once a day.
The Darts
THESE! KEYS!
The wind was kicking up, and you could imagine it messing up anyone playing an instrument on stage. The Darts played this like a music video shoot! You know, one with a gigantic fan and choreographed moves where the band never stands still…wind flowing their hair in perfect angles! Okay, calm down…
Besides The Darts' energy that gives them a step above most bands at PRB this year, the sound they let out is one of kind. Rikki's solid drums played behind the biggest smile leading Nicolle's voice and organ keys that make you let out an audible grunt of enjoyment when they touch the right tones.
The almost Rocky Horror sounding "Breakup Makeup" will lead your hips in a dance you never knew you could do, then let you know exactly how they want it all in "My Way".
Auxiliö
This LA outfit came out of nowhere for us! When you get past the Crust and growls, these girls are dropping some straight Thrash that is on another level. Stop and go, Spanish and English, anti-corporation undertones and talks of extinction? Yup, Auxiliö is a keeper.
The Lillingtons
There are few bands that bring a 30-year-old back to the days of their youth like The Lillingtons do. Their Sci-Fi adventures are as classic and thought provoking as some Twilight Zone episodes. The black holes in our minds sucked in that punk rock matter like it was 1999!
We saw The Ape Man on The Moon and went through "Insect Nightmares", all until the pit pick up started during the "Invasion of the Saucerman". Lessons in "I Came From the Future" capped off the funnest set of the day so far, but we were soon to realize we were only half way through.
Adolescents
Punk Rock lost a piece of what little soul it has when Steve Soto passed a few weeks after 2018's Punk Rock Bowling. This year has proven that the most recognizable bassist in Punk will never be forgotten. As long as Adolescents or Agent Orange or Manic Hispanic or Cadillac Tramps are being played by someone, the legend of him and so many others lives on.
One thing's for certain though. Kids of the Black Hole will live forever!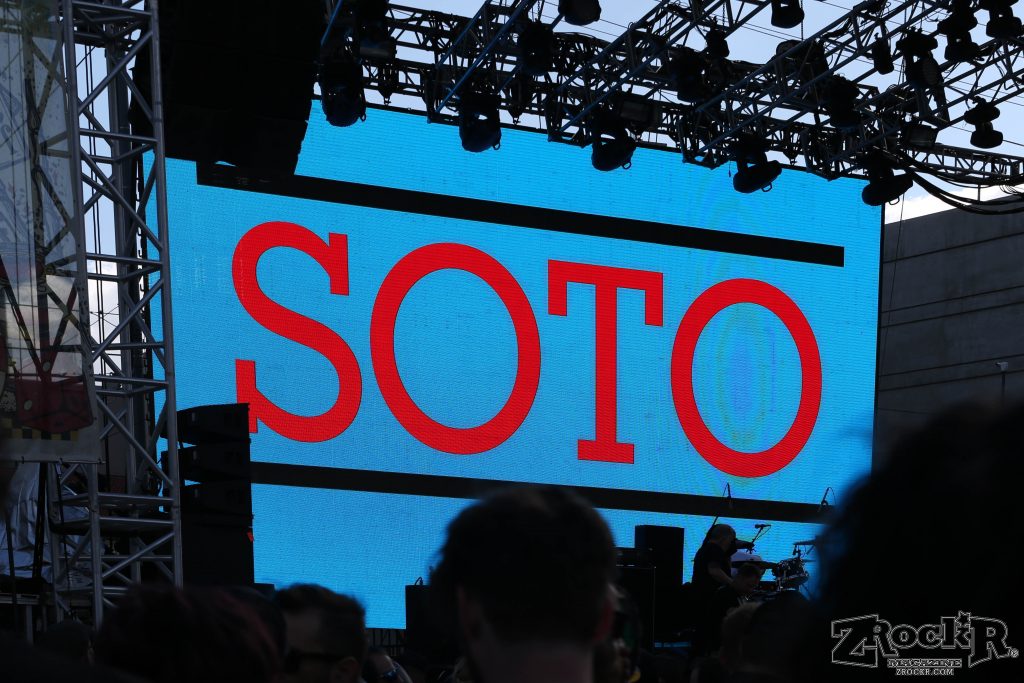 Adolescents have been on most Punk Rock Bowling lineups for a good reason. Besides consistently putting out new albums since 2011, they have a collection of classics that have been anthems since the 80s that anyone alive can recognize.
Besides the usual "L.A. Girl" and "Amoeba", we get taken into the new age with politically-packed jams like "Monolith at the Mountainlake Terrace" and "Escape From Planet Fuck" that show this band hasn't lost a beat from their self titled days in 1981.
Every Adolescents set is treat, now more than ever. There's no doubt they'll keep this going in memory of Soto for as long as they can. And we'll have no problem keeping the honor from the crowd alive.
Drug Church
Here's a band that most people in the scene either love or hate. No matter what your thoughts are, there's no doubt that Punk Rock Bowling is the place for Drug Church.
Their PRB debut in 2017 and this year's opening Club Show with Pennywise have led up to Day 2's 3PM "Drunk Tank" communion with old and new friends alike. No surprise that it ended up being the most packed set for the second stage all day!
With some of the most mesmerizing lyrics in Hardcore Punk, it's hard to take your attention off of what Patrick Kindlon is yelling about, but some of the most solidly chords on guitar immediately draw you to the instruments that follow his lead.
Their song titles are a reflection of the weird rants they hold, like "Unlicensed Hall Monitor" and "Attending a Cousin's Birthday Party" then into the ending with their tale of sloppy science in "Weed Pin", there's not moment where Drug Church doesn't draw you in to their poetic mess.
Fucked Up
I don't know how I've been missing out on this gem. Fucked Up somehow take a mix of every instrumental class you think of, and throws it behind the toughest, beard covered growls out there.
I've listened back to find out what Fucked Up is talking about, and I can't fucking tell. It's Fucked Up!
I can tell you one thing though, this singer gets it! Taking to the crowd through "Baiting the Public" and holding back nothing through the end to their cry out in "The Other Shoe". I see where this following comes from now and I have nothing but respect for them.
The Vandals
Oi to the god damn world! The Vandals are back at Punk Rock Bowling!!
No matter who you are, when it comes on you know… "I want to be a cowboy. I'm going be a Cowboy. I'm born to be a Cowboy."
From thinking you're Clint Eastwood in "Urban Struggle" to munching on an "Anarchy Burger", The Vandals' catalog can produce hit after hit of Punk Rock gold, and the smiles they can spell the crowd with are as priceless as anything.
Refused
For a band that as long been self identified as "fucking dead", they have never been more alive. Refused came back in 2016 with Freedom and a PRB headlining set, and like that albums opening track "Elektra" makes known…
"Nothing has changed!"
Starting out right away with "Rather Be Dead" and a crowd trip from singer Dennis Lyxzén where he was met with a hardcore mob screaming every word of the song. There wasn't a pause through classics from The Shape of Punk to Come that show exactly what the album suggested they would be.
One of the best send-offs you can receive from a band is a hype song that leaves you more pumped than seeing a UFC knockout, and "New Noise" does exactly that! Refused proves time and time again that they deserve their spot amongst the gods on Punk Rock Mt. Olympus.
Street Dogs
Like the boys say, "the world needs a little Punk Rock and Roll!"
Anthem after anthem, Street Dogs have been killing Punk Rock Bowling festival and club show stages for years. There was no surprise they capped off the night on the second stage for Day 2.
Starting off strong with "Stand for Something or Die for Nothing" and into the hurricane circle pit for "Not Without A Purpose" was a good way to kick things off. All the way through to their closing "Fighter", you couldn't keep Mike McColgan out of the crowd with his microphone.
Street Dogs consistently show what a classic PRB set can hold. This won't be the last time we chant along with them at Punk Rock Bowling.
Descendents

Thanks to Grouchy Johns for providing the mug mug mugs for the weekend, because it was time for the hypercaffinated super powers that combine to prove the ALLmighty communion that is Descendents
Buckle up, buckaroo! Because you're about to go on a ride! You didn't want to grow up? Well prepare to go with your ol' pal Milo through college and into the adventures of a life that shaped an entire coast of America's Punk Rock.
Name a song and it was there. If you're not satisfied after a Descendents set, you're not a fan and then I just can't help your life. If there is a Mt. Olympus of Punk Rock, Descendents are the Hercules that slay without hesitation.
If their album release timeline stays the way it has, we may not see any new material soon, but the world will never get enough of Milo and the ALLmighty Descendents.
Want to feel like a part of the Festival? Listen to the Punk Rock Bowling XXI playlist on Spotify to get a taste of what we were hearing!
For more information on upcoming Punk Rock Bowling events, head on over to the official website!
Check out what Vinnie is listening to on Spotify!
PHOTO CREDIT: All photos by Christina Rosenfeld, Courtney Ware, and Stephy Hayward for ZRockR Magazine, All Rights Reserved.