Spider-Man: Far From Home (hereafter simply referred to as "Far From Home") is directed by Jon Watts. The film stars Tom Holland, Zendaya, Samuel L. Jackson, Cobie Smulders, Jon Favreau, Marisa Tomei, Tony Revolori, Jake Gyllenhaal, JB Smoove, Jacob Batalon, and Martin Starr. The film is scored by Michael Giacchino.
NOTE: This review does not contain spoilers for Far From Home. It DOES, however, including spoilers for Avengers: Endgame, and this film follows it up and much of the film stems from its conclusion. If you haven't seen Endgame, read this review after seeing it.
Following the events of Avengers: Endgame, the world is rebuilding. Tony Stark/Iron Man has died, making the ultimate sacrifice to save the world. Those killed in Thanos' snap are revived, creating some awkward age differences between the students in Peter Parker's high school. Peter and his class set out on a field trip to Europe to see many exotic locales and unwind, but our favorite web slinger can't catch a break. He's contacted by Nick Fury, and teams with Quentin Beck/Mysterio, a hero from another reality, to battle The Elementals; ancient titans carrying the power of the elements. As Peter struggles between wanting to do the right thing and following in Tony Stark's footsteps versus living a regular teenage life, the battle rages on. Will the heroes defeat The Elementals, and even if they do, is that truly the end of the battle? And will Peter finally tell his crush MJ how he feels?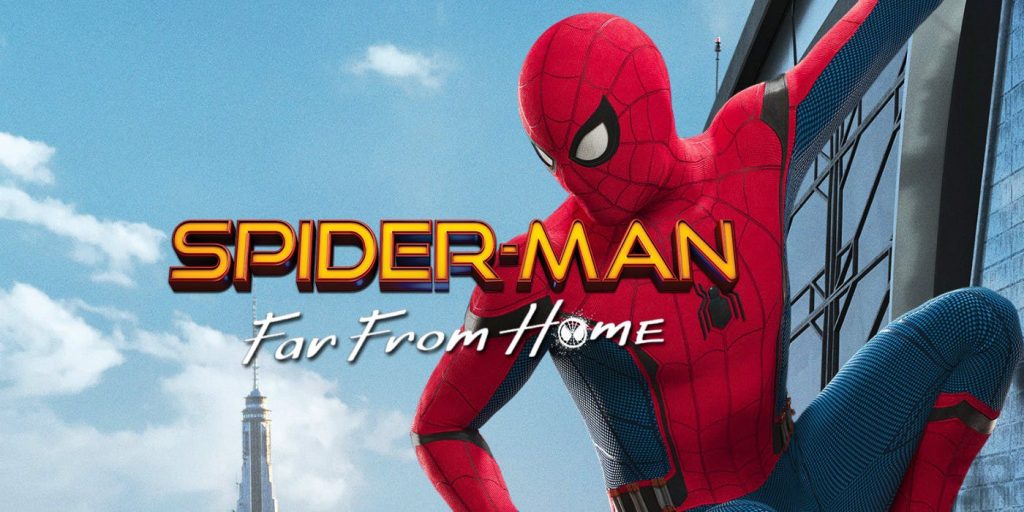 One of the biggest boosts for the Marvel Cinematic Universe was Marvel Studios making a deal with Sony/Columbia to use Spider-Man in their films (although Sony/Columbia can still make their own non-MCU Spider-Man films, like Venom and Spider Man: Into the Spider-Verse). In a few years, characters formerly owned by Fox will be making their MCU debuts as well, including the X-Men and Fantastic Four. With Far From Home, director Jon Watts delivers what may very well be the funniest film in the MCU to date, yet this doesn't come at the expense of drama, identity crises, and some fantastic action scenes spanning some of Europe's most beautiful locales. It's a victory all around.
Tom Holland is easily my favorite live-action actor to play Spider-Man. He looks, sounds, and acts like a teenager; as much as I loved Tobey Maguire and Andrew Garfield in Sony's non-MCU films, I do believe they were too old to play the part. Holland handles this character brilliantly, beautifully capturing his teenage awkwardness coupled with the identity crisis between doing the hero thing and going about living his everyday life and pursuing the girl he loves. Seems like no one in the MCU ever catches a break, and it's no exception for our Friendly Neighborhood Spider-Man!
Once again, we've got a brilliant supporting cast. Jacob Batalon is hilarious as Peter's best buddy Ned, and Zendaya impresses as MJ, the wisecracking sarcastic girl who's become the object of Peter's affections. Even Jon Favreau as Happy Hogan and Marisa Tomei as Aunt May get plenty to do this time around, yet no one ever hogs the spotlight from the titular character. Here's hoping we see these characters in Spider-Man films for years to come. There are even a few surprise connections to older MCU films you wouldn't expect.
Of course, no review would be complete without mentioning Jake Gyllenhaal's performance as Quentin Beck/Mysterio, a powered hero from another reality, fighting The Elementals. The chemistry between him and Holland in their shared scenes is fantastic, truly opening us up to the characters and giving them added depth. There are definitely some plot twists to be had here, which ultimately make the film more effective and surprising, with some shockingly surreal visuals to accompany. I'm keeping this review a spoiler-free one, but suffice to say, the plot twists and changes hit the audience hard, even if the biggest twist/villainous plan is basically ripped off from a Powerpuff Girls episode.
As if the intense action sequences weren't intense enough, the whole movie looks amazing due to a fantastic crew and exotic locations in Europe. We see Peter and company visit a handful of places which haven't really been utilized in the MCU before, which makes the experience all the more fun. As much as I love seeing the MCU's action sequences in places like California and New York, the change of scenery is totally appreciated and a nice touch.
It's not quite a perfect film. If there's one real weakness, it's the first half hour or so, which feels a bit exposition-heavy, relying heavily upon the events of Avengers: Endgame, and feeling somewhat obligatory. Fortunately, once the movie gets going, it kicks into high gear and never once looks back or slows down.
I should also mention that, unlike Avengers: Endgame, this film has a mid-credits and a post-credits scene. These do potentially set up the future of the MCU and Spider-Man's place in it, and a surprise character's appearance in one of them had my screening's audience screaming with enthusiasm. Of course, no spoilers. You've got to see the movie for yourself!
Spider-Man: Far From Home isn't far from greatness. This is the Spider-Man movie fans have been waiting for. It's hard hitting, laugh-out-loud hilarious, features, intriguing plot, and stunning visuals and exotic locales to boot. These factors come together to make it one of the best movies of 2019. No Spider-Man/MCU fan should be disappointed with the end result. A must-see.
Rating: Three-and-a-half out of four stars.
DISCLAIMER: Images in this review are the property of their respective copyright holders, including Sony, Columbia, Marvel Studios, Disney, and Pascal. For promotional purposes only. All rights reserved.