Yesterday is directed by Danny Boyle. The film stars Himesh Patel, Lily James, Ed Sheeran, Joel Fry, and Kate McKinnon.
Jack is a struggling musical performer in England, who seems to be unable to advance. Following an accident resulting from a brief global blackout, certain elements of human culture have disappeared, with apparently only Jack retaining memory of them. Among the things forgotten is the music of The Beatles, one of the greatest pop-rock groups of all time. Trying his best to remember their songs and to record them his own way, he sets out to conquer the musical world, but finds himself in a personal crisis amid his whirlwind success.
Yesterday isn't a perfect film, but for what it is, it's a lot of fun. The premise is absolutely ridiculous, but I won't deny I'm a sucker for anything revolving around Beatles music. Himesh Patel owns the film in his performance as Jack, with the music being more than satisfying throughout, both his renditions of Beatles music and other original compositions. The film is lighthearted and quite funny at times, though not without its more dramatic elements as well. At nearly two hours it's about 20 minutes too long, and does lose some momentum in its final act. But the end product is one which remains appealing.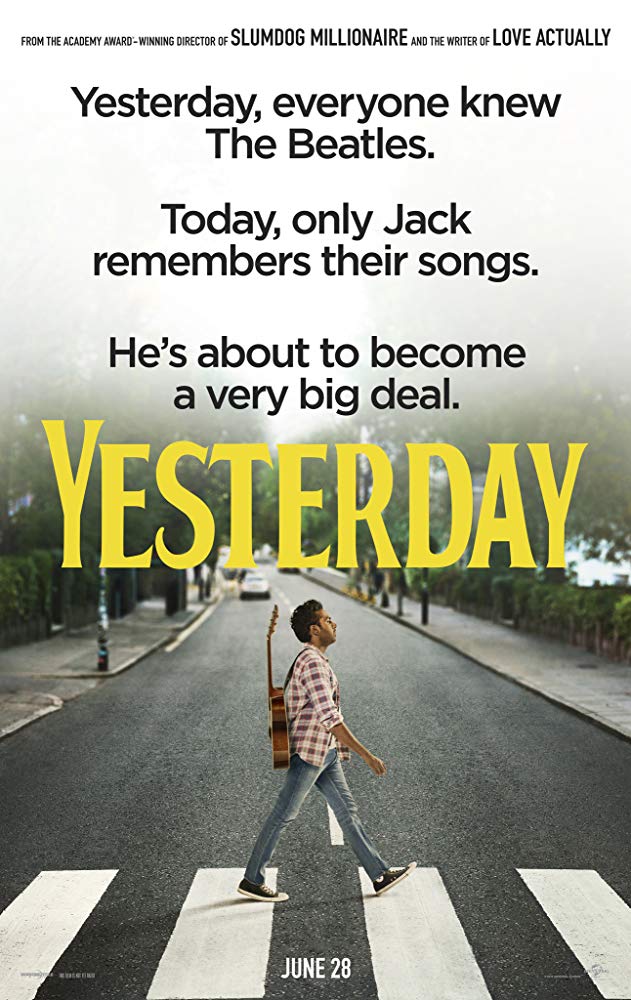 The casting of Yesterday stands as one of its strongest elements, even if I admittedly wasn't familiar with the majority of the cast coming in. Himesh Patel was not a name I had known prior to this, but now, I'm honestly hopeful to see this young man in other films. He does his own singing in the film, and the stripped down renditions of Beatles songs we hear him perform are quite solid (this is saying a lot because I usually loathe other musicians covering Beatles songs, which typically end up inferior to the originals). The cast is rounded out with Joel Fry in a comic relief roadie role, Lily James as Jack's lifelong admirer and supporter, and Kate McKinnon as a ruthless music agent. Many of the film's best scenes are those involving Jack's initial encounters with musician Ed Sheeran, who plays himself in the movie.
The overall tone of the movie is surprisingly strong too. It's laugh-out-loud funny (even if some gags are overdone and last too long), yet quite dramatic and emotional. Even if the film drags a bit, particularly in its latter third, it's still quite effective. Everyone's got good chemistry, and this ludicrous "what if" scenario makes for a better movie than I would have expected. The music of The Beatles is universal, spanning generations and knowing no borders around the globe, so seeing it as a key part of this story is a revelation. Fortunately, the narrative structure of the movie holds up mostly well and doesn't take any shortcuts, nor does it go for any cheap laughs or manufactured drama, even if the ending is more or less what you'd expect.
A cinematic masterpiece it's not, but Yesterday succeeds with its solid soundtrack, a great leading man in Himesh Patel, superb supporting cast, and plenty of memorable moments. You'll wish it was about 20 minutes shorter, but the end result works. A recommended release!
Rating: Three stars out of four.
DISCLAIMER: All images in this review are the property of their respective holders, including Working Title, Decibel, Perfect World, and Universal. For promotional purposes only. All rights reserved.