Booksmart is directed by Olivia Wilde. The film stars Beanie Feldstein, Kaitlyn Dever, Jessica Williams, Will Forte, Lisa Kudrow, Billie Lourd, and Jason Sudeikis.
Molly and Amy are finishing their last year of high school. The two have long been by-the-book in terms of their behavior, refraining from debauchery so they may move forward with their lives and get into good colleges. The two are devastated to learn even their fellow slacker students got into them as well, and, with one night left until graduation, the twosome decides to hit up the party of a popular student and cut loose. But even just finding the party proves to be a challenge, with the two heading all around town in their search, as they come to terms with their futures and moving on in the world.
Two things I absolutely adore are coming-of-age films and raunchy, R-rated comedies which still manage to have a heart and depth despite their approach. I nearly missed Booksmart because the film was not screened for critics in Las Vegas, and even then, it was only being shown in a single theater in the entire city.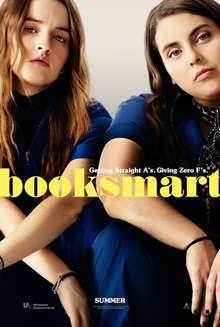 It's a damn good thing I went. Because this is, literally, the best movie I've seen all year. The movie is perfectly cast, finds time for every character, has believable character development, and approaches it with a laugh-out-loud, take-no-prisoners style. Olivia Wilde's feature film directorial debut is an instant classic for the ages, and any fan of coming-of-age stories and raunchy comedies will find the best of both worlds here. I've heard the film referred to by other critics as "Superbad with girls," but that doesn't do it justice. The movie is so much more than that.
The main duo of Molly and Amy couldn't be more perfectly cast, with Kaitlyn Dever and Beanie Feldstein brilliantly portraying these characters, cutting loose after "playing it safe" for their high school years. Audiences will likely remember Feldstein as the title character's best friend in Lady Bird, although that film criminally underused her. That's made up for in Booksmart, no questions asked. These two face believable problems and struggles, even constantly arguing and clashing with one another and remaining friends when all is said and done. Seeing their interaction with one another as well as with fellow students, regardless of the circumstances, makes for some pretty entertaining scenes. That a movie like this, with raunchy R-rated humor and plenty of shocking moments, can retain a sense of humanity and depth, is quite remarkable. When I saw this film, there were only about 10 people in the theater, yet every single one of those people, myself included, simply could not stop laughing.
The supporting cast of characters is equally interesting and entertaining, including a druggie student played by Billie Lourd (daughter of the late Carrie Fisher), parents who have a totally wrong idea of what the girls do together, a misunderstood outcast of a student with a wealthy family, a gay couple throwing a murder mystery party, a principal moonlighting to make ends meet, a teacher disenfranchised with her life, and a girl with a promiscuous reputation, to name a few. What's most impressive about the movie is the narrative finds a way to work in every one of these characters, with nearly all of them getting an arc and some sense of closure, which makes the final product all the more satisfying.
It's raunchy. It's touching. It's laugh-out-loud funny. You never know what the movie will do next, but you'll be genuinely pleased throughout, and when it's done. I won't spoil anything here outside of basic plot elements, as I want those who go see the movie to experience the laughs in full. Absolute highest recommendations for Booksmart, but the easily offended should stay home!
Rating: Four stars out of four.
DISCLAIMER: All images in this review are the property of their respective copyright holders, including Annapurna Pictures, Gloria Sanchez Productions, and United Artists Releasing. For promotional use only. All rights reserved.