The Lion King is directed by Jon Favreau. It's a remake of the 1994 animated film of the same name. The movie stars Donald Glover, Seth Rogen, Chiwetel Ejiofor, Alfre Woodard, Billy Eichner, John Kani, John Oliver, Beyonce, JD McCrary, Shahadi Wright Joseph, and James Earl Jones.
Young Simba is a lion cub who idolizes his father, Mufasa, King of the Pride Lands. He enjoys spending time with his father and best friend Nala, and looks forward to the day when he'll one day rule the kingdom. However, Mufasa's jealous brother Scar has his sights set on the throne, and he's willing to do anything to usurp his brother as ruler, a position for which Simba is now next in line. When Scar's actions have devastating consequences, Simba goes into exile, as his homeland falls into disarray. Will he come to terms with his past and return to reclaim what's rightfully his?
The Lion King is one of my favorite films from Disney's vault of animated classics, and I fondly remember seeing it at a local move theater when I was just nine years old. It's a classic which has stayed with me over the years due to its intensity, drama, gripping plot, and humor. For me it may just be the best of all the old animated movies Disney ever made, before CG took over, and that's saying a lot. The film's popularity has persevered not only in direct-to-video sequels and TV series, but also a long-running Broadway play/musical which cleverly adapts the story while adding in several new elements, including songs and plot points.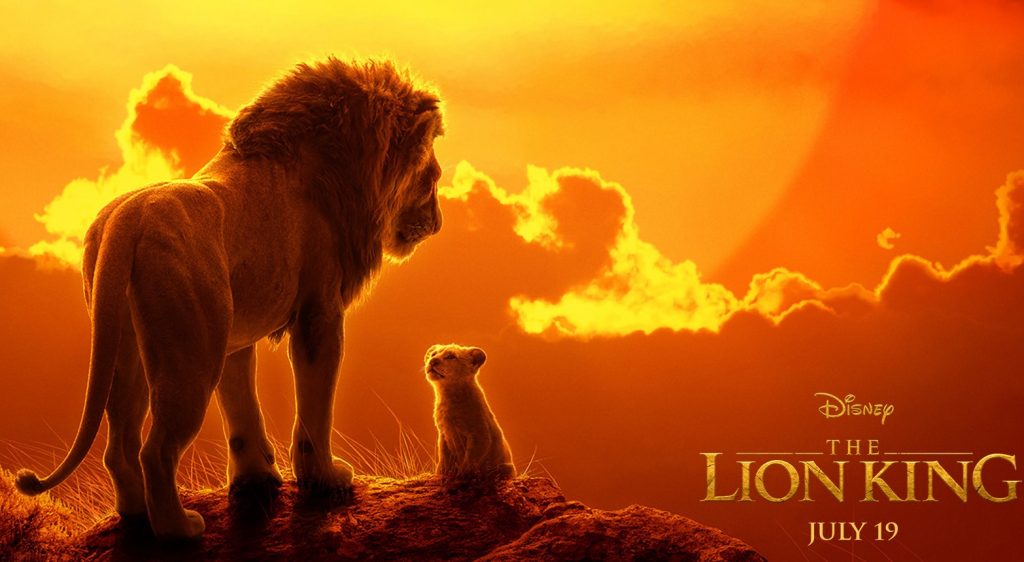 When I heard a new remake of the story was coming, I was understandably skeptical, though simultaneously somewhat relieved upon seeing the A-list cast playing the parts (including James Earl Jones reprising his role of Mufasa from the original), and that it was being helmed by Jon Favreau (the guy who directed the first two Iron Man movies, and who's also portrayed Happy Hogan in those films and subsequent MCU works). Personally, I was hoping to see some elements from the Broadway production worked in to back the story for what Disney is calling a "Photo Real" movie (not live action). Having seen the film, while I can say it doesn't quite top the original 1994 classic, it's a solidly made, beautiful looking film, even if it doesn't really bring anything new of substance into the picture.
The filmmaking technology on display here is something truly remarkable. Everything looks about as real as one can imagine. I had my doubts as to whether a "talking animal" movie would translate well to the big screen, but I have to say, the transition is so seamless, once it gets going, you forget about any technological doubts you may have had going in. From adorable lion cubs to ferocious fully-grown ones and sneering hyenas, it feels like someone took the original film and mashed it together with a DisneyNature documentary. I'm still astonished by how beautiful and realistic the final product looks. Disney spared no expense here, and you'll be floored by the quality of the production. This aspect of the film is worth the price of admission alone. While there are a few limitations, namely the animals not being quite as capable of facial expressions to the extent of their animated 2D counterparts, I'm still floored by Disney's efforts here.
And how about that voice cast? Just one look at the top of this review will show you plenty of big names, and I'm pleased to say nearly everyone fits their role perfectly. Donald Glover, who's showing up in all kinds of movies in recent years, is fantastic as the adult version of Simba, conflicted regarding his past and what he must do. Some of the stand-outs include the comic relief which comes in the form of Pumbaa and Timon, here voiced by Seth Rogen and Billy Eichner, both of whom have a ton of fun with the roles they're given. Even Chiwetel Ejiofor infuses plenty of subtle deviousness into the villainous scar, even if he can never quite top Jeremy Irons' absolutely perfect performance from the 1994 original. Admittedly, some performances fare better than others, and while I wouldn't quite say any best the original, this is a respectable A-list cast that does well with the material at hand. Getting James Earl Jones to reprise his role as Mufasa (the only person to do so) was a nice touch, and the man's distinctive voice is as strong as ever, despite pushing 90.
The songs and instrumentation of the original were one of its greatest strengths, and you'll be pleased to know they're all intact here. Hell, the first few minutes are basically a photo-real frame-by-frame remake of the original movie, complete with the classic African-style chant and drum beats. Other favorites like the bouncy pop of "I Just Can't Wait to Be King" to the gorgeous ballad "Can You Feel the Love Tonight" all sound fantastic here. Honestly, the newer takes on these songs with the modern cast don't differ too much from the originals, but since they were practically perfect the first time around, that's not a bad thing.
The biggest problem with The Lion King is, put simply, despite the photo-real filmmaking techniques and all-star cast, it's got a lot to live up to, namely the 1994 original. Favreau and the crew simply play it too safe. To be fair, movies can take risks and try to reinvent themselves, and not have it pay off (I'm looking at you, Dumbo), but this take on The Lion King is barely any different from its predecessor. The few added scenes/elements are of hit and miss quality. Ones which show the struggle at Pride Rock are surprisingly effective, but did we really need to see more of Pumbaa and Timon's humor, or the journey of a piece of Simba's hair? Furthermore, despite the needlessly dragged-out run time, many scenes feel rushed, including the entire elephant graveyard/"Be Prepared" sequence, which feels like it was haphazardly thrown together with little or no regard or reference to the original, which may be in part to the original's questionable inspiration (which I won't go into here). It feels like the crew is going through the motions, and it's a wasted opportunity when you consider how much material from the Broadway musical/play could have been worked in for a more effective final product. And yet, I still find myself willing to recommend the movie despite its shortcomings.
This new take on The Lion King is nothing original, and the first take from 1994 will always remain the definitive telling of this story. But the cast does superbly with what they've got, and no one can argue with Disney's "photo-real" filmmaking techniques, even if the technology does have a little ways to go to be perfected. I'm still recommending the movie. Just don't rush in expecting something that tries to reinvent the wheel, or day I say, the Circle of Life.
Rating: Three stars out of four.
DISCLAIMER: All images in this film are the property of their respective holders, including Walt Disney Pictures and Fairview Entertainment. For promotional use only. All rights reserved.